Being a parent is hard work and sometimes, we don't have all of the answers. If it's true for moms, it's certainly true for dads too. We're all human—humans who make mistakes—but we can still celebrate each other's best efforts.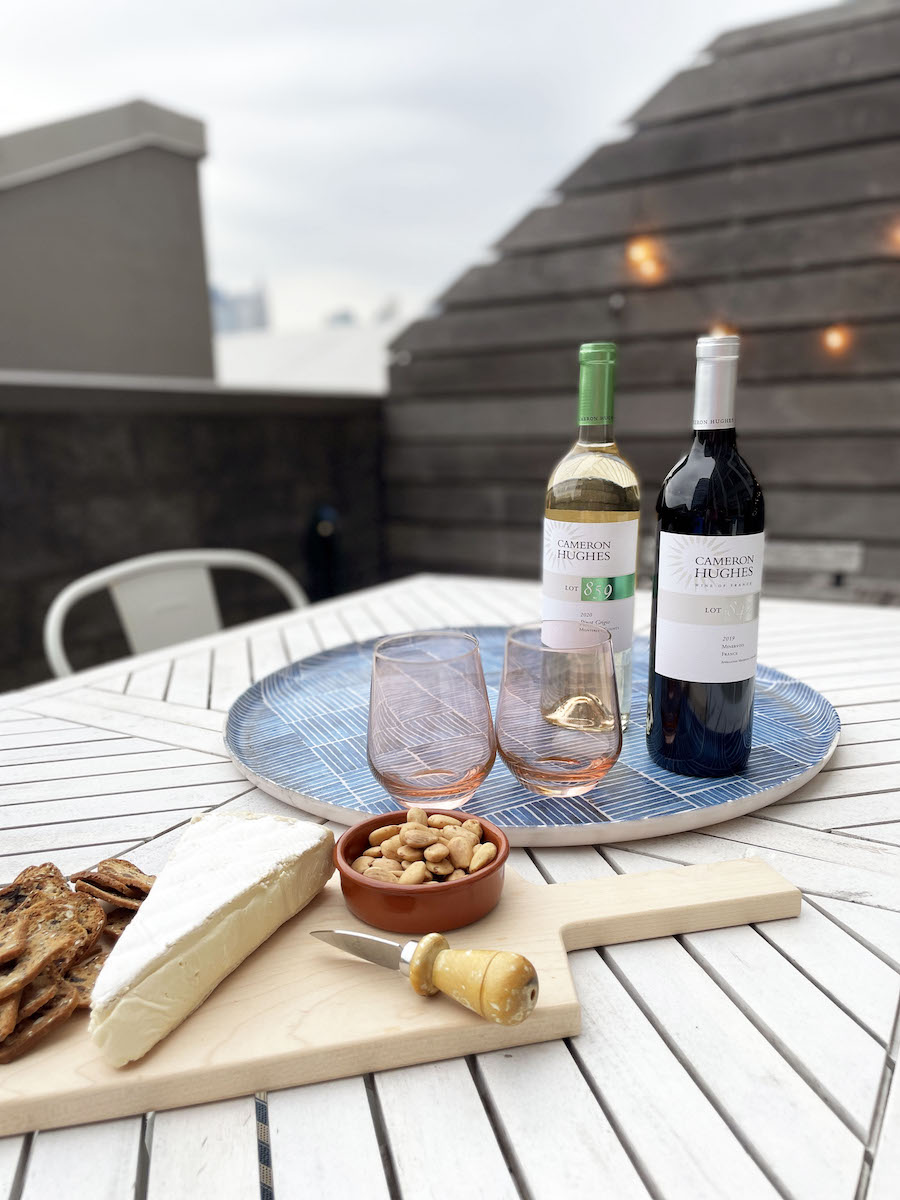 plus, the wines to go with them! 🍷
Of course, we can't ignore that some of us have complicated relationships with our fathers. Some of us grew up with divorce while some of us have never met our birth fathers. This doesn't change the fact that a father figure may be present in our lives: a grandfather, uncle, family friend, etc. My birth father and stepfather are both quirky in their own ways, and I've grown to appreciate them, especially now as a parent myself.
The effort from fathers and father figures may not always look the way we think it should, but, as I've come to learn, sometimes, it's possible that they do their best and learn from their mistakes as they go.
Doesn't that sum parenting up? Seeing what does and doesn't work? Just like mothers, fathers don't have a manual and, sometimes, they make for a great story. We've rounded up 13 movies that highlight and celebrate fathers and father figures. From recent releases to '80s and '90s throwbacks and dramas to comedies, these movies celebrate the dads. 
Fatherhood
Rating: PG-13
Where to Watch: Netflix
Starring Kevin Hart as a recently widowed father, Fatherhood is a heartfelt movie that sheds light on the way maternal mortality can affect a family. Throughout the movie, Matthew Logelin, Hart's character, is seen navigating the ups and downs of caring for his young daughter. Each moment is relatable, from using white noise to help his daughter sleep to attempting to put together his daughter's crib with one of his best friends. 
The Adam Project
Rating: PG-13
Where to Watch: Netflix
Prepare to grab tissues because this movie does an excellent job of showing how complicated a relationship with a father or father figure can be. While young Adam tags along with the adult version of himself in a race to save the future, the underlying theme revolves around Adam's relationship with his father as well as the effect his death had on his family. 
Big Daddy
Rating: PG-13
Where to Watch: Hulu or Peacock with a premium subscription
This endearing and sometimes inappropriate movie (it does star Adam Sandler, after all) follows Sonny Koufax, a lazy law school grad, as he tries to impress his girlfriend with his skills as a father. What begins as a scheme slowly develops into an intense bond with the young child he's fostering. As social services begins piecing together the inconsistencies in Sonny's stories, Sonny realizes how much he loves the child. It's an unlikely story that doesn't place the biological father at the center of the story but, nevertheless, shows that father figures can play a huge role in a child's life.
Mr. Mom
Rating: PG
Where to Watch: HBO Max
We can't talk about movies about fathers without bringing up this classic take on what was considered a role reversal. Instead of a typical movie that depicts dad as the primary earner, the mom has to find a job when dad ultimately loses his job. Hilarity ensues as dad realizes how much work it takes to run a household and raise children. For its time, Mr. Mom did a great job of opening up fathers' eyes to the realities of moms across the world. If you feel dad needs a hilarious reminder, you can suggest this movie to watch on Father's Day, mom. 
Daddy Day Care
Rating: PG
Where to Watch: HBO Max+ or Hulu
Similar to Mr. Mom, Daddy Day Care takes a look at a father who loses his job. But instead of staying at home and caring for one child, he decides to open a "daddy day care" at home due to being dissatisfied with the care options available for his son. With the help of his friends, Charlie Hinton (Eddie Murphy) discovers what it takes to not only care for his son but also other children in a series of ups and downs.
Mrs. Doubtfire
Rating: PG-13
Where to Watch: Rent on AppleTV, Amazon Prime, and other streaming services
While we don't suggest that fathers get an extreme makeover to spend more time with their children during a custody battle, Mrs. Doubtfire showed us how far one dad was willing to go. In this family-favorite film, we see how dad Daniel's (played by Robin Williams) role as Mrs. Doubtfire teaches him to be more aware, accountable, and responsible. A father was able to see how his prior actions affected his ex-wife and children, and it slowly causes him to change over the course of the film.
Honey I Shrunk the Kids
Rating: PG
Where to Watch: Disney+
When wacky inventor dad Wayne Szalinski accidentally shrinks his kids, the kids must go on an adventure through their backyard and, hopefully, back to safety. An honorable mention also goes to neighbor dad Russ Thompson, who sacrifices himself to the science experiment to help get all the kids safely home.
Father of the Bride Part II
Rating: PG
Where to Watch: Rent on YouTube, Amazon Prime, and other streaming services
Who can forget the hilarious moment George Banks (Steve Martin) realizes he's not going to have the empty nest he dreams of because he's going to be a father to another baby? The more he scrambles to make sense of both his wife and daughter being pregnant, the more he loses his nerve. It's a reminder that unexpected pregnancies can occur and it can be just as shocking to a father as it is to a mom. Consider making it a double feature and start with Father of the Bride. 
The Lion King
Rating: PG
Where to Watch: Disney+
From the moment we are introduced to Mufasa, we see that he takes pride in being a king—but not more than being a father. He values the time he spends with his son and enjoys teaching him lessons about their kingdom as well as life. We can't forget how he told young Simba that he'd always be a part of him. Rafiki's words, "you see? He lives in you" were a nod to Mufasa's prior words and the way adult Simba bears an uncanny resemblance to him. Both the original animated and the 2019 version are available to stream on Disney+.
Finding Nemo
Rating: G
Where to Watch: Disney+
When Nemo, his son, goes missing, single dad Marlin has to step off of the reef into the big, scary ocean where he lost his wife. On his journey, Marlin meets Dory, who wants to help him and also knows the sea better than Marlin. The only problem is that she has a short-term memory problem and sometimes repeats herself into oblivion. The characters will have you laughing every time you think you might get a little too scared or sad, so there's always an antidote. It's overall a family favorite, and the sequel, Finding Dory, is available on Disney+ too.
Onward
Teenage brothers Ian and Barley embark on a magical quest to spend one more day with their late father. Surprises, obstacles, and adventures ensue as the brothers learn they had part of their father with them all along.
Three Men and a Baby
Rating: PG
Where to Watch: Disney+
With an underlying theme similar to Big Daddy, Three Men and a Baby shows three men hilariously adjusting their lives as bachelors to care for an infant. Watching as an adult, there are certain themes—like drugs and sex—that we may have missed as children, but it doesn't take away from the challenges when transitioning to fatherhood. And little Mary certainly is lucky when it comes to having the love of her three "dads." Make it a double feature by watching 1990's Three Men and a Little Lady.
Kramer vs. Kramer
Rating: PG
Where to Watch: Rent on YouTube, Amazon Prime, and other streaming services
For another throwback film, this 1979 legal drama is more serious than our prior mentions, but it represents the reality of some households living through divorce. Discussions about who should or shouldn't have custody may ensue or, in the case of Kramer Vs. Kramer, one parent may leave without taking the child with them. This movie follows Ted Kramer (Dustin Hoffman) as he tries to create a work-life balance that he initially resents. However, over the course of the movie, we see the many ways a father and his child can bond. Not only that, but Kramer vs. Kramer shows how parents are able to put their differences aside for the sake of their child.