As a mom to two young girls, Maddy Ghosh certainly knows a thing or two about how to deck the halls in a kid-friendly fashion and allow her adorable daughters to take part in the Christmas decorating fun, too. With classic holiday decor items from Target, HomeGoods, Pottery Barn, and World Market, Maddy's festive Washington home is decorated to the nines but still manages to look incredibly cozy and comfortable throughout November and December (hello, comfy blankets and cute-yet-functional Christmas throw pillows!).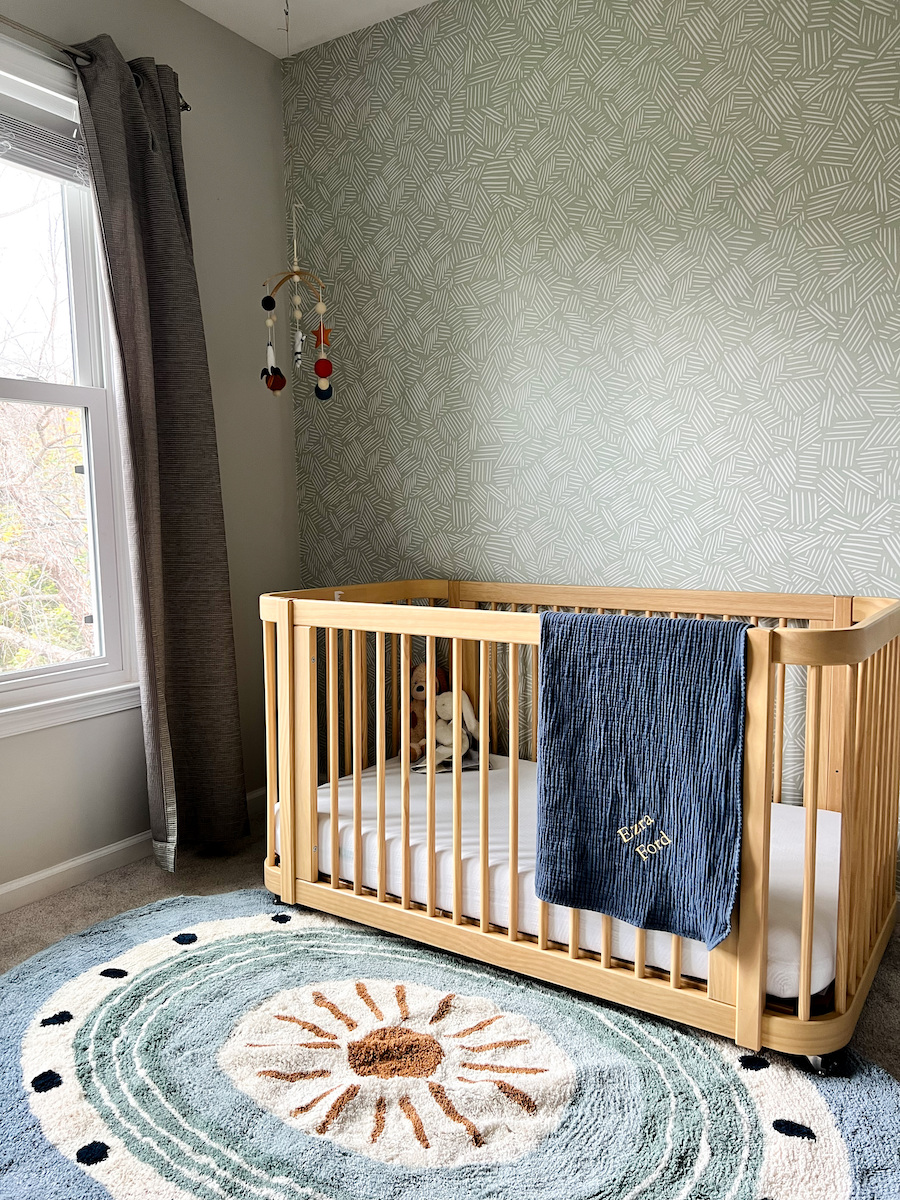 editor-favorite crib brand Nestig just released gorgeous new wallpapers that will easily transform any space 😍
While Maddy admits to usually purchasing a few pricy decor items each year to add into her holiday mix, she also loves post-Christmas bargain shopping and involving her little ones, Naya and Kavya, in DIY decor projects. Her favorite so far? She and her family put together a pretty homemade advent calendar a few seasons ago that includes activities they can do all winter long from visiting Santa and baking cookies to donating gifts and going for a drive to look at holiday lights.
Keep reading to find out the cute Christmas decor projects Maddy enjoys doing most with her daughters, see why she thinks decorating early is the best, and find out why trimming the tree as a family will always be this mama's favorite holiday tradition.
Name: Maddy Ghosh
Age: 36
Location: Bothell, WA
Home's Square Footage: 2,550
Children: Naya, 4, Kavya, 2 (and our dog Diego, 9!) 
When do you typically start decorating for the holidays?
It used to be about a month before Christmas/around Thanksgiving but the last few years I've been getting things setup by mid-November and sometimes a bit sooner. My school of thought is that there are no real "rules" as to when you should decorate so why not enjoy it for longer, especially with the amount of time and effort it can take! 
SHOP THE LOOK

How would you say your holiday decor differs from your home's everyday decor?
Our home is pretty neutral all year round, with a lot of greys, whites, and browns in use and specs of accent colors (cushions, a blue velvet chair, some blush decor, etc.). It changes quite a bit for the holidays with more traditional decor pieces, a lot more color and playful, festive decor everywhere. I think that's one of the reasons why we love having it up a bit longer — it becomes our holiday getaway for a couple of months 🙂
Where do you typically shop for holiday decor?
Most of my holiday decor pieces are from HomeGoods, Hobby Lobby, Target, Michaels, and World Market with a select few items from Pottery Barn and West Elm. 
Do you typically buy new holiday decor or use the same year after year?
I repurpose most of the decor every year but buy some new items, whether it's something sentimental, meaningful for the kids, trendy and eye-catching or just something that I can envision in our space. There's always something that catches my eye, and as the kids get older, I want to really make it a space that's warm and welcoming for all and has decor or pieces that bring a smile to their faces.  
Where do you spend versus save with your holiday decor?
Every year, I aim to buy a few pricier pieces to add to the collection. One year, it was a few Pottery Barn cushions and West Elm decor/stocking holders. This year, I wanted to spend a bit more on the outside decor by getting some larger items we can reuse for the next few years. But most of my decor is bought on sale at my go-to stores or post-Christmas when things really get discounted (and those post-Christmas items are the ones I almost always forget about so it feels like Christmas morning when I get ready to put the decor up and unpack what I have stashed away!). 
How do you keep your holiday home decor kid-friendly?
Our kiddos are pretty good about not getting into the decorations too much so we don't do a whole lot to plan around them. Most of the breakable ornaments are higher up in case of any curious hands and there's a few spots with some "cutesy" decor pieces which the kids love and will point out or talk about with that little twinkle in their eyes.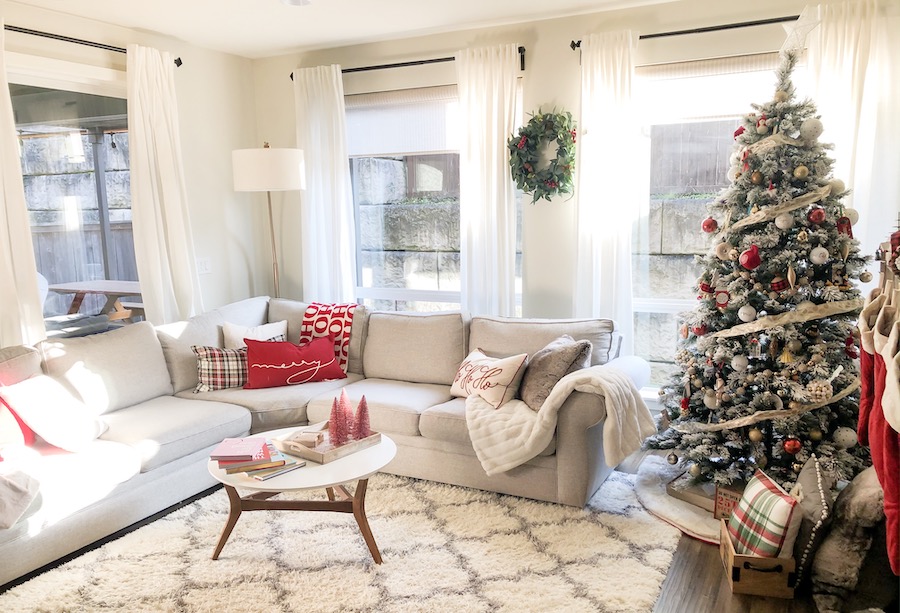 SHOP THE LOOK

Do you ever make DIY holiday decorations? If so, what?
We do some DIY items every year! This year, we made some marbled ornaments using clear plastic ornaments and lots of paint and glitter — the girls had a blast. My favorite DIY is the advent calendar I made two years ago. I really wanted a big statement piece for the advent calendar and everything I saw online was either too pricey or wasn't quite what I was picturing, so I made it instead using an older canvas frame, fabric I picked up at JoAnn's, and some small Christmas details I found at Target. 
Where do you find holiday decor inspiration?
From my favorite Christmas pastime — Hallmark Christmas movies! I watch every single one even if it's just playing in the background and I love how over-the-top they go with the decor in the towns and homes in those movies. I don't think I'm quite there but I'm definitely a bit more in-your-face with my Christmas setup than most people I know. And as much as I love all the pretty neutral, minimalist decor inspo on social media (it looks so good in other people's homes), my heart just wants more. My husband is all about making the home cozy and warm during the holidays, so he doesn't mind the extra pillows, throws, decor, lights, and touches of color to add to the warmth. 
What is your favorite piece of holiday decor in your home?
Our tree! It's the only thing I really wouldn't get rid of even if I did a complete overhaul of all the other pieces. I still remember the first year we got it and put it up — we were in love! Plus, I think a tree with lights is the most essential piece to make any space feel cozy and festive. 
Tell us about your holiday decorating process.
I start counting down the days until the decorations are up and try to get everyone excited about it. On the day of, we play a holiday station throughout the house and begin with the tree and ornaments. I then spend the next day and even a couple weeks after that to place all the other decor pieces and move things around until it all feels just right! I don't usually do any particular themes, it's just more about how things fit together and what appeals to me that year — so each year looks similar but slightly different from the one before. 
Do you and your family have any decorating traditions? How do you get the family involved in decorating?
The kids help with all the non-breakable ornaments on the big tree. They also have their own mini tree to decorate which they love and check-up on every day. We also make sure that we show them the different areas of the house that are decorated and how it's all laid out to help them feel like they're a part of the process. Last year, I made a wreath with my daughter for her room (it has a donut, a unicorn, some pink fluffy feathers and cupcakes with sprinkles on it). I plan on adding a few things to their rooms each year so that they can get involved with putting those items up for each holiday season and taking them down as well. 
SHOP THE LOOK

What holiday traditions have you started for your family? How are the holidays different now that you have kids?
The advent calendar of daily events and activities is something we started after kids and incorporates a bunch of activities geared towards them (crafting, visiting Santa, etc.). We've also brought a couple of elves into our holiday traditions who get themselves into all kind of mischief and fun every night — the kids love waking up and running through the house to see what they've been up to and what surprises they might have in store! 
What does Christmas morning look like in your home?
Lots of wrapping paper and packaging everywhere, giggles and chatter, hot cocoa/coffee, panettone, cinnamon rolls or other breakfast pastries, matching jammies, and the Disney Christmas parade on TV. Once all the gifts are open, we spend some time video chatting with family in Canada.
What are your favorite holiday events? How does your family celebrate the season?
I create an advent calendar of festivities — each day we have a different activity or event. This year, we're doing a cookie baking class together, going to an annual light maze and Christmas market, doing a ton of holiday crafting, visiting Santa, having an annual staycation in Seattle at a very festive hotel, donating food and gifts, getting in our PJs to go for a holiday light drive and Naya and I will be going to ballet for our 2nd annual Nutcracker night. We also try and have a holiday party at our house every year with all our friends who are able to make it and this year will be extra special because we've planned a surprise visit from Santa. 
What is your favorite thing about the holiday season?
Family time! I love having multiple excuses to get into our pajamas, get cozy, listen to Christmas music, watch holiday movies together, play games and eat all the yummies. 
Maddy Ghosh is The Everymom…
Favorite Christmas movie? Home Alone 
Favorite Christmas song? "Believe" by Josh Groban and "Have a Merry Little Christmas" by Michael Bublé (and pretty much any other holiday music by those two!). 
Hot cocoa or eggnog? Tough one! I love eggnog but I can't drink too much of it so I think hot cocoa wins!
What's on your holiday wishlist? I buy myself things I really want or need (and have an online shopping addiction!) so it's hard to come up with an actual list. It just forces hubby to get creative and he's gotten me some pretty amazing gifts in the past!
When do you start listening to Christmas music? As soon as the radio stations play it (a week or two after Halloween). 
Go-to holiday drink at Starbucks? Peppermint Mocha 
What's the best gift you've ever received? Every gift I received as a kid would be on that list, when I still believed in Santa or pretended to believe and my parents made everything so special and magical. 
Oddest thing on one of your kids' wishlists this year? Nothing too odd on this year's yet but last year my older one wanted a penguin (so Santa brought a penguin lollipop).
Biggest holiday mom fail? Forgetting what Santa brought them vs. what we brought them (but my older daughter has a crazy good memory and will correct us, so we just go with it and blame our "old age" for forgetting haha).