Living in urban Brooklyn, designer and mom Lina Galvão sought out inspiration in travel and nature for her baby daughter Inês' nursery. Combining floral and nature-inspired elements, layered textures, and stunning furniture, she created a beautiful boho-inspired space for her baby girl.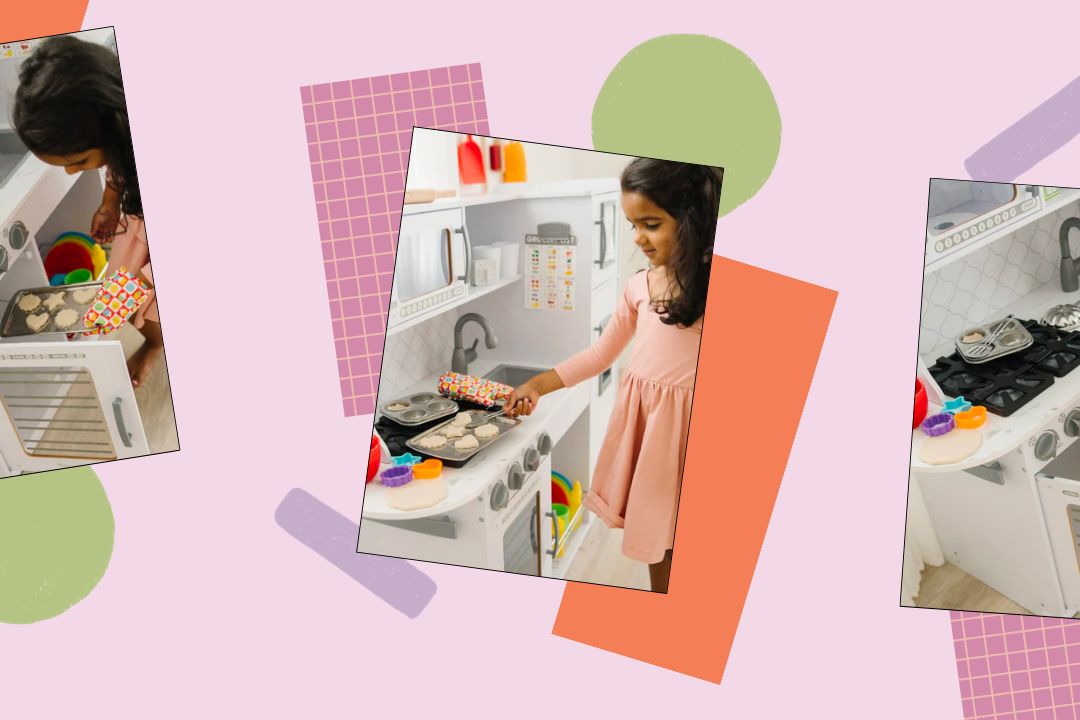 Of course, you can't miss the statement wallpaper in this room with its oversized pink florals and golden honey bees. When asked how she narrowed down all the potential wallpaper options to land on this pattern, Lina said she left the final decision to a poll on her Instagram—and we think her followers chose right!
Keep scrolling to see more of the special elements in this space as well as learn more about Lina's design process and how she's planning to update Inês' room as she grows.
Name: Lina Galvão
Location: Brooklyn, NY
Rent/Own: Own
Room's Square Footage: 125
Children:  Inês (Eeee-nehz) and Jonah
Before we get into Inês' gorgeous nursery, tell us a little bit about you and your family.
We have two kiddos, little Inês and Jonah, who is now 7 years old. I am from Brazil and my husband is from Florida, so we love all things warm weather, the beach, BBQs, and travel. We lived in Brooklyn for almost 10 years and really loved it but totally caved and just moved to the burbs! We've been living in Southport, CT (on the beach!) for the last few months and are learning how to be suburbanites.
What would you say your personal home decor style is?
I am in transition from a super modern home to a Greek Revival Farmhouse, built in 1835. It's a stunning home where I am hoping to blend a modern, funky aesthetic with traditional farmhouse touches.
Where do you begin when starting a design project in your own home or with a client?
Our firm, The Curated Nest, is all about livable luxury and creating designs that function and live up to the wear and tear of day-to-day living, especially with families. We also take a fully custom approach to each client. Therefore, our first step is a comprehensive lifestyle and style interview to truly get to know how our client lives and how they use their space. Then we give them "homework" and ask them to show us inspirational photos. That way, regardless of the style, the end design is always bespoke to each client. These steps are our foundation for every project, even for ourselves!
Where did you find inspiration for this nursery theme?
Living in an urban environment like Brooklyn, I wanted something soft and boho, inspired by nature, travel, and global design elements (like the Moroccan rug and the dresser from India).
What are some of your favorite pieces in the nursery?
I love the dresser and the rattan rocking chair. I had so much fun searching for these pieces. The rocking chair I found at High Point, an annual trade show for designers. The cozy canopy over the chair was an internet find, and I loved the unique wooden fringe. The handmade butterfly mobile is also a fave, it's so delicate and sophisticated. It's made by a mom-owned company, which I love supporting.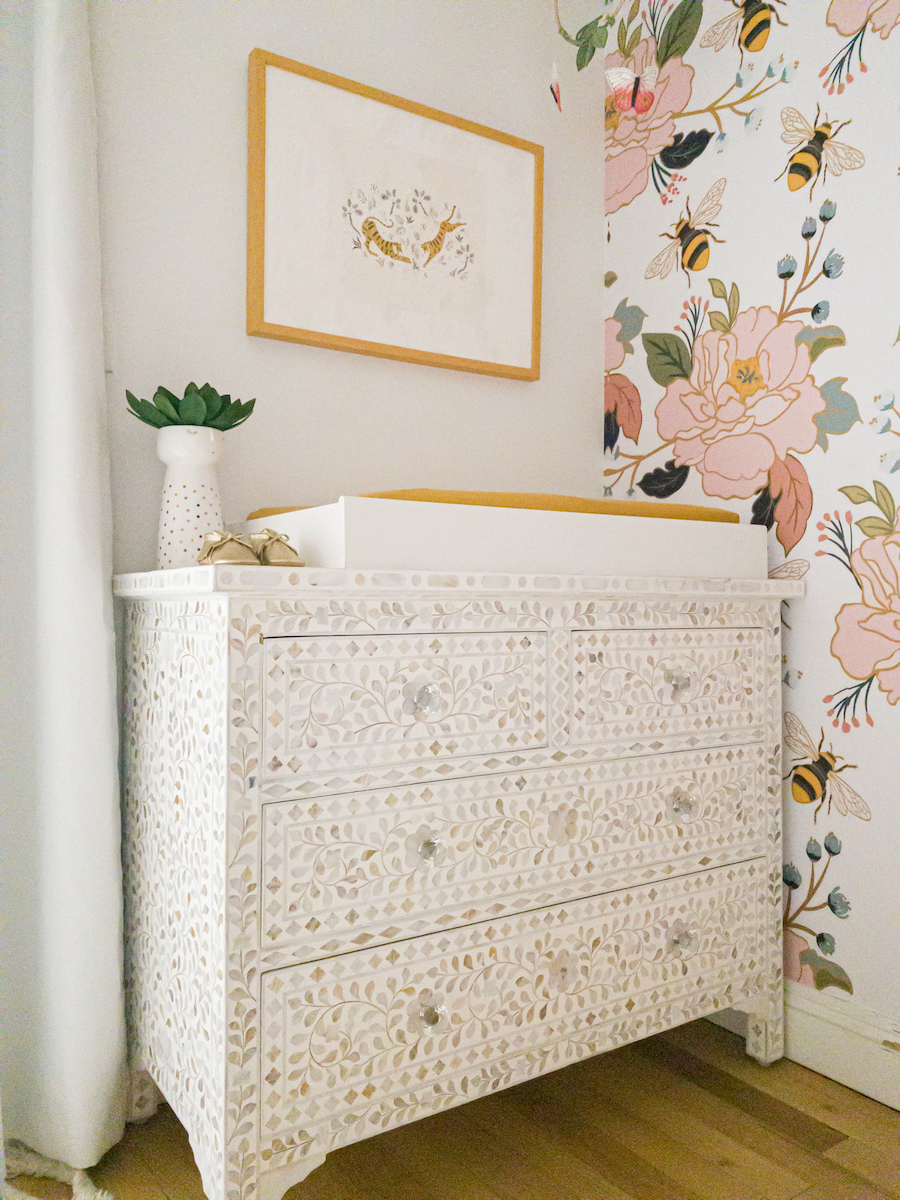 We're obsessed with the dresser and its detailing. Tell us more about it.
Definitely my number one fave piece in the room. I love that it can be used in other spaces in my home should she grow out of it, it's totally classic and timeless. The piece is mother of pearl bone inlay, giving it a beautiful creamy texture in the background, with the iridescence of the mother of pearl shining through. I imported this special piece from India, and it's always a showstopper anytime people visit.
How did you manage to incorporate the different textures and elements together to make them work?
This nursery has one major color element (the floral wallpaper), and the rest is all about texture! The dresser has a lovely iridescence to it which makes a big statement, so the other textures were complementary, with matte finishes and softness. The Berber Moroccan rug in wool, the canopy, the curved rattan chair, and the fringe on the pillows all add a soft cozy feel, which offsets the dresser.
With all the wallpaper options out there, what made you choose this specific one?
I look at wallpapers on the daily as a designer, so it was definitely hard to narrow it down. But we all have our favorites. I selected two statement floral wallpapers and put them on Instagram where we did a poll to our followers. Our followers picked the wallpaper! So I ended up with the coral flowers and bees, which I then custom scaled with the wallpaper company to make the flowers even bigger and bolder.
How do you see the nursery changing as your daughter grows?
I foresee her keeping the dresser, for, like, ever. Or I will steal it for my foyer. I think she will want to keep the rocker for a nice reading corner. We moved and had to leave the wallpaper, but everything else is currently in her new toddler room. I want to incorporate a new floral element to tie it all together in our new house.
Shop the Look
Lina Galvao is The Everymom…
Show I'm watching right now: Final season of Ozark
Go-to snack: Cheese and crackers, which is also a go-to dinner when you add wine.
Go-to coffee order? Cold brew!
What is your favorite item in your home? My counter stools which I reupholstered in indoor/outdoor faux leather—essentially kid proof!
Phone background? My kiddos being cute
Most laughable (or memorable) mom moment? For my birthday, my 6-year-old son wrote a scavenger hunt with clues for me. After we ran all over the house to find each clue, I found the treasure, which was a homemade board game that was conceived and made all by himself. I was so proud.