For many of us, COVID-19 majorly cramped our traveling style, and a mini generation of little ones born just before or during the pandemic have hardly been out in the world. Those who did venture out with new babes had to be quite bold. I know this as a travel writer and new mom: I was 10 weeks postpartum when we checked into my daughter Indah's first hotel, the Pendry West Hollywood.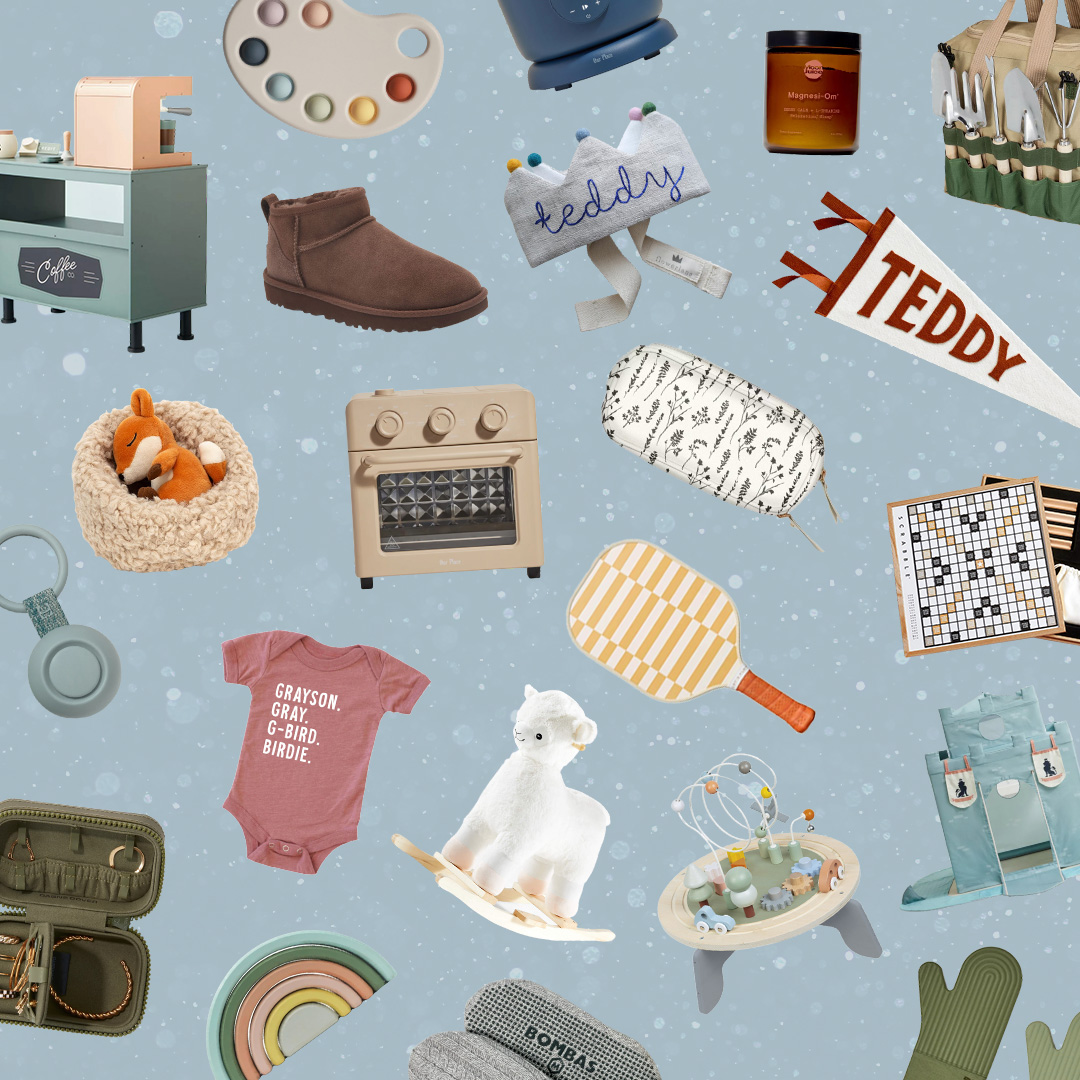 everything you need to ace holiday gifting this year 🎁
We were stoked to get back out there, but the best part was that everyone—and I mean everyone—was so thrilled to see an infant! The staff and other guests were overjoyed, "oohing" and "aahing" over her. They rolled out the welcome wagon, by which I mean a tiny convertible full of plush stuffed animals, and let her (as in me) choose one, and they left a bunny and delicious-smelling Baeo bath amenities in her wooden crib. Baby sightings in Los Angeles—and everywhere—were naturally few and far between back in April 2021, so Indah was a novelty, a little beacon of hope and a sign of good things to come.
By now, babies, toddlers, and bigger kiddos have returned to the public eye en masse. But a lot of us are out of practice—or, as we all were at one point, newbies at checking into a hotel with a kid!—on traveling-with-kids etiquette. So take it from someone whose toddler—14 months old as I write this—has stayed in 44 hotels and has learned a ton along the way. Airbnbs, Vrbos, and other house rentals are sometimes easier (after all, you don't have to worry much about other people), but there's something particularly exciting about pulling up to a nice hotel. It feels a little more escapist, and you usually don't have to do any dishes or cook. Over the last year, we've honed in on some ways to make a hotel stay the most successful possible for every member of the family as well as for the strangers in rooms around you. Read on for seven hotel hacks for traveling with babies, toddlers, and kids.
1. Make sure baby is noted on your reservation and that you request a crib or playard in advance of arrival.
You'll also get a pretty good sense of how baby-friendly the hotel is when you call to tell them about your baby. And don't assume that they will put a crib in the room just because you have a child—ask explicitly (I've learned this the hard way!). If you co-sleep, don't worry about the crib, but do still tell the property you're bringing a little one.
Some hotels take the crib as a cue to leave your baby or toddler milk, treats, or an adorable animal to add to their collection. At Downtown L.A. Proper Hotel, Indah got her favorite Jellycat elephant, at Four Seasons Hotel The Westcliff, Johannesburg a sweet handmade rhino, and at The Hythe Vail a velvety soft moose (plus cute board books and a ski-themed rubber duck). And from time to time, you'll find the most adorable surprise: a teensy bathrobe—you definitely don't want to miss out on that!
Additionally, pending availability, the hotel may put you in a room built to code for the Americans with Disabilities Act. These rooms tend to be more spacious and most of the time have bathtubs, too, even if the majority of standard guest rooms only have showers. Of course, hotels hold these accessible rooms for people with disabilities until all standard rooms of that class or type are sold, as they should.
2. Decide where you want to hang out at night and move the crib elsewhere—like the bathroom.
Hotel staff always place the crib by the bed, but that doesn't mean it has to stay there. When Indah was little, she always slept right by my side. However, once she was sleep trained at six months and sleeping in her own nursery, we realized that maintaining a little bit of distance was helpful on the road, too. A suite is obviously ideal for this purpose but is often not possible financially. So we followed my sister's suggestion to put Indah's crib in the bathroom (with the door partially open for air flow), and for the most part, it's worked amazingly.
It may sound weird, but she sleeps better, and so do we. Plus, being in a place where she can't see us means none of our sleep training efforts were undone. With Indah in her own dark, quiet space, we can actually enjoy the room and carry on (quiet-ish) conversations, watch TV (not too loud, of course), and even get room service. Remember to get ready for bed before putting baby down. Once she's out, Indah is a pretty deep sleeper, so we've successfully used the toilet in the middle of the night (no flushing!), but I've also gone downstairs before dawn to use a hotel lobby bathroom to not wake her early. And we move the crib back out during the day to make the bathroom more functional.
Conversely, if there's an amazing bathroom situation—we're talking big tub and bath salts—you might want to give baby the main room one night so you can enjoy a long soak with a glass of wine before quietly creeping into bed.
3. Request a mini fridge for your room in advance.
Oftentimes, minibar refrigerators don't get cold enough to safely store breastmilk or milk. And besides, most of the time, they're chock-full of beverages and snacks. Many hotels are able to equip your room with a separate mini fridge at no cost so you have a place to keep things adequately cold for baby. We also traveled with a bottle brush and travel-sized bottle of dish soap, too.
You can also try asking for a diaper pail (we've probably lucked out with this 50% of the time, and your noses—and housekeeping—will thank you, too) and baby bathtub. Even if they don't have it, there's no harm in asking because you may learn there's something else helpful they can provide that you didn't think of. For example, Mission Pacific Hotel kindly brought us a high chair to keep in our room during our stay to make feeding our new solids eater easier.
4. Make early-bird dinners your friend.
The beginning of happy hour, too. If you don't want to annoy other guests or diners, go to dinner early. And reserve or ask for a table out of the way on the fringes if your baby is too small for a high chair. There's usually nowhere to park a stroller or place a car seat in the middle of a dining room. Discuss amongst yourselves in advance who will take your child back to the room in case of a crying fit or tantrum—and who gets to eat their dinner cold, out of a takeout box once the other finishes the meal. If you do want to treat yourselves to a normal-adult-time dinner sans stroller or high chair, ask before arrival if your hotel can recommend or arrange a babysitter.
5. Bring snacks. Lots of them.
My advice for flying with babies and toddlers applies for hotel stays with them, too. Once they start eating solids, it can be hard enough to keep up with their appetites at home, let alone in a place with no kitchen and sometimes limited dining options. It's always best to bring along a bunch of portable options so you're not stuck waiting 30 to 45 minutes for food to be prepared as your child melts down.
Also, remember that kids menus typically don't take into consideration infants and young toddlers, so if you're not keen on feeling high maintenance by asking your server for a custom-made sodium-free puree, it's easier to have your own stash of pouches.
6. Schedule turndown service.
If you're somewhere fancy enough to do turndown service, they'll probably be amenable to doing it earlier—before the bedtime routine begins—if you just ask. No need to miss out on that little luxury that definitely doesn't happen at home. Also, don't be shy about using your "Do Not Disturb" sign. We've never hung ours out so much as with Indah in tow. The last thing you want is someone knocking at 9 p.m. and waking your sleeping babe.
7. Hit the pool at off-hours.
And if you're at a resort that happens to have a family pool, embrace it. Though this was admittedly mid-pandemic, at Montage Healdsburg, we had the entire massive family pool to ourselves while the adult pool was flooded with all the other guests. At hotels with more crowded pool scenes, going first thing in the morning (I'm talking 9 a.m.)—because we didn't want our very pale baby to get too much sun or heat—was actually helpful, since we could get chairs and umbrellas before they were all claimed. And funny enough, one of our major milestones happened at a hotel pool: crawling!