When Kayla Gann was designing her family's latest house in Mississippi, she followed her go-to decor motto—"less is more." The result is a perfectly minimalist cottage space that combines Scandinavian and Bohemian elements in the cozy living area, chic kitchen, relaxing primary bedroom, and serene nursery for their little boy, Beck. Keep scrolling to learn how Kayla's interior design style shifted after she became a mom, her tips for styling kitchen items on open shelving, and how she channeled Joanna Gaines to add a farmhouse touch to their new home in the South.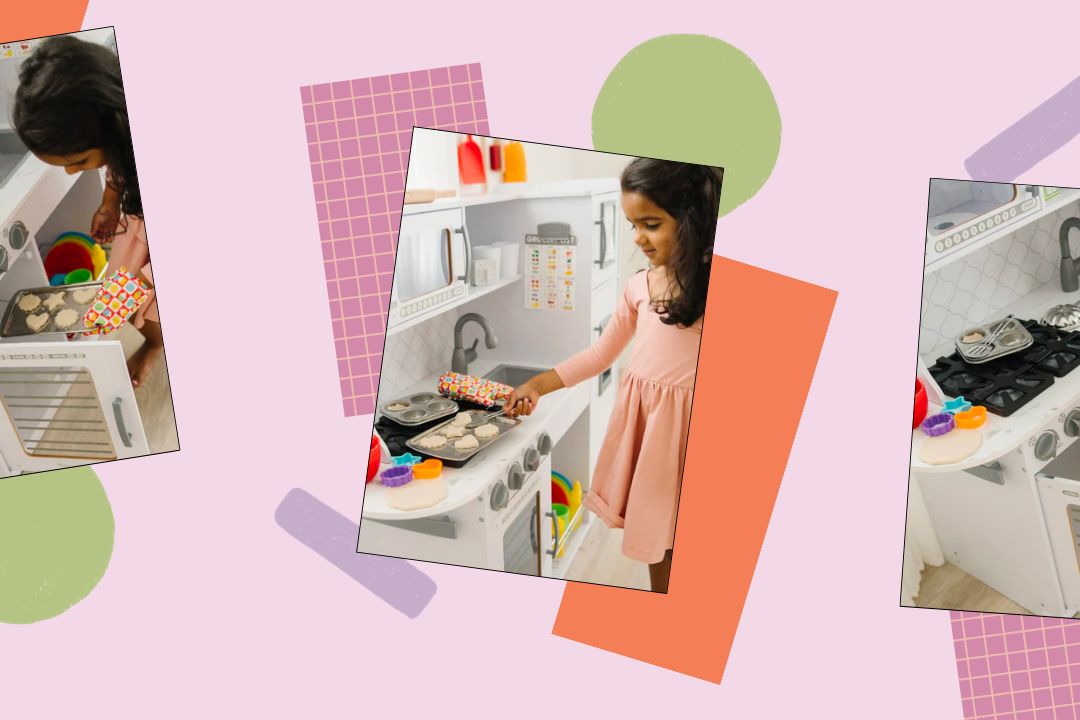 Name: Kayla Gann
Location: Mississippi
Sq. Ft.: 1,475
Years Lived In: 1 1/2
Rent or Own: Own
Children: Beck, 9 months
Kayla Gann's Minimalist Cottage Home Tour
When your husband got a new job in a new city, you purchased a house that was under construction. How was it designing a house from three hours away?
I spent a lot of time on Pinterest, drawing inspiration and making mood boards for what I wanted our home to be. It was hard! I was only able to see our house in person a handful of times before we moved in. I chose virtually every aspect of our house except the floor plan, and it opened my eyes to how much work goes into designing a space. I definitely didn't get everything right the first time, so we've put a lot of work in ourselves. Being pregnant when we moved in really motivated us to get it done quickly!
How would you describe your design style?
"Less is more." I always lean toward the most simplistic design that I can without a room feeling too modern or cold. I try to add the minimum amount of "stuff" so that our rooms feel cozy and lived-in but not so much that they look cluttered or become hard to clean.
Now that you've been in the home for more than a year, is there anything you wish you would have done differently when you were originally designing?
Most of the things I was unhappy with have already been changed! My home environment is so important to me, so I get restless if something feels unfinished. We've repainted our kitchen cabinets, added porch railings and landscaping to our front yard, and most rooms have gone through a few different iterations of decor. I'm very content with everything now!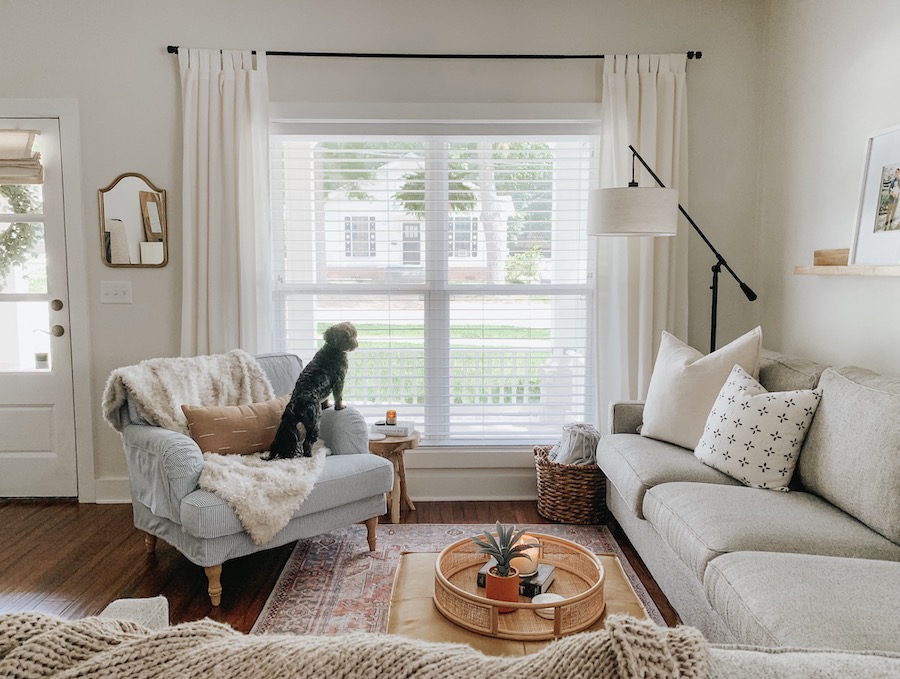 Shop the Look
What's your favorite room in the house and why?
Probably our living room! It's where we hang out the most as a family and where I relax and occasionally catch up on shows or have a cup of coffee while Beck is napping. We have huge windows in our living space, so I love all of the natural light it gets throughout the day. It's definitely the room that has taken me the most time to figure out, but I'm so happy with it now!
I love the family pictures on the shelf over the couch! Where do you get your design inspiration?
That's another thing about my style that has changed since becoming a mom—adding little sentimental touches like family photos!
I appreciate so many types of design. I love the simplicity and the whites and wood tones of Scandinavian design. I also love the pops of color and patterns in Bohemian design. And a little touch of modern farmhouse à la Joanna Gaines never hurt! I get most of my inspiration from images I scroll past on Instagram or Pinterest. I feel like they all meld together into my style.
Shop the Look
What's your go-to place to shop for minimalist cottage decor?
I LOVE Target. I think they do a great job of offering affordable decor to suit so many different styles. I also love H&M, Urban Outfitters, and HomeGoods!
Keeping the white walls throughout the house gives it a light, airy feel. How do you still manage to bring in a level of warmth and coziness to this minimalist cottage space?
That's something that has taken me a while to figure out, especially since my style is so minimalistic. I think adding a lot of texture to a space can really help bring warmth into it. I love experimenting with a lot of different textures in a room, like velvet, leather, faux fur, and linen.
How do you like living in an open concept kitchen, dining room, and living room? Do you have advice for styling and working with this floor plan?
I absolutely love it! I think the most important thing is to keep your design somewhat cohesive throughout. I've found the best way to do this is to keep all your big pieces neutral and add hints of color and texture with smaller pieces that can easily be changed out.
Shop the Look
Do you have any tips for styling open shelving in the kitchen?
I'm all for functionality, so 90 percent of the things on our shelves are things we use daily. You can't go wrong with a nice set of dishes that you love! I also like to display our favorite mugs and wine glasses. Add a few plants, and it's done. I like to keep the open shelves pretty simple so they don't feel too cluttered.
Every home has its own quirks and challenges—what were yours?
Honestly, it was the open floor plan at first, and now it's one of my favorite things about the house! Open floor plans can be freeing, but they can also feel very limiting in terms of laying out furniture when you're dealing with a smaller space. We downsized a bit when we moved, so functionality and utilizing storage space are huge for me in this home.
Shop the Look
Has your design style changed at all since having your son, Beck?
Absolutely. The biggest change is that I've added so much more color into our home. It still isn't "colorful" by most people's standards, but it was a huge step for this neutral design lover. I've definitely had to loosen my grip a bit and find creative ways to store all of our baby gear! I keep a basket of his toys in most rooms so they're easy to access when he needs them and easy to clean up when he's done.
Beck's nursery looks so peaceful. How do you want him to feel when he's in it?
It really has the most calming vibe. I always want him to feel relaxed, safe, and at ease in any room of our home. With that in mind, I kept his nursery muted and simple.
As Beck grows, how do you anticipate his room will transform? Do you have any transitional pieces that he can continue to use as he gets older?
I definitely anticipate changes when he gets older and develops his own tastes and preferences. I hope to be able to create a space he loves and has a say in while hopefully keeping it tasteful! His crib can convert into a toddler bed, and I'm really in love with his changing table, which is actually an IKEA dresser I painted and added leather pulls to. I plan to use those as long as I can!
What's your favorite thing about being a stay-at-home mom? What's the hardest part, and how do you overcome it?
There are so many things I love about it! Obviously, being able to spend my days with my son and just watch him grow and change is the best part. Another huge benefit is being able to run errands and get most of the household chores done during the day so when my husband is home in the evenings and on weekends, we can just focus on each other and Beck! Or if I need a slow day to rest and focus on myself, I can do that too.
The hardest part, in the beginning, was the lack of socialization. I was a high school science teacher before I started staying home, so I was used to a LOT of interaction during the day. I'm an introvert, so I didn't think having more alone time would be an issue for me at all. But I've learned that even introverts need some social time! It has changed me in the best way and pushed me to be more social and intentional about spending time with people. Luckily I made a great friend who's also a stay-at-home mom; she lives just around the corner, so we spend a lot of time together with our boys! We have a great community here.
Shop the Look
What are some of your favorite activities to do as a family?
We go on walks through our neighborhood every evening, and it's such a nice way to unwind together before Beck goes to bed. We also love to sit on our porch swing, and we're currently trying to create a fire pit area in our backyard. We really love to be outside together!
When it comes to motherhood, what are you most confident in? What do you still feel insecure about?
I feel like motherhood has made me more confident in so many ways! I love Beck immeasurably, so knowing that every decision I make regarding his care is made out of love makes me confident. It can be hard not to let insecurity creep in when so many people are quick to share what they think is the best way to parent. But I know that every child is different and every family is different, and there are SO many ways to parent that can all lead to a happy and healthy child! Just loving your child is the most important thing you can do for them.
What's been your favorite moment of motherhood so far?
Just knowing that I'm his place of comfort and security is the best feeling. One of my favorite things is going into his room when he wakes up in the morning or from a nap. Seeing his face light up when he sees me makes me melt!
Kayla Gann is The Everymom…
Self-care activity you love?
A good face mask + a bubble bath.
Coffee order?
Iced latte with almond milk.
Favorite restaurant in your town?
Kermit's Outlaw Kitchen—the best burgers!
Ideal way to spend a Saturday?
A slow morning, some outside time, and cooking a meal together with my husband.
Favorite Instagram to follow?
@pinchofyum
Beauty item you recommend to everyone?
Drunk Elephant skincare.
I wish I knew how to…
Knit!
This article was originally published at an earlier date and has been updated for timeliness.