One of my favorite memories growing up was when my family used to snuggle on the couch on a Sunday night while watching ABC Family movies. The older I get, the more I realize what a bonding moment watching movies together has always been. We always chatted vividly afterwards, talking about what we loved and what we didn't. The shared experience is one I still treasure.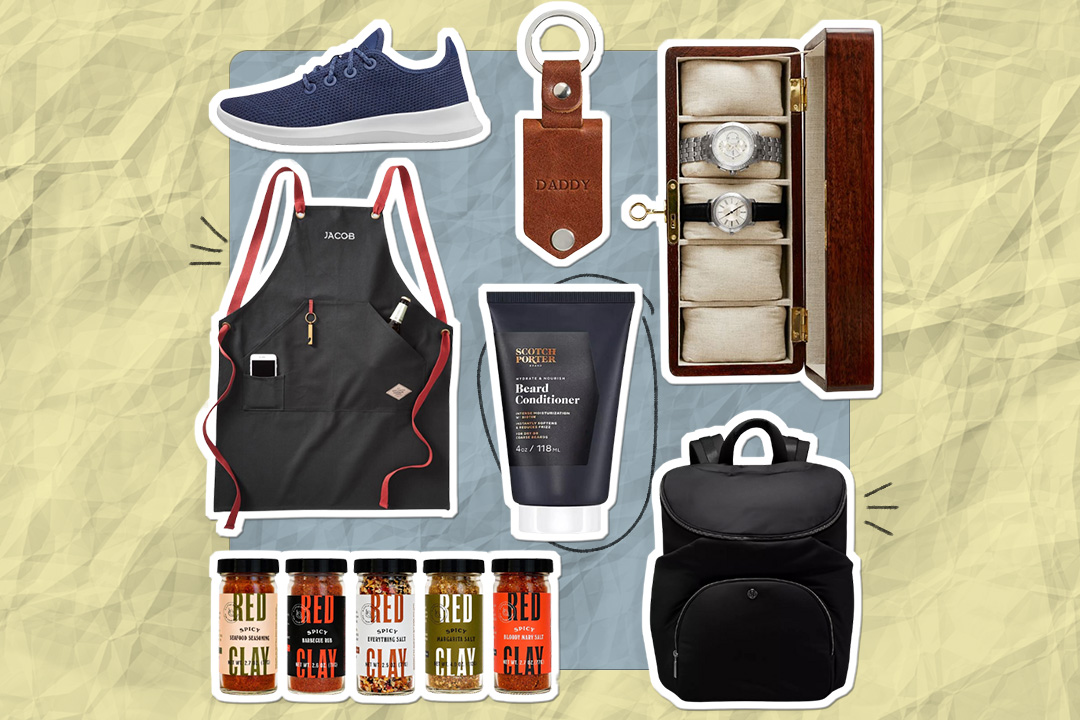 june 18 is coming up fast — have you started shopping yet? 😎
As an adult, I love watching movies with my nieces and nephews. We make snacks, get candy, and bond over family favorites. They love talking to me throughout the movie (and long after it's over), dissecting plot points and rehashing their favorite jokes. These days there are movies for everything, but I've realized that Mother's Day family movies may be some of the most heartwarming.
Below, check out 18 Mother's Day family movies to consider watching together this Mother's Day.
Mother's Day Family Movies for Everyone to Enjoy
The Princess Diaries
Rating: G
Where to Watch: Disney+
Arguably a modern-day classic, The Princess Diaries is pleasant to watch from beginning to end. Mia Thermopolis (Anne Hathaway) discovers she is a princess of the fictional country Genovia, and her estranged grandmother Clarisse (Julie Andrews) takes her under her wing to get her in tip-top shape for all her newfound princess duties. The connection between Mia and Clarisse blossoms as the films goes on, and the grandmother role of Clarisse to Mia is both nurturing and refreshing.
Can't get enough? Lucky for you, the sequel, The Princess Diaries 2: Royal Engagement, is just as cute and Disney recently announced that a third Princess Diaries movies is in the works!
Turning Red
Rating: PG
Where to Watch: Disney+
Mei Lee wants to be the perfect daughter in her mother's eyes, but she also wants to explore her youth and cultivate her self-interests. When the 13-year-old finds herself literally turning into a big red panda when she gets too excited, she finds new ways to attempt to honor her family as well as pursue her passions.
If you haven't seen Turning Red yet, now's your chance. The mother-daughter dynamic in the movie touches upon important milestones in a young teenager's life, from their first period to learning that you're not always going to please your mother. It's lighthearted, silly, and an enjoyable watch for the whole family. Oh, and did we mention there's a super cool boyband?
Brave
Rating: PG
Where to Watch: Disney+
Merida, the daughter of Scottish royals, is stubborn and defiant. Her stubbornness lands her in trouble with the Highland lords and she seeks help from a witch. Of course, trouble ensues, and she and her mother find themselves in a very eccentric situation.
A princess movie with a twist, Brave exemplifies a young girl's stead-heartedness and eagerness for adventure. It wasn't at all what I was expecting when I watched it the first time around, but the story and message will stick with me forever.
Wonder
Rating: PG
Where to Watch: Amazon Prime Video
Auggie Pullman has a rare medical facial deformity and has gone under many extensive surgeries. As he approaches the fifth grade, his parents enroll him in school as opposed to his previous home-schooling. Auggie navigates school like any other fifth grader would: making new friends, learning new concepts, and, unfortunately, experiencing bullying.
As Auggie and his family navigate this change, they experience a series of ups and downs but ultimately find comfort within each other and new friends. Wonder is a sweet movie that exemplifies the importance of sticking together. The book is a great read too!
Incredibles 2
Rating: PG
Where to Watch: Disney+
When the Incredibles' mom Elastigirl is asked to become the new face of superheroes to make the world fall in love with them again, Mr. Incredible stays home with the kids. As a new villain comes into play, the Incredibles need to dig deep and figure out if they are up for the challenge. Of the animated Mother's Day family movies, this may be one of our favorites.
Sometimes, you can fall into a sequel trap, but The Incredibles 2 certainly delivered. Plus, this focuses on how families can change their structure and dynamic as new challenges come up. Once a working father, Mr. Incredible becomes the stay-at-home dad while Elastigirl is traveling for work. They have to learn to balance a new dynamic, and I love that they leaned into switching parenting roles and how to learn about that as a family.
The Parent Trap
Rating: PG
Where to Watch: Disney+
I first was introduced to this zany comedy through the Hayley Mills version from 1961. It made me long for summer camp and for sure think I had a twin out there in the world I didn't know about and they probably would be British.
The update didn't disappoint, either! When Annie and Hallie (both played by a young Lindsay Lohan) accidentally meet at summer camp, they uncover that they are, in fact, secretly twins separated at a young age. In hopes of meeting their one estranged parent (and getting them back together), Annie and Hallie switch places at the end of camp, and hijinks ensue.
Mary Poppins Returns
Rating: PG
Where to Watch: Disney+
My family was obsessed with the original Mary Poppins movie. My grandmother loved the music, as did the rest of us, and having humans live in an animated world has long been a dream of mine. I always hoped to meet the talking penguins one day. When the sequel was set to come out many years after the original, I was a little nervous because Julie Andrews is a queen—but Emily Blunt was also incredible. She captured the same kind of benevolent love while also keeping the mystery of Mary Poppins alive.
Michael Banks is having a terrible time. His wife passed away (which could be a little triggering for those missing their moms this Mother's Day), and he can't find the banknote that will allow him to pay off his mortgage and save his family home. Unexpectedly, Mary Poppins returns, just as young as she ever was, to help the new Banks children this time. It's a wonderful reminder that mother figures come in all forms.
Akeelah and the Bee
Rating: PG
Where to Watch: Amazon Prime Video and Apple TV+
When young Akeelah gets the opportunity to enter into the National Spelling Bee, she wants to step up to the plate and push herself. Her mom champions her along the way, and she finds a tough but loving mentor. Will she be able to deliver when the time comes or will her nerves get in the way?
This movie has an all-star cast with Angela Bassett (swoon), Laurence Fishburne, and a young Keke Palmer! If that wasn't enough, I love how it captures the competitive nature of something that should seem innocuous while continuing to bring the focus back to the primary story of a girl, who is poised to do anything, and all the challenges she faces.
Freaky Friday
Rating: PG
Where to Watch: Disney+
This was one of my favorites growing up. What young kid doesn't want adults to understand just how hard it is to be young? But now, on the other side of things, I love that the kids get to figure out how hard it is to be the parents, too. So it's got something fun for everyone! Single mom Tess (Jamie Lee Curtis) and teenage daughter Anna (played by Lindsay Lohan) are getting on each other's last nerve. After a strange fortune, they find themselves in each other's bodies. Until they can find a solution, they have to play each other's parts. Will they get to the end of the day without ruining each other's lives?
Now, 20 years after the original movie first premiered, a Freaky Friday sequel was just announced that will bring Jamie Lee Curtis and Lindsay Lohan back to the big screen together—and we couldn't be more excited!
Pachamama
Rating: PG
Where to Watch: Netflix
The story follows a young boy, Tepulpai, on the precipice of growing up in the time of the Incas and the Spanish explorers. Tepulpai is excited for his future as a shaman until he is told by his community that he is not meant to be a Great One. But when the village is in trouble, Tepulpai steps up to show everyone what he truly is inside of him.
This film was such a sweet little gem to find when scrolling through Netflix. The movie's title, "Pachamama," refers to an earth-mother goddess from the indigenous people of the Andes. Honoring the earth is a theme in the movie, along with the lovely message: Just because people don't see yourself the way you do, it doesn't mean they are right.
Dora and the Lost City of Gold
Rating: PG
Where to Watch: Amazon Prime Video
For all the moms tired of watching the cartoon Dora with their kids, this is not that. The cartoon never hooked me as a kid, but when the trailer came out for this movie, it completely changed my mind. I listened to a few interviews and they talked about how the creators wanted to think of Dora growing up alongside her fan base and decided to make her into a teenager. Not only did they let her grow up, but they also let her world grow up, too. It's very tongue-in-cheek and self-aware.
Having grown up in the jungles of Peru, Dora is ill-prepared for her latest challenge: high school. And it's the first time being away from her parents (played by Eva Longoria and Michael Peña). But when she realizes her parents are in trouble, she and a misfit gang from her school try to help save them. Will she conquer all the jungles she encounters, or will this be her last adventure?
The Perfect Man
Rating: PG
Where to Watch: Amazon Prime Video
A great watch for moms and daughters, The Perfect Man stars some big names like Hilary Duff, Heather Locklear, and Chris North. When it comes to love, Jean (Locklear) can't seem to catch a break. And after each heart-wrenching breakup, she moves herself and her two daughters somewhere new. When her eldest daughter Holly (Duff) gets sick of moving and wants to make a home in New York, she begins plotting. She fabricates an online secret admirer for her mother, but could have never known just how quickly and heavily her mom would fall for the lie.
My Neighbor Totoro
Rating: G
Where to Watch: HBO Max
Sisters Satsuki and Mei move out to the countryside with their father while their mother recovers from a serious illness at a nearby hospital. When they move out there, they encounter a lot of fun and playful spirits in their home and in the neighboring lands.
I love how the magical creatures help the two young girls, who are going through a difficult—and incredibly scary—time away from their mom. It's a loving reminder of the resilience of kids, and your littles will love the fantastical spirits along the way.
Mother's Day Family Movies Best for Older Kids
Mamma Mia!
Rating: PG-13
Where to Watch: Netflix
While single mother Donna prepares for her daughter Sophie's wedding on the Greek island they live on, Sophie has plans of her own. Without her mother's knowledge, she secretly invites three men to the wedding knowing that they all have the chance of being her father. This island musical and ensemble cast are must-sees. As one of the most musical of the Mother's Day family movies, this one will leave everyone in the mood to sing.
With a great ABBA soundtrack behind it, Mamma Mia! is truly fun for everyone. Meryl Streep steals the show as Donna and Amanda Seyfried takes our breath away with her singing as daughter Sophie. Not only does it highlight the importance of a mother in one's life, but it also shows the importance of how influential a strong group of friends can be in your child's life (We're looking at you, Dynamos!).
Instant Family
Rating: PG-13
Where to Watch: Paramount+
Pete (Mark Wahlberg) and Ellie (Rose Byrne) decide to expand their family and dive into the world of foster care. Every expectation they have is blown out of the water when they end up with a teenager and her two younger siblings. As they laugh and struggle through it all, they have to decide if this is what they want to do after all.
I have watched this movie like a zillion times. I love so many aspects of it. If I'm being completely honest, it's part of what piqued my personal interest in foster care in the first place. It does such a good job of showing how hard it is to be part of the foster care system as licensing workers, foster parents, and foster kids. The only beef I have with it is that it does tie everything up in a tidy bow, and I'm also not fond of how the biological parent is shown. But if you're in the foster system, or if you're interested in it, you get one of the more accurate portrayals in Hollywood with this movie.
The Blind Side
Rating: PG-13
Where to Watch: HBO Max
A list of the best Mother's Day family movies would be incomplete without a tear-jerker or two, and The Blind Side is just that.
Based on a true story, The Blind Side portrays the story of football star Micheal Oher and his journey to the NFL. A troubled teen, Micheal finds himself struggling both inside and outside of school. When he meets Leigh Anne Tuohy (Sandra Bullock), she and her family take him in and eventually she and her husband become his legal guardians. Both Micheal's and the Tuohys' lives are changed forever by the union. This sweet story reminds us that family doesn't necessarily mean blood-related.
Because I Said So
Rating: PG-13
Where to Watch: HBO Max
Many of us have heard our own mother's speak this phrase a time or two, and are probably guilty of using it on our own little ones more than we'd like to admit. But, if you ask us, it holds true because, like she also said, mother almost always knows best.
Like any mother, Daphne Wilder (Diane Keaton) would do anything for her three daughters. It pains her to see her youngest, Milly (Mandy Moore), date the wrong men over and over again. That's why she takes it upon herself to save the day. But, when she puts out a personal ad on Milly's behalf, disaster strikes.
Mother's Day
Rating: PG-13
Where to Watch: Amazon Prime Video
Of course we had to include Mother's Day on this list of the best Mother's Day family movies. From the producers who brought us Valentine's Day and Pretty Woman comes an equally as enjoyable tale with another star-studded cast.
In this lighthearted comedy, the week leading up to Mother's Day is more chaotic than imagined for four intersecting families. Four women, each with their own struggles, deal with the trials of motherhood and the holiday becomes more important than ever.