Now more than ever, parents are looking for ways to keep their little ones busy and engaged in the comfort of our own homes. Last month, I realized my daughter, Margot (who is now 20 months), was lacking age-appropriate toys, and she seemed a little bored. I did some research and placed a few orders. All of her baby toys have been stored for her baby sister (coming this summer!), and I got to work, researching the best toys for toddlers.
Since Margot's first birthday, I tried to invest in toys that I hoped she'd play with for a while—toys that would keep her engaged in the months (and maybe even years) to come. I even ordered a few toys that are popular among ages 3 and up, keeping small parts in mind, of course.
We have a playroom in the basement and do spend time down there, but I love our living/family room and wanted to make sure Margot felt like it was her space too. It is, after all, a space for our family. I recently warmed up our family room to make things more family-friendly and have since included some fun additions for Margot. She went from having a small corner to lots of space to play!
When it came to organizing and storing her new toys, I loved the idea of a Montessori-style shelf but wanted things to feel clean and tidy at the end of the day, so we are storing her toys in pouches and baskets. It works well for us, and it keeps everything organized.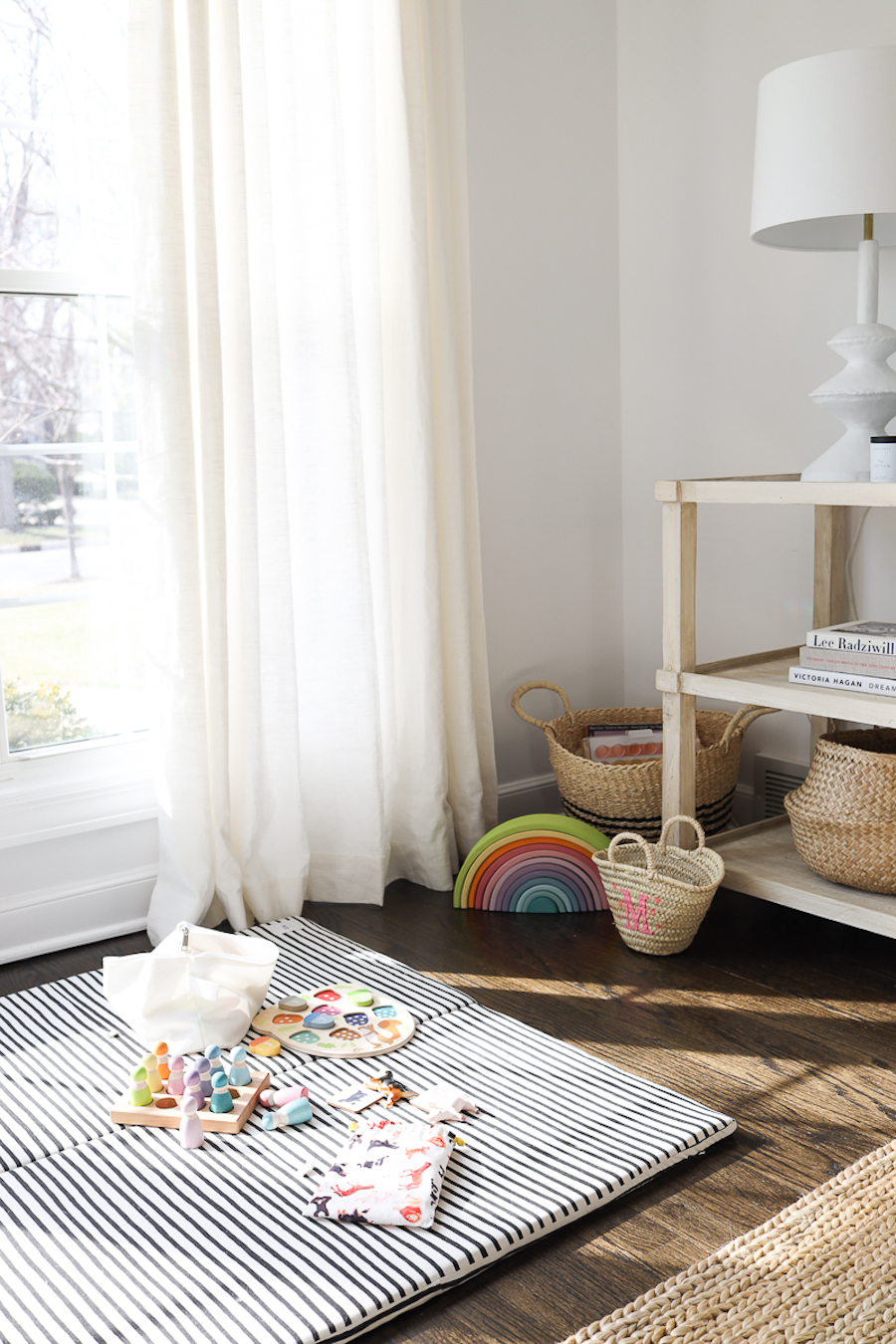 Our new TV console has been the perfect spot to place storage bins to hide her toys. The bottom shelf has four very budget-friendly baskets that I keep canvas pouches in, each holding types of toys—wood puzzle pieces, characters, animals, and so on.
I keep her puzzles in one basket with the puzzle pieces in a pouch. Searching through the pouch to find the right pieces is a fun activity. We almost always clean up together, and she's learning what goes where. We have a few larger toys, like dolls, that I keep in their own basket.
We've been using our Toki Mat since Margot was new to sitting up and love it, so it was the perfect addition to this playspace. It's easy to clean, folds up for easy out of the way storage, and creates a great little play area. I always set her up on there, and it's a nice, soft place to sit. Bonus: it fits perfectly inside her $40 teepee and will be the perfect spot for baby sister when she needs a cozy spot for tummy time and is new to sitting up.
I also really love chunky puzzles and little wooden figurines because they can be played with in more ways than one. Margot will match the pieces in her ocean puzzle, but she'll also play with them like little characters. She also loves playing with her little wooden figurines; they're so cute and are great for counting, going over colors, and playing pretend.
Margot (like many other toddlers) is really into little figurines right now. She names them, makes them sit/stand, hug, high five, and hold hands. She's in the very early stages of playing pretend, but it's been fun to watch, and she can spend what feels like a pretty long stretch of time playing with her characters. We recently went to Disney on Ice, and she fell in love with those characters pretty quickly, so I ordered a little set of Disney figurines, and she plays with them every single day.
I additionally keep a few larger toys next to and behind our living room chaise. Everything gets pulled out during the day and takes less than five minutes to clean up when she's done playing—a win, win!
Scroll down to shop my toddler's favorite toys, the storage bins and pouches we use to store them, and the pieces that make up her living room playspace.
Our Favorite Toys
Our Toy Storage Essentials
Our Playspace Favorites
This article originally appeared on DanielleMoss.com on March 19, 2020.