Confession: I don't think Christmas and holiday rom-coms have to be even remotely well done to be good. Call me crazy, but I might actually prefer to watch a cheesy Christmas rom-com over any movie that's trying to be something it's not. Poor screenwriting? At least the pretty red, white, and green set pieces make up for it! Basic plot? Sometimes the best stories follow a classic trope or storyline. Bad acting? Who are you, Scrooge?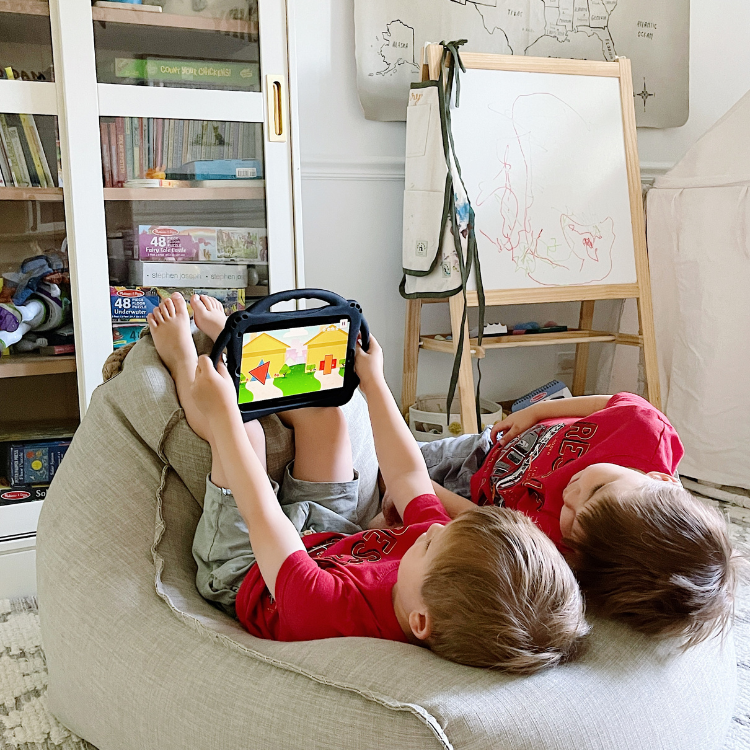 a pediatrician shares what she *really* thinks about LOs and screen time
In honor of the films that make us laugh, cry, and possibly even cringe through the holiday season, we've rounded up the best corny holiday rom-coms that Netflix has to offer. From excessive amounts of Vanessa Hudgens to brand new Christmas classics (looking at you, Love Hard), here are 10 cheesy holiday romances to stream on Netflix this season.
1. The Princess Switch
The Princess Switch has been one of Netflix's most popular holiday movie series for years now, and it's all because of the sheer amount of Vanessa Hudgens in this rom-com-style film. When a duchess and an ordinary woman from Chicago meet and realize they are each other's doppelgangers, they subtly switch places. The best part? There are three installations of this series on Netflix, including The Princess Switch: Switched Again and most recently The Princess Switch: Romancing the Star. You might even call this a triplet of great holiday movies.
2. A Christmas Prince
This royal holiday series was a huge hit when it premiered on Netflix back in 2017 and has been adding new films ever since. Amber is a curious reporter who goes undercover as a tutor in order to get an inside scoop on a notorious prince. However, when she finally does meet Prince Richard, she ends up entangled in royal intrigue and might even find love. Don't want the magic to end after you watch the first film? Luckily, Netflix also has the movie's binge-worthy sequels, A Christmas Prince: The Royal Wedding and A Christmas Prince: The Royal Baby.
3. Holidate 
If you're looking to infuse your holiday movie viewing with a little Emma Roberts (honestly, who isn't?) look no further than 2020's Holidate. Sloane and Jackson meet at a store return counter during the holiday season. Both are fed up with being single on Christmas and agree that in order to avoid terrible dates and nosy family members, their foolproof strategy will be to meet as a couple only during the holiday season. In true fake-dating-trope fashion, they're in for something a little deeper than a false romance.
4. A Castle for Christmas
Ah yes, a tale as old as time: An American author attempts to escape scandal by purchasing an entire Scottish castle, and in the process, she falls for the grinchy Duke who previously owned the place. A Castle for Christmas may have an out-there premise, but the holiday spirit is infused in every second of this Brooke Shields rom-com. With a series of misadventures, an enemies-to-lovers trope, and a heartwarming conclusion, A Castle for Christmas has every element of a great sappy Christmas movie.
5. Love Hard
Whether you prefer Love, Actually or Die Hard as your favorite holiday movie (I bet you can guess which one we would pick), Love Hard has all the action, humor, and sappy romance that makes a perfect Christmas flick. Natalie, a perpetually single L.A. journalist, travels all the way across the country to surprise the guy she's been chatting with online for months—only to find out that she's been catfished. Hilarity and romance ensue in this new film that's bound to become a Netflix classic.
6. Single All the Way
Peter is having a rough start to his holiday season: Perpetually single, he's facing bombardment from his nosy family members for his dating status. Desperate, Peter convinces his best friend Nick to come home with him for the holidays and pretend to be his boyfriend, but things get complicated when Peter's mom sets him up with a hot personal trainer. We'll definitely be curling up with a cup of hot cocoa to watch this cute and funny Christmas rom-com.
7. Christmas Wedding Planner
Kelsey Wilson is a wedding planner who has just gotten her big break when she is hired to plan her cousin's lavish and extravagant holiday wedding. Connor McClane is a private investigator who has been hired by an anonymous source to look into the marriage and the event. Although Connor might interrupt the ceremony, he also manages to win Kelsey's heart. The cheesiness of this movie is bound to win you over.
8. The Knight Before Christmas
Didn't get enough Vanessa Hudgens in your holiday season by watching all three editions of The Princess Switch? We didn't either, which is why The Knight Before Christmas is Netflix's perfect remedy. In this time traveling adventure, a medieval English knight is transported to 2019. The hardened high school English teacher he meets is skeptical of true love, but she helps him navigate the modern world all the same.
9. A California Christmas
California real estate is tough. In order to complete a business deal, CEO Amy Van Aston convinces her son, Joseph, to seduce the female owner of a family farm. Joseph happily agrees, but when he gets to the farm, he ends up being mistaken for a ranch hand, meaning he has to engage in manual labor in order to manipulate Callie out of her land. The film's sequel, A California Christmas: City Lights, hits Netflix on Dec. 16.
10. Let It Snow
Based on the book Let it Snow: Three Holiday Romances by John Green, Lauren Myracle, and Maureen Johnson, this star-studded movie follows a group of teenagers when they are snowed in on Christmas Eve by the biggest storm of the season. These high school seniors are in for a very eventful holiday—one that will impact their love lives and futures.