Every year, I get a little more into the holidays with my kids. When my first child was just a baby, I wanted to start new Hanukkah traditions, but since she was so little and wasn't too aware of what was going on, I just sort of let the holidays pass by without too much excitement.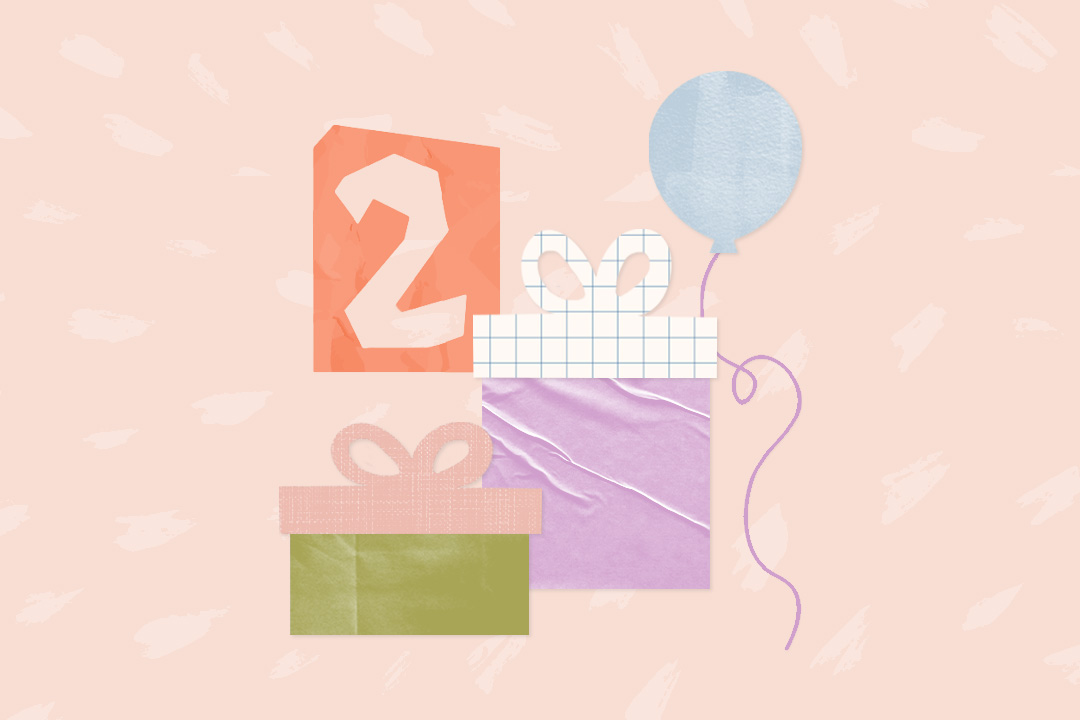 a LO in your life will love these! 🎁
A few years later, my toddler is now extremely aware of what is going on and gets really excited by new activities and crafts. She's the one who is now teaching me about celebrating Jewish holidays as she learns all about them at her preschool. She comes home from preschool with paper menorahs, her own stories about Hanukkah, and it all get us very much in the spirit. This makes me extra excited to celebrate the holidays and see it through her eyes. This year, we'll be doing all the toddler-appropriate activities to celebrate Hanukkah, such as crafting, baking, and playing.
If you're looking for fun and creative ways to celebrate Hanukkah with a toddler, here's a look at what's on our list for bringing the festival of lights to life in our home this year.
1. Reading New Hanukkah Books
I'll admit that I may have forgotten some of the specifics of Hanukkah and why we celebrate it, so reading about it each night helps all of us properly celebrate this holiday. Over the years, we've acquired quite the collection of Hanukkah books, and now is the time to turn over the bookshelves and highlight these wintery selections.
Eric A. Kimmel
There are so many fun books you can read with toddlers, including the adorable Hanukkah Bear that's also available as a board book.
David A. Adler
Share the story of Hanukkah with this essential book.
2. Doing All the Hanukkah Crafts
Toddlers love to get messy and creative with their crafts, and now's a great time to make the mess a little festive. We'll be doing a mix of DIY crafts with basic household items like toilet paper rolls and construction paper and with fancier options like this 8-pack of crafts from Target and a STEAM activity from KiwiCo.
Target
Target to the rescue! I was impressed during a recent trip with how many Hanukkah crafts they offered, including this set with 8 unique crafts.
KiwiCo
Celebrate Hanukkah with a STEAM-friendly activity, building your own light-up menorah. It's a fun challenge and results in the most beautiful menorah, made by you!
3. Snacking on Hanukkah Candy
Halloween wasn't very long ago, but we've now moved on to blue and white candy. Though I'm trying not to give my toddler too much of a sugar high (and an inevitable sugar crash), I do allow candy for us to enjoy, especially during this special time of year. I love the idea of a candy-version charcuterie board, and this activity combines crafting and candy. What's better than that?
Dylan's Candy Bar
Snack on blue and white candy while learning about the magic of Hanukkah. Everyone will get their favorite candy with everything from gummies, to sour candy, to chocolate.
4. Cooking and Baking Hanukkah Foods
One of the best parts of Hanukkah is the latkes, so we'll be whipping those up this year. I also purchased Hanukkah cookie cutters and decorations to make festive cookies. It's not just Santa and families who celebrate Christmas that get to have all the cookie fun.
5. Creating Eight Nights of Mini Gifts
For the last couple of months, I've been stockpiling a selection of Hanukkah gifts so I can give one gift a night for eight nights to my toddler. Before you think she's going to get spoiled by gifts, let it be known that I'll be gifting her necessities that we were going to buy anyway. Toddlers love ripping apart wrapping paper, so I know she'll love the activity of gift opening, even if it's just a new toothbrush or socks hiding inside.
6. Dressing in Our Hanukkah Jammies
Every year, it seems like more and more brands are celebrating Hanukkah with themed pajamas—and I am here for it. A few years ago, you could only find Christmas trees and reindeers, but this year, most companies are offering just as many Hanukkah-style pajamas. Now it's just the difficult decision of which pair we should get!