Your love story is epic, memorable, and life-altering because it not only brought the two of you together, but it also created those tiny humans you adore. The day you both said "I do" is worthy of an annual celebration with your kids. One might argue that other than your children's birthdays, your wedding anniversary can be considered holiday status for everyone in the family because it ultimately brought the family unit into existence.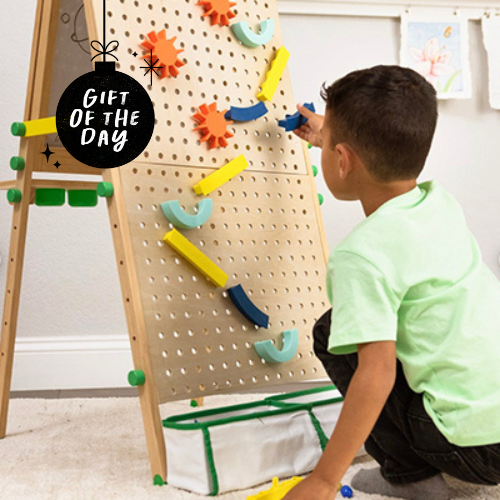 Art, fine motor skills, and fun all mixed into one great gift! Kids will learn engineering with the marble run but also get creative with the art easel mode.
However, your littles (and even your bigger ones) may not truly grasp the significance of your anniversary—but that's where you can come in and influence that! With some creativity coupled with large doses of enthusiasm and family fun, you can make your own family traditions inspired by your love story. 
And if the thought of planning anything formal is not your cup of tea, below are some easy options you can squeeze in between changing diapers and bedtime. We know being married and having kids is a balancing act, but you deserve to dedicate some time to the origin of your love.   
Here are six unique ways to honor and celebrate your wedding anniversary with your kids. 
1. Show Your Children Your Wedding Video
Depending on when you got married, your kids might consider your wedding video "vintage" by their standards, but it can be the easiest way to transport them to that momentous day. Seeing you glowing in that special dress and capturing glimpses of your partner, nervous and excited, can shed a new light on how your kids view you as parents. If they hadn't been born yet, they might even ask why they weren't invited!
Pump up the video viewing with some homemade popcorn and yummy treats to make the experience more noteworthy. If your kids' attention spans are not too developed yet, choose moments of the video that capture the essence of your love. Don't have a wedding video? Page through the photo album together, telling the story of your day along the way.
2. Share Photos of You Before Kids
Depending on your little ones' ages, they may think you were born when they came into this world! The concept of you having a "past" before they existed or you having a childhood—and having worn diapers, too—may fascinate them. How fun would it be on your wedding anniversary to bring out those old photo albums and walk them through your first date, first kiss, and the proposal moment! You can also showcase some of your favorite childhood photos to get into the nostalgic mood.
There's something special about seeing physical photos vs. digital ones. Invite your little ones to go back in time to when your love story began or when you yourself were their age. My child thought that a childhood picture of me was actually him because we practically look like twins! It blew his mind that it was me. Photo sharing can add a deeper meaning to your love story. 
3. Eat Food From One of Your Favorite Restaurants When You Were Dating
Remember that favorite hole-in-the-wall eatery you used to frequent with your spouse after a late night out pre-kids? I can practically taste the scrumptious tacos from "our" go-to taco stand. Why not give your children a "taste" of what you used to do by having them savor some of the delicious food that has a special significance in your relationship?
Perhaps it's the elegant restaurant where the proposal happened or the quaint restaurant you went to on your first date that has the best pasta in town. It might be a nice change of pace from prepping the baby- and toddler-friendly food, and it could inspire some flavorful conversations about how you both met.
Of course, going to the actual restaurant can be tricky if your cuties are still very young. Takeout is always a safe option to still enjoy your foodie anniversary celebration with your crew.
4. Do a Craft Project Symbolic of Your Love Story
Anniversary gifts are to be cherished, but ones made with our kids as a family are priceless. Doing a craft project can be a unique way to honor your anniversary and can involve your whole family. Sensory art is also an engaging way to talk about your love story because it can be a medium that even the littlest ones can easily understand. 
Some creative ideas to inspire your anniversary art and craft projects include showing them a picture from your honeymoon and having them replicate it with paint or Play-Doh, making your own celebratory decorations with paper chains, or having them help you make DIY anniversary cards for each other. If you search on Pinterest, you can find many other ways to commemorate your love with your little artists, such as hand-painted art of each family member with the title, "All because two people fell in love."
5. Participate in a Fun Activity You Used To Do Frequently as a Couple
Remember those carefree days when you would spend all day with your partner and never really look at the clock? Your days were filled with smiles and quality time doing activities together. For your anniversary, pick one of those activities and make it kid-friendly to explain to your littles why this activity brought you joy as a couple.
For example, if you loved spending time at the beach with your spouse, consider taking the kids on a beach day and make a big heart in the sand. If playing cards or going to Las Vegas was something you enjoyed doing together, bring out an age-appropriate board game for the whole family to get into the competitive spirit. Your kids will love to hear about what you used to do and will feel special that they are included in your memory making.
6. Plan a Trip to Your Honeymoon Destination
We understand this final idea may not be feasible every year, but it could be reserved for a special anniversary celebration, like the 10-year mark. It would be magical to take your little travelers on a getaway to the place where you had your honeymoon! This is a higher-commitment engagement, but it can also make for some extraordinary family time, as you're revisiting a location with profound significance to the two of you.
To prep for the trip, you can show your kids pictures from your honeymoon and explain to them why you chose this destination. Building the excitement is key in sharing why this place is important to your love story. Once at your honeymoon location, you can potentially create an itinerary that replicates parts of your original honeymoon. Go grab that shaved ice from your favorite eatery if you went to Hawaii for your romantic getaway. Savor some hot chocolate at that special cafe in France that you spent hours at with your partner. The memory-making possibilities are endless, just like your love for each other is.
From all of us at The Everymom, we'd like to wish you a happy anniversary! Cheers to you and your little sweethearts!