We get it—mornings are rough. The uphill battle of getting your kids out of bed, dressed, and walking out the door on time is enough in itself, but then there's the dreaded feat of "getting them fed." Why does this tend to be the morning's most challenging moment? To start, it would be easier if kids actually, you know, ate anything you put in front of them. It would also be helpful if we had easy, tasty, and quick options other than a bowl of Cheerios or some Eggo Toaster Sticks. Well, guess what? We got you covered. Save these recipes for quick go-to meals that may satisfy even the pickiest of eaters.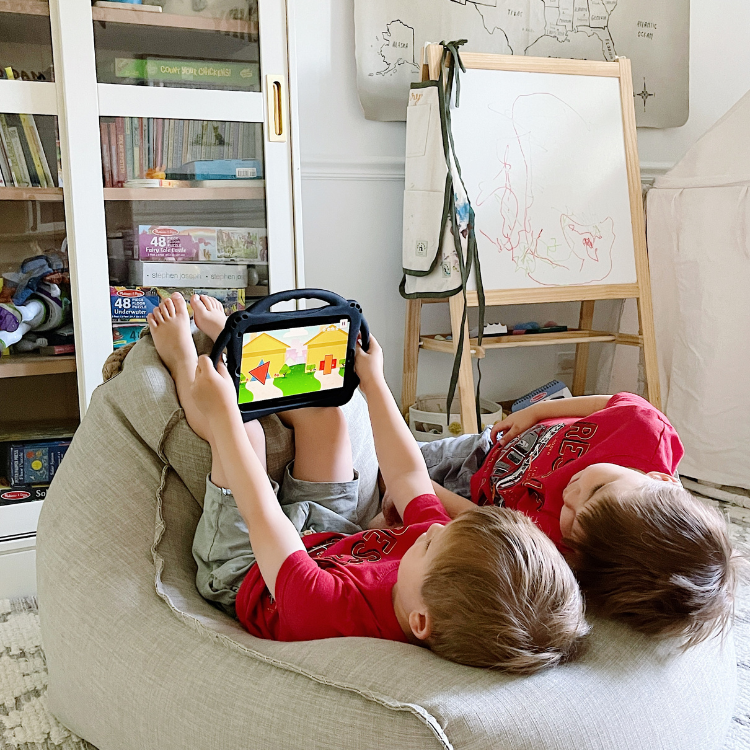 a pediatrician shares what she *really* thinks about LOs and screen time
Whether you take the time to meal-prep on Sunday or spend less than 10 minutes in the morning whipping up a smoothie or an egg-in-the-hole, these simple breakfast ideas will make your hectic school days a little less daunting. If you're looking to make mornings hassle-free, read on for 17 easy and delicious breakfast recipes.
This cozy, family-friendly french toast bake is an easy way to prep breakfast for the whole week. Set aside 40 minutes on Sunday—or if you're an early riser, Monday morning works, too—to throw together this delicious meal. A french toast casserole will have your kids excited to get up and eat every morning.
What kid doesn't love a warm, gooey cinnamon roll?! It takes just under an hour to prep the fluffy rolls, delicious filling, and sweet frosting the night before. Then, they rise overnight and are ready to bake for just 15 minutes.
With only eight simple steps to this vegan recipe, you can whip a batch of breakfast muffins that'll last for days. Plus, if your kiddos aren't the biggest blueberry fans, these muffins are entirely customizable, as you can swap them for nuts or vegan chocolate chips.
These yummy egg muffins take under 30 minutes to prep and cook, making them ideal for those hectic school-day mornings. They're a perfect meal prep option for convenience all week long! Plus, you can adjust the vegetables to your family's liking.
Egg-in-a-hole is a classic breakfast option. We love the modern touch of combining it with the avocado toast craze. It's both genius and delicious! Whip up this dish in just 10 minutes for a meal any avo lover will be obsessed with.
These little waffles are a great sweet treat to start the day. Feel free to skip the glaze if you want to shorten the prep time or push them a tad towards the healthier side. They'll still be delicious!
While the prep and cook time for this delectable quiche is a bit longer, the results are undoubtedly worth it! You end up with enough to feed the whole family. Plus, you can keep it in the fridge for an entire week of no-stress, savory breakfast.
Here's another vegan option that's ideal for preparing in advance for the week! Baked oatmeal is the perfect approach for pickier eaters who don't love the mushier texture of classic oatmeal.
Flash-freeze pancakes are ideal for hassle-free breakfasts, as taking them out of the freezer and heating them up is about as easy as it gets. Make these delicious vegan cakes to start the week and have guaranteed yummy mornings for days to come.
If cookies for breakfast don't get your kids excited to get up and ready for school, we don't know what will. You can have a big batch ready to go in just 15 minutes, and they can last in the fridge for up to seven whole days. Plus, they're actually healthy—but the kids don't need to know that!
First cookies, now pizza? Breakfast is about to become your kid's new favorite part of the day! These sticks are all ready to go in just 30 minutes. They're a perfect option to keep on deck for the school week ahead.
These soft granola bars take less than an hour to make. They're eat-on-the-go friendly and have a customizable filling. Plus, they're super yummy! What more could you want for an easy breakfast?
Overnight oats are a great option for a super simple breakfast, as they do all the work for you while you sleep. Take just five minutes to prep this gluten-free and vegan recipe the night before, and have them ready to go right as the kids wake up.
A salsa verde yogurt sauce? Yes, please! This frittata takes 15 minutes to prepare and 45 minutes to cook. This allows plenty of time to get the kids dressed and ready for school before they sit down to eat this yummy breakfast.
As a great mix of whole grains, fiber, and protein, this healthy and yummy smoothie is ready to go in five minutes. It will have your little ones feeling full and energized for the school day ahead.
If you're a fan of Starbucks's breakfast egg bites, then you'll absolutely love these. With under 30 minutes of prep and cook time, they're a great savory option for something to grab as you and the kids walk out the door.
Here's a unique recipe that's tasty, easy, and healthy! It only takes 25 minutes to throw together these little pizza treats your kids will devour.
This article was originally published in 2019 and has been updated for timeliness.