Early this morning, our daughter ran to our room, convinced that Santa had come last night. She insisted, "I heard whooshing, mommy, I did!" I didn't have the heart to tell her that it was just a particularly strong wind. Needless to say, with our early holiday decorating and impressive cookie consumption, we're all excited for a visit from Santa.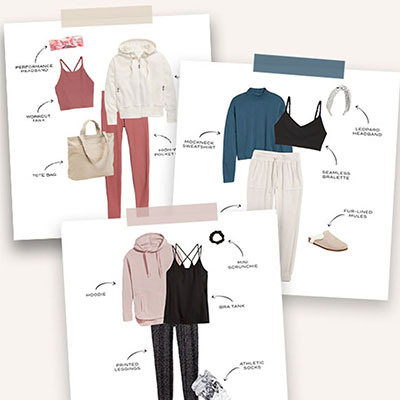 Shop 6 of Our Favorite Loungewear Outfits From Old Navy
Need to spruce up your at-home wardrobe? We've put together six cute, comfy, and budget-friendly loungewear looks from Old Navy.
This way to shop! —>
This year, we won't be visiting Santa in person, but there's no reason kids can't start forming that connection and sense of magic early! We've created this free, downloadable letter to Santa, so that your kids can fill out their wish lists and send it to the man himself. (Tip: look for a mailbox to the North Pole in your community; many local businesses will leave one out!) And then look for our free, downloadable letter from Santa, coming soon, so your kiddos can get their reply! 
Tell us, what's on your kids' wishlists this year? Are they hoping for a live reindeer, like one of our editors' daughters? Or are they sticking to standard toy requests?