When the holiday season rolls around yet again, interior designer Rebecca Simon takes her home's decor to the next level and adds whimsical touches to her two little ones' adorable bedrooms. While each space has a mini tree adorned with memorable, kid-friendly ornaments, it's the extra (and colorful!) bottlebrush trees, window wreaths, stockings, and festive bookshelf additions that really make these rooms magical.
Keep reading to find out this Canadian mama's favorite places to shop for seasonal decor, learn how she's keeping her own childhood holiday traditions alive for her kids, and get the details on the most special Christmas gift she's ever gotten from her husband.
Name: Rebecca Simon
Age: 34
Location: Toronto, Canada
Home's Square Footage: 2,000
Children: Oscar, 4, and Aubrie, 2
When do you typically start decorating for the holidays?
My husband's birthday is mid-November, so we typically try and wait until then to start decorating, but I usually get the itch right after Halloween, haha!
SHOP THE LOOK

How would you say your holiday decor differs from your home's everyday decor?
My holiday decor actually blends in fairly seamlessly into my everyday decor. I try to keep things very minimal and modern with lots of greenery, brass accents, warm neutrals, and pops of black. I love bells, garlands, and bottlebrush trees. When it comes to my kids' rooms, I tend to have a little more fun there; Aubrie especially likes the sparkly accents we had to her space!
Where do you typically shop for holiday decor?
I like hunting down cute decor pieces and ornaments from HomeSense (HomeGoods in the U.S.!), Wayfair, Pottery Barn, and Canadian Tire. I've also always loved integrating vintage items from my childhood — nothing like a mix of new and old! I love adding a few of my own childhood ornaments to Aubrie's tree, it makes me so nostalgic.
Do you typically buy new holiday decor or use the same year after year?
I use the same decor year after year but will usually add a few new ornaments or accent pieces if I see something I love (and absolutely can't live without). This year, I bought a new basket tree collar and love it.
Where do you spend versus save with your holiday decor?
I try to save on almost all of my decor; however, I did splurge a bit on some faux eucalyptus garlands for the mantle last year because they looked so real! I also don't mind splurging on outdoor greenery, cause there's nothing prettier than fresh powdery snow on cedar swags and garlands out by the front door.
SHOP THE LOOK

You especially like decorating your kids' rooms for the holidays — why is this tradition so special to you and your family?
This was always something that I was really excited about growing up! I vividly remember my little 2-ft Christmas tree in my room with multi-colored lights and funny little ornaments. In fact, I still have most of those ornaments to this day and love seeing the kids enjoy them as much as I did. Reliving the holidays through their eyes is so magical, and I love being able to create festive spaces of their own. These are the memories they'll look back on, not the gifts they receive.
How do you keep your holiday home decor kid-friendly?
We have a few fragile ornaments that we hang above arm's reach and love sticking with wooden or soft felt ornaments lower down. Last year, we stocked up on sweet little felt mice ornaments, and I have a feeling they are going to be passed down for generations to come. They are so special!
Where do you find holiday decor inspiration?
I love gathering inspiration from everywhere. I guess my holiday style is a bit modern and very natural. I prefer an overall "warm and cozy winter feeling" versus something super Christmas-inspired since I also grew up celebrating Chanukah.
What is your favorite piece of holiday decor in your kids' rooms (or home in general)?
This year, I added a wreath in front of each of their windows, and I love the added touch of texture it brings to their rooms. I hung them directly from the curtain rod with really nice ribbon — easy peasy! I also love pulling out all of our Christmas and holiday books and adding some festive touches to their shelves. They especially love their nutcrackers!
SHOP THE LOOK

Tell us about your holiday decorating process.
Growing up, I loved helping my mom set up the tree while Celine Dion's Christmas album played in the background. So, my mom usually comes over, and we all jump in to decorate the tree together with the kids. This is what I love so much about the holidays; it's a time to embrace memories and traditions of the past while passing them onto your own children. How beautiful is that? We also give the kids a little tree in the living room to decorate themselves with all of my tackier childhood ornaments, and they get a kick out of piling seven ornaments onto one branch — pink cherub angels, funny Santas doing cartwheels, mini wooden soldiers, etc.
You and your family live in Toronto, Canada! How do you think Canadian holiday decor differs from here in the U.S., if at all?
I think it's all fairly similar and mainly depends on personal style and aesthetics. Canadians are fairly outdoorsy though, so some tend to like a more rustic woodland vibe!
What does Christmas morning look like in your home?
We're up early! Throw some Christmas tunes on, go check out Santa's "flour footprints" in front of the fireplace, and then spend a short amount of time opening gifts. Since having children, my husband and I decided to avoid making the holidays a materialistic holiday. We like to keep things simple and get just as much joy seeing them opening one thoughtful gift then we would seeing them open 10 presents. We also love prepping a big brunch, spending some time playing in the snow, skating or tobogganing, and having a nice big festive meal with family.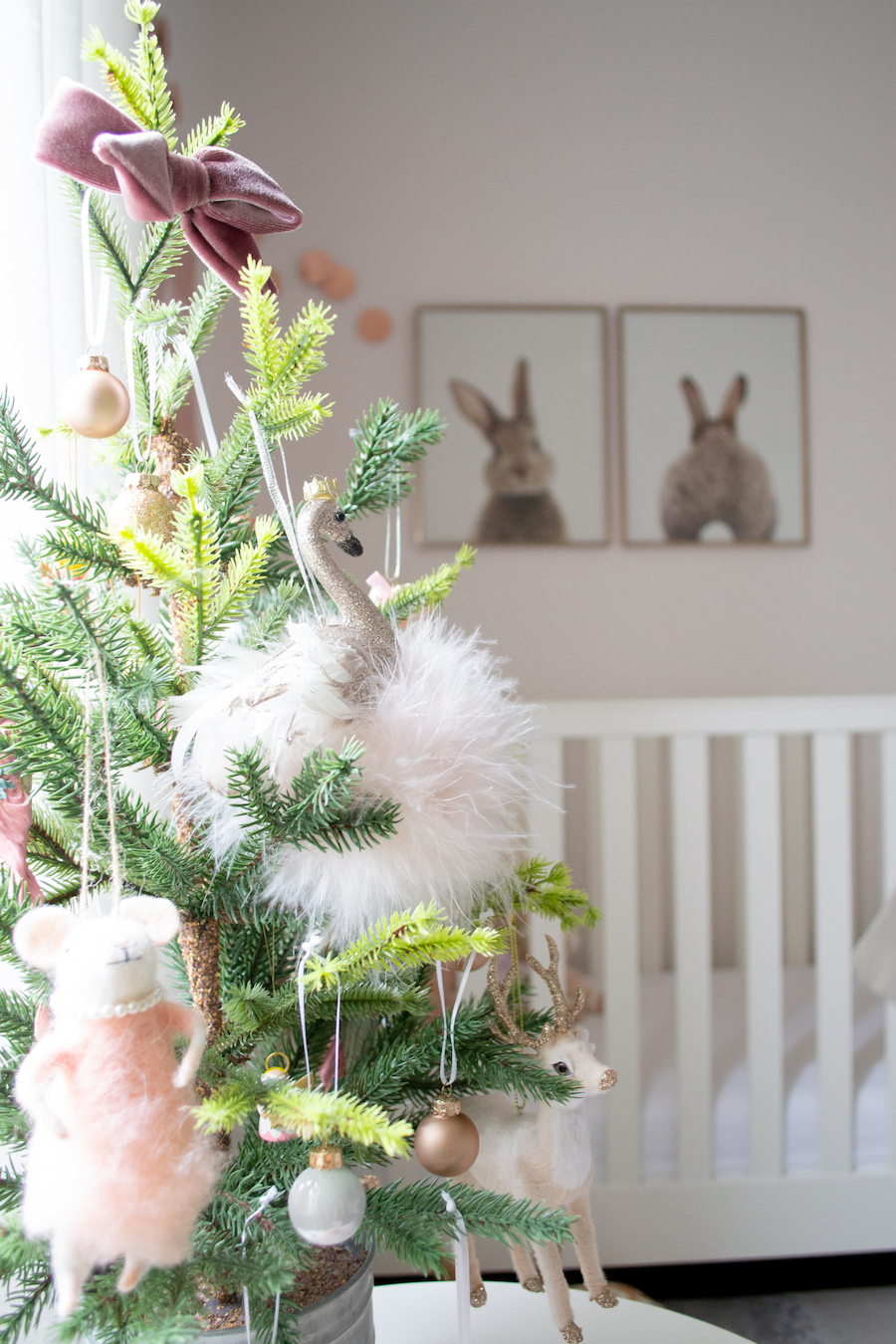 SHOP THE LOOK

How does your family celebrate the season?
We typically love visiting Toronto's Christmas market. We'll sometimes pay a little visit to Santa. Otherwise, we love making holiday crafts, icing gingerbread cookies, and spending time outside skating and tobogganing.
What is your favorite thing about the holiday season?
The sense of togetherness, the coziness, and the magic that the holidays bring to our family.
Rebecca Simon is The Everymom…
Favorite Christmas movie? Four Christmases, The Holiday, Miracle of 34th Street, and How The Grinch Stole Christmas
Favorite Christmas song? I mean, who else doesn't love Mariah Carey's "All I Want for Christmas Is You?" Oh, I also really love the Pentatonix Christmas albums and good old classics from Sinatra, Bing Crosby, Nat King Cole, etc. My son, Oscar, loves hearing the Christmas song from Alvin & the Chipmunks and does the best chipmunk impression.
Hot cocoa or eggnog? Hot cocoa!
What's on your holiday wishlist? Nothing! Am I a scrooge for not wanting any Christmas gifts? I'm not particularly fond of receiving or giving gifts just because it's Christmas. I rather give loved one's thoughtful birthday gifts or share experiences together over the holidays.
When do you start listening to Christmas music? I usually get in the mood to listen to Christmas music after the first snowfall, which came early this year (early November)! Things have really picked up over the last week though.
Go-to holiday drink at Starbucks? Cardamom latte, hands down.
What's the best gift you've ever received? For our second Christmas together, my husband (boyfriend at the time) surprised me with a weekend trip to Quebec City and put together a little memory box filled with little figurines, skating ornaments, fluffy cotton ball snow, our hotel reservation voucher, etc. It was so thoughtful and adorable!
Oddest thing on one of your kids' wishlists this year? My daughter is too young to make a wishlist, so she's getting a doll! My son is very predictable and simply asked for LEGOs, so nothing odd or funny this year.
Biggest holiday mom fail? None to date! Fingers crossed 🙂