Step inside the home of public relations pro, mom of two, and interior design enthusiast Kate Dreyer, and you can't help but feel happy. From the patterned wallpaper to the pop-of-color pillows, the home she shares with her family of four—plus a puppy—is full of pattern, vibrant hues, and design choices for real life.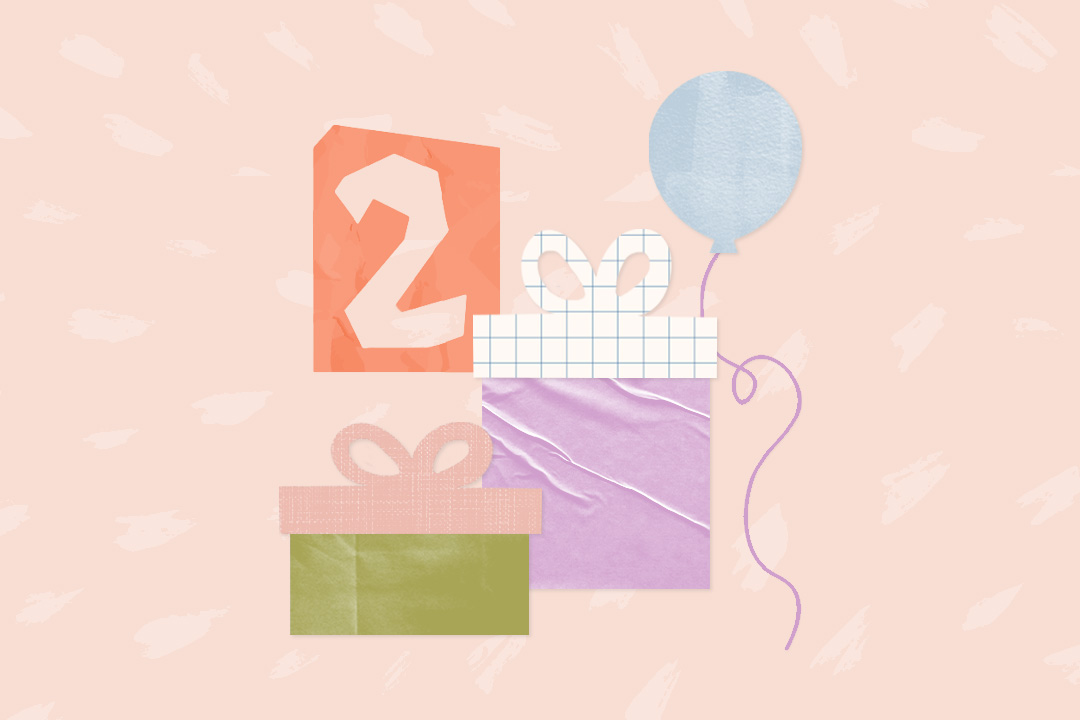 a LO in your life will love these! 🎁
Kate shared her bright and bold home with us along with some of her organizational and design hacks (just wait until you see her $50 IKEA hack to upgrade her headboard!). Read on to learn where she finds design inspiration, how becoming a parent evolved her style, and tips for creating a home that reflects your unique family.
Name: Kate Dreyer
Age: 39
Location: Fairfax, Virginia
Home's Square Footage: 3,600
Years Lived In: 8 years
Rent or Own: Own
Children: Haley (9), Marshall (5), and a labradoodle Buckley (7 months old)
Before we get into chatting about your beautiful home, tell us a little bit about yourself and your family!
By day, I work in public relations, and by night, I run my side gig. I focus on interior decorating, blogging, and offering virtual design services to families (similar to my own) who want beautiful homes that'll withstand everyday life with kids and pets.
My family and I live in the suburbs of Washington, D.C. (that's where I was born and raised), and when I'm not trying to coax everyone into helping me re-paint a room or fluff pillows in the family room, you can find us out for a bike ride, at the playground, or at the soccer field. Lately, we've been visiting a different local ice cream shop each weekend, and we're always up for a family game of Scrabble or Monopoly (the junior versions, of course!).
How would you describe your overall interior design style?
My design style is colorful, accessible, and laid back—all with busy family life in mind.
Do you think that style changed when you became a parent?
Believe it or not, I used to subscribe to much more of a minimalist decor style pre-kids. But when we moved into our current home nearly eight years ago, my style started evolving. I started not only infusing more color and pattern into our home but also began collecting artwork and decor that really made our home feel like us. When I walk into my home, I want it to not only be beautiful, but I also want to be surrounded by things that remind me of the people who are nearest and dearest to me. That's what truly makes a home design special.
How does your daily life inspire your home design and decor choices?
My kids have big personalities (and who am I kidding, my husband and I do too), so a vibrant, lively color palette just felt right for our home. I also care a whole lot about the durability of everything we purchase for our home, as I have two active kids plus a 7-month-old labradoodle puppy. I always look for upholstered pieces in performance fabrics, love Ruggable's washable rugs, and usually purchase outdoor pillows to use in every room of our home (no linen or silk here, folks—those fabrics are too delicate for my crew!).
When it comes to home decor, what have you splurged on? What have you done on a budget?
I tend to splurge on large furniture pieces that I expect to keep around for a long time. For example, our Crate & Barrel Lounge sofa was a bit of a splurge for us, along with our Arhaus dining table and even our Serena & Lily bar stools in our kitchen. Another favorite—and my very first big home purchase—is our Robert Abbey chandelier in the dining room. 10 years ago, that chandelier ($500) was a major deal for our little family! Because that chandelier was my first splurge, I'll probably never get rid of it. It's also symbolic of when I started caring more about decorating our home. And then, of course, the rest is history!
Shop Bright Kitchen Decor
Overstock
also available in blue and black patterns
Do you have a favorite room? Why do you love it?
My new favorite room in our home is our dining room! I recently refreshed the look and feel of it on a budget of just $2,000. Thankfully, I was able to keep and reuse many items we already owned, like our dining table, the chairs, our bar cart, and the chandelier.
That's the nice thing about investing in great quality larger decor pieces: If you want to redecorate later, there's no need to start completely from scratch! Keep the big stuff that'll last you for years to come, and update the space by swapping out accessories.
With this makeover, we focused on refreshing the smaller details of the room. We painted the walls, got a new area rug, switched out our dining room chair slipcovers (the IKEA chairs I've had in our home for about seven years now), and purchased a few new pieces of artwork.
Do you have any favorite design hacks you could share with our readers?
I have a few favorite design hacks that are still going strong in our home. The first one is in our dining room. I wanted fancy upholstered dining chairs so badly when we moved into our home, but there was no way I could justify spending hundreds of dollars per chair, especially with little sticky toddler hands around. So I purchased a set of IKEA Henriksdal chairs from Craigslist, and then bought custom dining chair covers from Rockin' Cushions in an indoor/outdoor fabric for the chairs. The final cost of each chair? Right around $100! Not to mention the chair covers are washable, which has been a lifesaver on so many occasions.
My other favorite design hack is in our main bedroom and also involves IKEA furniture. I absolutely love bed frames with seagrass or rattan details, but typically they're horribly expensive. To get a similar look on a budget, I nailed a piece of particleboard over the headboard slats of our IKEA Hemnes bed, and then covered the particleboard and the base of the bed with faux grasscloth peel-and-stick wallpaper. The upgrade cost me less than $50.
What are some of your favorite "finds" that make your house feel unique to your family?
The art and accessories we have throughout our home really make our spaces feel special to us. For example, I have a few art prints in our living room that depict popular bike trails in the Washington, D.C. area, and my family and I have taken our bikes on many of them! Another special piece is a vintage globe I found that's labeled in French. That's meaningful to our family because both of my kids take French lessons in school—they love looking at the globe and learning all the names of the countries and oceans!
What design advice do you have for kid's rooms?
When they're old enough to have an opinion, let your kids have a say in their own room designs—within reason, of course. It's difficult to let go of creative control here a bit, but I do believe it's possible for both the parent and child to be involved in the decorating process and, dare I say it, really love the outcome.
When decorating my own kids' rooms, we decide on the overall theme and feel of the room together, and then for some of the more impactful pieces—like their artwork, a patterned rug, or their bedding—I give them three choices for each item. This allows me to guide them as we work on the design (and it keeps them from going totally rogue!), but ultimately they get to make decisions about their own space.
We love your kids' playroom and bedrooms! How do you keep your kids' rooms and play spaces organized?
For years, I tried to keep them clean and organized on my own (read: picking up after everyone every single day), and I finally realized it was driving me nuts. Now, I get the kids involved when I can—they each have one or two chores to do each day in their respective rooms, and at the end of the week, they can earn a treat like a trip to a local ice cream shop if they've completed all their tasks.
As the kids get older, too, I also now try to give them options on how they'd like to store things. For example, I recently asked the kids if they wanted a portable handled caddy to store their crayons, markers, and pencils or if they wanted me to buy a pegboard with bins. They opted for the caddies, so my son and daughter both have a clear caddy on their desks that hold all their favorite art supplies.
Shop Kids' Room Decor and Organization
We see so many muted colors across design blogs—what would you tell people who are nervous about using bright colors or being too bold?
First, I always tell clients (and anyone who will listen) that you should decorate in a way that speaks to you, whether that's leaning into neutrals because white upholstery and natural wood tones feel peaceful or decorating with every color of the rainbow because it energizes you.
… you should decorate in a way that speaks to you, whether that's leaning into neutrals because white upholstery and natural wood tones feel peaceful or decorating with every color of the rainbow because it energizes you.
That said, if someone wants to start adding more color to their home but is nervous about incorporating bold hues, my advice is to choose just one color and start sprinkling in pops of that shade here and there. I often have clients wade into the world of colorful decorating by adding blue elements to their decor. Blue is a classic choice, and it blends well with neutrals. Green is a close second (and my personal favorite!).
Ready to brighten up? Shop more of the look.
Kate Dreyer is The Everymom… 
Go-to coffee order? Iced coffee with coconut milk
Favorite TV show right now? Always Schitt's Creek (I'll watch it again and again!)
The last book I read was… Fear is Not the Boss of You by Jennifer Allwood
This year I want to learn how to… paint with watercolors
First trip you'll take after the pandemic? My husband and I were supposed to go to Paris for our 10th wedding anniversary in 2020, so I'm hoping that our next "big" trip will be to France!
Most heartwarming mom moment? There are so many, but a recent one that sticks out is walking into my home office and finding a note my daughter had left for me. I tend to put Post-its on my computer monitor, and she'd stuck one right in the middle of the screen that said, "My mom is the best and the most awesome mom in the world." It's now the most important Post-it on my computer. 🙂
Advice you find yourself sharing again and again? For a long time I was a "play it safe" kind of person, but as I've gotten older, I've gotten much better at saying "yes" and doing things that force me to be vulnerable. I try to talk to my kids often about this idea of taking chances: auditioning for the school play, trying a new sport, or talking to a new kid in class. And who knows, maybe it's really me who also still needs to hear those reminders often! The point is, sometimes the very best things in life come out of those situations where we're forced to stretch ourselves personally.
I never leave home without my… hand sanitizer (Such a mom thing to have on hand!), a bottle of water, and usually, a travel mug full of coffee depending on the time of day.