According to the 2020 U.S. Census, Hispanic/Latinx-identifying individuals make up 18.7 percent of the population in this country. This shows a 23 percent growth from 2010 to 2020, with a growing total of 62.1 million Latinx people in the United States. Although still considered a minority compared to the White-identifying population, which remains the largest, Latinx individuals are and have been a valuable part of the fabric of the United States.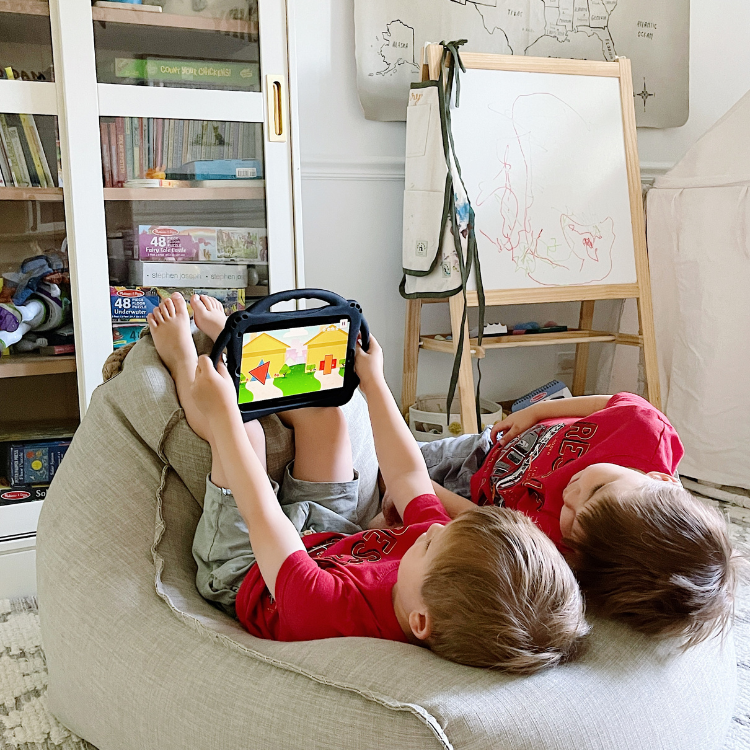 a pediatrician shares what she *really* thinks about LOs and screen time
National Hispanic/Latinx Heritage month is a period from Sept. 15 to Oct. 15 dedicated to honoring the contributions, histories, impact, and culture of the Latinx community in the United States. But a month is really not enough time to celebrate the Latinx identity because it is not a monolith—we are a diverse, multicultural, multi-ethnic group with a variety of languages, ancestral origins, and traditions all unique and worthy of its dedication. Nevertheless, this national observance is an opportunity to learn about and honor the extraordinary people and cultures within the Hispanic/Latinx umbrella. We are trailblazers, inventors, activists, change-makers, and leaders.
…This national observance is an opportunity to learn about and honor the extraordinary people and cultures within the Hispanic/Latinx umbrella. We are trailblazers, inventors, activists, change-makers, and leaders.
I identify as a Latinx mother who is a proud daughter of Mexican immigrants. I am raising my multi-ethnic children to understand and value my Mexican-American culture and all Latinx cultures because I want them to appreciate differences, commonalities, and be knowledgeable about their heritage. However, because they are still young, they may not grasp all the history and significance just yet. Therefore, I have curated a list of unique ways to celebrate National Latinx Heritage Month with our little ones. I invite you and your families to join me in this special celebration commemorating the beautifully diverse and vibrant Latinx cultures. 
1. Make a Traditional Latinx Meal
What do nacatamales, chile rellenos, lomo saltado, mixtas, sofrito, feijoada, croquetas, and pupusas all have in common? Two things: They are all dishes from a variety of Latinx countries and they are all scrumptious. There are so many culinary delights within Latinx cooking—when preparing the food, it's a feast for the senses. I still associate home with the smell of chiles serranos because my mama would cook fresh salsa to add the most exquisite "sabor" (flavor) to our meals. 
Since they say the kitchen is the heart of any home, you and your little chefs can make a traditional Latinx dish and learn about the culture through the exploration of your palate. A kid-approved dish to easily prepare for lunch or dinner is the Guatemalan "mixtas"—a mouth-watering hotdog wrapped in a tortilla combined with a savory sauce. You and your little ones can also make the traditional Mexican chicken soup, "caldo de pollo," which is rich in nutrients, filled with delicious flavors, and is the perfect comfort food on a rainy day or when your kids are feeling ill. The sky's the limit when it comes to delicious Latinx cuisines!

2. Donate to an Organization Supporting the Latinx Community
Different Latin American groups within the United States have certain aspects they focus on when it comes to advocating for their communities. There is no uniform political party or organization that encompasses all the Latinx identities because priorities and cultures differ. This is an example of the beauty inherent in the kaleidoscope of Latinx cultures. In addition, depending on the part of the U.S. you visit, you will find diversity in the needs and challenges Latinx people face.
One way to honor the contributions of Latinx individuals in this country is to donate to one of their causes through a reputable organization that supports the target population. One such organization is Rise to Reunite, a volunteer group of immigration attorneys and community members working tirelessly to reunite families at the U.S./Mexico border. They also have an active social media presence on Instagram, @risetoreunite_ , and are always seeking volunteers to help families at the border.
Of course, do your own research and find an organization that aligns with your values. Sharing our time or contributing financially can directly improve the lives of people in the Latinx community.
3. Read a Book Written by a Latinx Author with Your Children
We all know the power of reading with our children: It not only supports language development, but it can also serve as a gateway to other perspectives and cultures. Find a book written by a Latinx author and read it with your family to learn about the Latinx experience. This can teach your children about valuing diversity and can also lead to an engaging discussion about differences and universalities among cultures. 
My kids have enjoyed reading Junot Díaz's Islandborn, a lyrical picture book (available in both English and Spanish) about Lola and her journey to discover her heritage and the immigration story that will always be a part of her life. It's a beautifully written tale celebrating creativity and the power of imagination, which will inspire your whole family to feel love and hope. Additionally, check out our list of the best Spanish bilingual children's books to diversify your kid's bookshelves.  
4. Sing and Dance to Traditional Latinx Tunes
Music transcends language; it's universal and unites us all. Latinx cultures all have their unique traditional songs and dances that are part of weddings, birthday parties, and just our overall upbringing. The power of music can unlock memories and bring such joy to our lives. Go on a melodic journey with your little musicians and explore the eclectic variety of Latinx music. It will open up your world and probably get you dancing as well! 
Speaking of dancing, salsa, meringue, cumbia, bachata, and reggaeton all have Latinx origins. Listen to any of these tunes with your little ones while you clean up toys, and it will automatically add some fun vibes to your day!
Peruse this list of Cuban children's songs, which includes lyrics, to learn more about the enchanting Cuban culture and its captivating musical traditions. Listen to Guatemalan marimba music, rooted in Mayan culture, which is usually played during major holidays but can be enjoyed year-round. My kids love watching this video of the Mexican children's folk song De Colores, and it has helped them learn their colors in both Spanish and English. Latinx culture has deep roots in musical traditions, and you can introduce your family to countless melodies of magical sounds and mesmerizing dance moves.  
5. Learn More About/Participate in a Latinx Tradition
The depth of the diverse Latinx traditions is endless; it would be impossible to even attempt a curated list. The good news is that you have so many ways to learn about some traditions that might appeal to you. Since a lot (but not all) of Latin America has a history of Catholicism, many traditions have religious roots, like Nicaragua's La Purísima. La Purísima is a religious celebration honoring the Virgin Mary, which is combined with a "novena" and "La Griteria," when altars are built, lots of singing happens, and gifts are enjoyed. 
Many Latinx cultures have New Year's Eve traditions with similarities across cultures. Cubans have several NYE traditions that include eating 12 grapes at midnight and one more for good luck and also throwing a bucket of water out the front door to "wash" away the old year and welcome in the new one. 
In our Mexican culture, we celebrate Dia de los Muertos (Day of the Dead) during the end of October and beginning of November. It is a heart-warming tradition; it originated with the Aztecs and later combined with Catholicism, which commemorates the power of eternal love. My kids and I assemble a colorful altar, and it has taught them the immense value of family and friends, which transcends time and death.
Games are also a fun entry into Latinx traditions that are carried across generations. Puerto Rico has many entertaining children's games, like "Trompo," a spinning top game, or "1,2,3 Pescao," which is a version of the American "Red Light, Green Light" game—but even more engaging. My kids and I spend some of our afternoons playing "Loteria," the Mexican bingo game with colorful imagery that is played with "frijoles" (beans) as markers and also teaches them Spanish vocabulary.
6. Watch a Movie with Latinx Characters as Leads
Representation in media matters—it actually matters in every sphere of our lives. The impact of showing our kids diverse stories and voices can have a long-lasting, positive effect on their views about the world. Introducing this diversity at an early age is best so that it can be a part of their upbringing. Unfortunately, we still need to make a lot more progress in American culture to give diverse voices the platforms they deserve.
Disney's Coco is the most adorable film about the Dia de los Muertos tradition that your kids will want to watch over and over again. Disney's runaway hit Encanto, about the magical Colombian Madrigal family and includes now-iconic songs written by the formidable Lin-Manuel Miranda. If your kids are in middle school, you can watch In The Heights, a dynamic musical that received rave reviews for its storyline and music (despite lack of representation from the Afro-Latinx experience). 
---
My hope is that you and your family can bond by celebrating National Latinx Heritage Month in these family-friendly ways that demonstrate the profound impact and immeasurable contributions the Latinx culture has had in American society.
This article was originally published in 2021 and has been updated for timeliness.