Having a baby is full of so many firsts, and with December 25 on the horizon, we know many parents will be celebrating their baby's first Christmas. If this applies to you, it's possible you're more concerned with just making it through the next moment of life with a newborn, new crawler, or teether than going over-the-top to celebrate the holidays. However, there's something special about finding ways to create memories with your new family member, even if they won't remember it.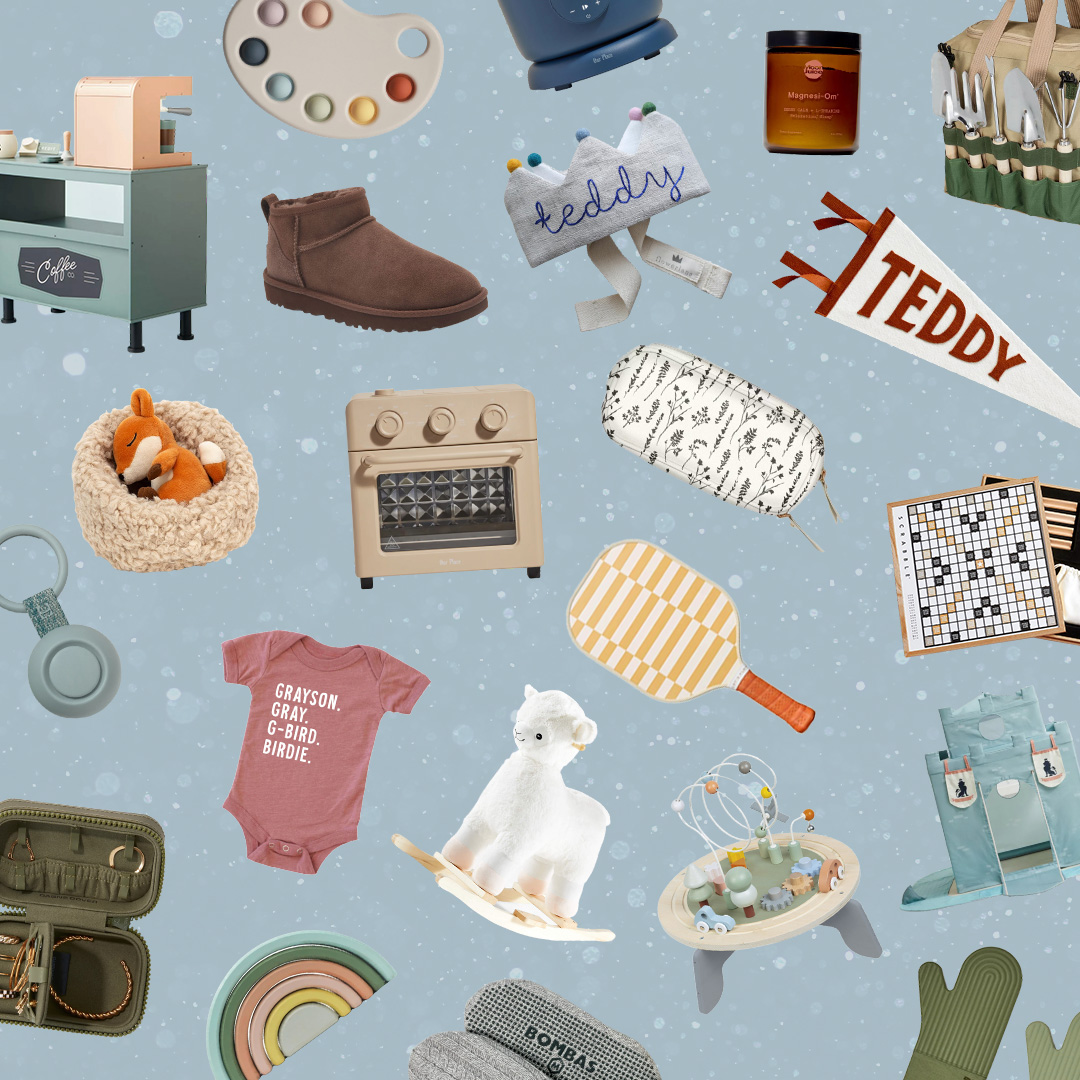 everything you need to ace holiday gifting this year 🎁
Whether you're fond of Christmas or indifferent about it, finding ways to make your baby's first Christmas magical can help you find joy and gratitude in motherhood and give you something to share with your kids when they're older. To help, we've rounded up eight ways to make your baby's first Christmas magical.
1. Wear Matching Christmas Sweaters or Holiday Pajamas
This may not seem like a huge way to add magic to your baby's first Christmas, but there's something endearing about being together with everyone in matching PJs. If you're feeling traditional, you can cozy up in holiday pajamas that feature patterns such as Christmas cookies, reindeer, Santa Claus, and more. It's perfect if you plan to stay indoors most of the day.
But if your goal is to open presents together, venture out to see Christmas lights, and visit a local business's resident Santa Claus, you can pick out matching "ugly" sweaters to wear. No matter which option you choose, it's sure to make for endless photo/video opportunities.
2. Invest in Custom Christmas Tree Ornaments or Stockings
One of my fondest memories as a child was watching (and later helping) my mom decorate our artificial Christmas tree. While our ornaments and stockings weren't custom-made, my sister and I each knew which ones were "ours." Although your baby is too young to help you decorate, you can still commemorate the year with a special personalized stocking or "Baby's First Christmas" ornament.
3. Visit a Local Santa
You may remember taking part in this special tradition when you were younger. I, too, have a photograph of sitting on Santa's lap when I was a toddler. In my case, I was very unhappy about being near a stranger—which made for a hilarious photo op, but you may want to think about how your baby might respond to the big bearded guy. And depending on how young your baby is, you may be concerned about safety given the different illnesses going around. Be sure to check the location's website to see what type of health guidelines are in place.
4. Attend a Tree Lighting Ceremony
Many local communities and neighborhoods have a tree lighting ceremony that often features other holiday-themed activities. While this event generally takes place outdoors, there are some churches or local event halls that host it indoors. If you're not a fan of large crowds, taking a stroll through your neighborhood to look at Christmas lights is another option.
5. Make a Plan to See Extended Family Members
It's one thing to see pictures and videos of your little one, but it's even more special for your family to see your baby in person. Since the holidays are all about family, it can be fun to include your baby in the joy of being around the people who love them most!
6. Read a Christmas Book
You're more than likely aware of the benefits of reading to your baby, which is why it can be a great idea to pick out a Christmas book for them. You can either go with something traditional or choose from an array of new holiday characters to introduce to your baby. Personally, I can't get enough of anything that talks about Rudolph the Red-Nosed Reindeer or Frosty the Snowman.
7. Create Your Own Family Tradition
Take a cue from your family's interests to create your own holiday tradition. For example, if someone in your family is artistic, maybe you make handmade gifts for the grandparents. Or maybe you watch your favorite Christmas movie together while the grown-ups sip hot chocolate.
Get creative and choose a tradition that brings out the best in your family.
8. Share Something From Your Childhood With Your Baby
I don't know about your family, but there are certain things my family has kept that remind them of a heartwarming or hilarious Christmas memory. One that comes to mind for me is a beautiful quilted Mickey Mouse blanket that accidentally caught fire because I was too close to my grandmother's space heater. I actually gave the blanket to my toddler last year and for a while he refused to let go of it.
Whatever you choose to share, it can be great to start sharing family memories with your children from a young age. It could be a Christmas ornament that you or your partner painted by hand as children, a book you remember reading with your own parents, or a doll or race car that's been perfectly preserved over the years. While your baby will likely be too young to understand the sentiment behind it, it can still be meaningful.
---
We know it's possible your baby won't remember any part of their first Christmas, which might make you feel like you're doing unnecessary work. Think of it as creating a foundation for holiday memories to share with your baby when they're older.