The first time I visited Las Vegas was back in 2017 for a girls trip to see the Backstreet Boys during their residency. At the time, my 24-year-old self's wardrobe was chock full of "going out tops" (you know the ones), tight dresses, and high heels. My outfits for that trip were quintessentially Vegas for an evening at the concert and a few super late nights at different clubs along The Strip (*shudder*).
we've curated 40+ presents that are sure to put on smiles on their faces 🎁
Fast forward six years to when my husband suggested we plan a trip to Las Vegas with another couple we're friends with, and my reaction was twofold. First, that sounds super fun and second, what the heck am I gonna wear? Now that I'm in my 30s, my wardrobe primarily includes leggings, sweatshirts, jeans, sweaters, blouses, loafers, and sneakers—not exactly the "going out" clothes that a vacation in Vegas warrants.
So, in order to prep for our three-night trip, I started to piece together a mini capsule wardrobe that fit our itinerary and the flashy vibes of Sin City. For activities during the day, I planned to bring mix-and-match pieces I already had in my closet that were casual, comfy, and neutral. Then, for nights, I shopped for some new outfits that were fancier, sparkly, and appropriate for nice dinners, drinks at cocktail lounges or rooftop bars, and late-night gambling. To round out my capsule looks, I added in some sparkly pieces and colorful accessories to bring a little Vegas pizzaz to my attire.
If you're also planning a getaway to Vegas (or this article inspires you to visit!) and could use a little outfit inspo for your packing list, read on for some day and night looks I wore during my trip, complete with photos and items to shop. I've also included some specific recs for restaurants, spots for drinks, daytime activities, and more if you need itinerary inspiration, too.
For Dinner & Drinks
Our first night in Vegas, we had a dinner reservation at Catch inside the Aria hotel. Since we were taking a short, 10-minute Uber ride from our hotel—we stayed at Resorts World at the Hilton and I'd highly recommend!—I opted to wear a pair of black, strappy, low-block heels that I already owned and built my "going out outfit" around those. While Catch is a nice, upscale restaurant (if you go, you must take a few pics at the cool photo ops along the walkway in), I knew I could wear jeans so I packed my go-to pair from Madewell. To finish off the look, I bought this short-sleeve black bodysuit from Express and turned to Amazon for some fun accessories including a rhinestone twisted handle bag, beaded fringe earrings, and a bracelet.
After our dinner, we went to two fun places for drinks. First, we stopped by Here Kitty Kitty Vice Den, which is a secret speakeasy bar within our hotel, Resorts World. I'd recommend making a reservation ahead of time and you'll have to do your own research to find out where exactly it's located and how to get in ;). Then we finished the night with cocktails at Allē Lounge on 66, which was on the top floor of our hotel and had amazing nighttime views of The Strip.
For Dressy Dinner & Drinks
During another evening of our trip, we decided to get extra dressed up because we snagged a reservation for pre-dinner drinks at Delilah's inside the Wynn hotel—and the outing called for a specific dress code. This modern-day supper club and known celebrity hotspot requires "stylish attire" that's "elegant and dressy," so I knew I had to buy something fun to wear. I ended up finding this gold and silver one-shoulder romper from Lulus that was really affordably priced and comfortable for all-night wear. I accessorized with a pair of Amazon hoop earrings and re-wore my rhinestone bag and low-block heels. Though that night's dinner reservation at La Cave (also located inside the Wynn) didn't have a specific dress code, it's always fun to be fancy during a night out in Sin City.
For a Pool Day
Our hotel featured five pools and an expansive resort-style pool area, so a day laying out and swimming was a main daytime activity in our itinerary. I immediately knew I wanted to pack my favorite Summersalt swimsuit for this occasion, not only because it fits like a glove but because its pink and orange color-blocking seemed so fun for a Vegas pool party. Since my usual coverup style is an oversized button-down shirtdress, I opted to buy something new for my pool day look and ordered this sleeveless crochet midi cover-up dress from Old Navy. To complete the outfit, I wore a pair of gold sandals, oversized cat eye sunglasses, and packed our essentials in a woven tote bag from Amazon.
Las Vegas Pool Day Tip: Many hotels and resorts require reservations for certain pools or to occupy lounge chairs and cabanas in poolside areas, so be sure to plan accordingly. If you end up at Resorts World, be sure to check out the adults-only Athena Infinity Ultra Pool as it has an awesome view of The Strip. You don't need a reservation if you're just swimming in the infinity pool, but won't be able to snag a chair without paying!
For Lunch & Walking Around The Strip
The first day of our trip, we arrived in Las Vegas at 9:15 a.m. Yes, you read that right. After settling in at our hotel, my husband and I decided to check out The Strip. Since the Vegas weather in April was about 80 degrees and we were doing a lot of walking, I opted to wear a lightweight pair of linen shorts, a plain white t-shirt, comfortable sneakers, and a belt bag. A bit later, I changed into a very similar but slightly elevated look for a quick lunch: black linen pants, a soft gauze shirt, a pink beaded necklace, gold sandals, and a belt bag.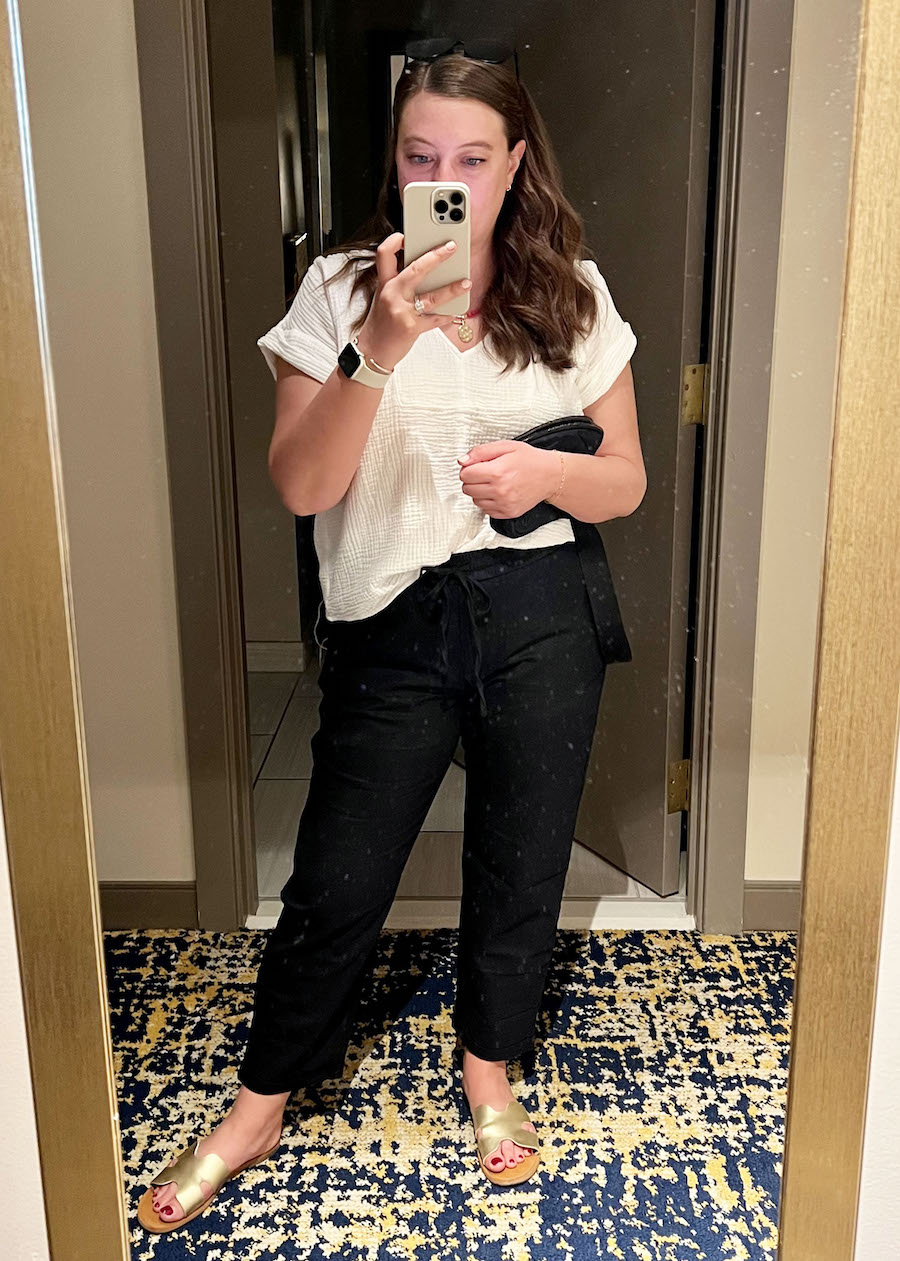 Though I packed some special outfits for our evening plans, it really is a case of anything goes when it comes to dressing in Vegas—especially during the day. I purposefully packed a lot of black and white pieces because they're easy neutrals that could be dressed up or down and mix and matched. My advice is to get dressy at night, but no need to be anything but comfy and casual during the day, even if you're eating out or gambling.
For a Spa Day
Another one of our daytime activities was splurging on a self-care spa day at Canyon Ranch located inside The Venetian Resort. Before heading to the spa for massages and to enjoy Canyon Ranch's experiential amenities—the Aquavana Wave Room and Salt Grotto are must-dos!—our group enjoyed breakfast at the Wynn hotel's Terrace Point Café. For both outings, I kept things casual and easy by throwing on a midi-length tiered black cotton dress from Old Navy. Paired with my gold sandals and woven tote bag (so I could bring a swimsuit to change into at the spa), this outfit was ultra-simple but still looked put-together for daytime dining out and a relaxing afternoon.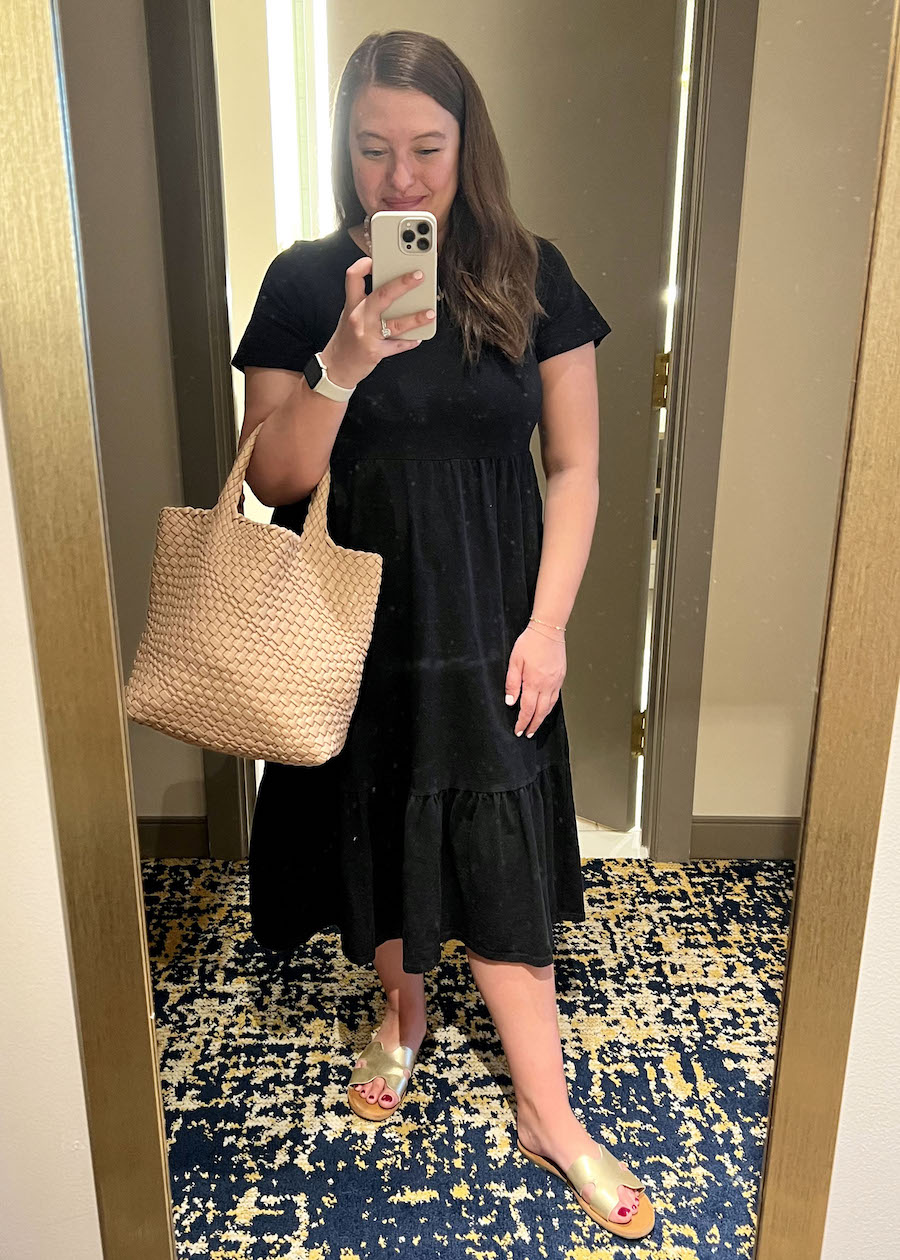 What Else Was in My Suitcase
Need more outfit inspo? Shop a few additional items I packed for my weekend in Las Vegas below.