Like so many families, remote work during the pandemic shifted the home setup of lifestyle blogger Danae, of The Homebody House, and her husband. When the couple found out they were expecting their second child, the baby's would-be nursery was already a home office. So, the couple had to get creative to carve out a small nursery space for their new arrival.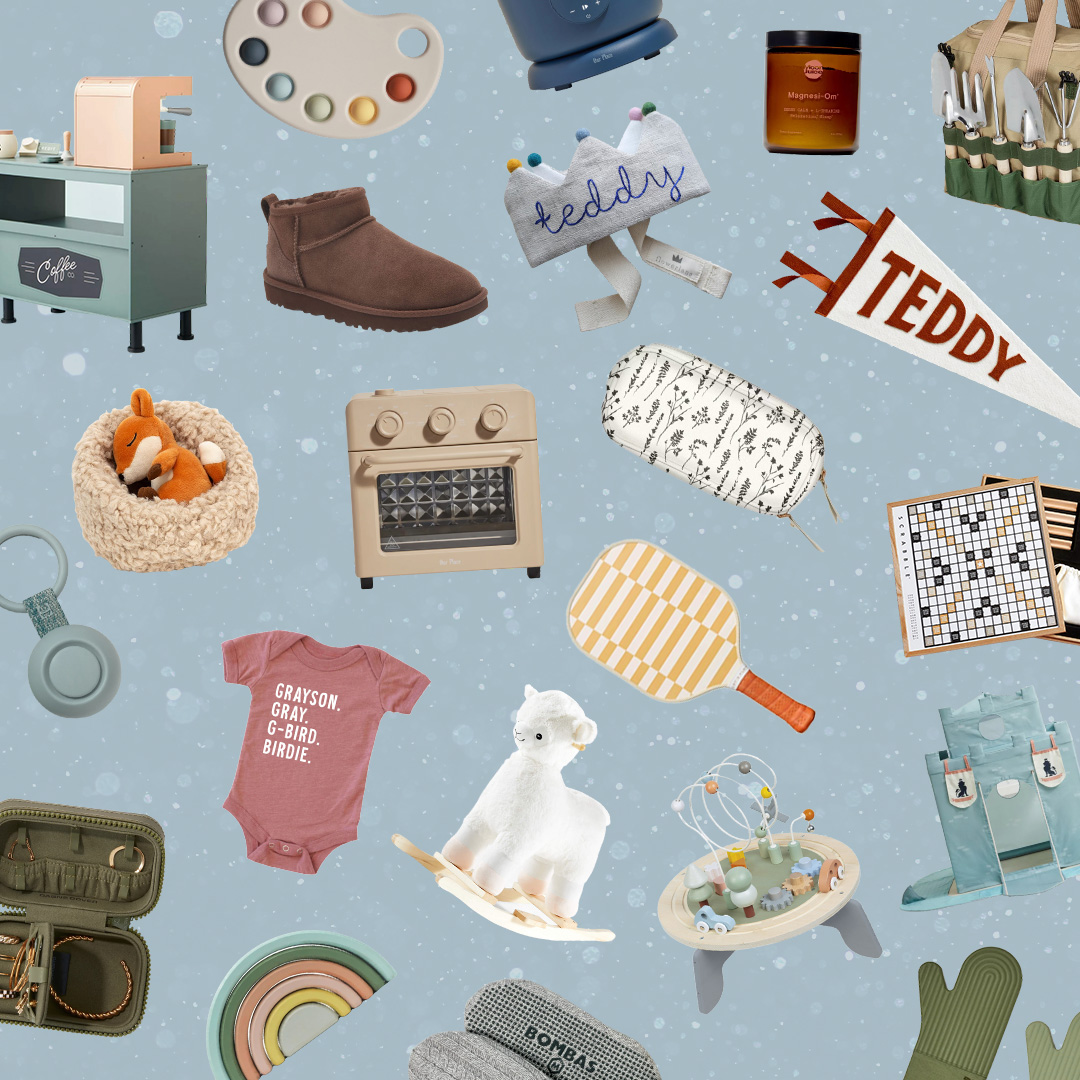 everything you need to ace holiday gifting this year 🎁
Luckily, Danae and her husband were used to home projects. They've been updating their 1960s California home for three years and DIY'd an adorable nursery nook in their own bedroom to welcome home daughter Milly.
Danae spent three months on bedrest prior to delivering and said, "I had a lot of time to stare at the space and Pin ideas!" You'll see the time she spent envisioning the space was well spent. Her gorgeous nursery nook feels whimsical enough for a baby, yet sophisticated enough for a primary bedroom. Keep scrolling for her before and after photos and tips on creating a functional nursery in a small space.
Name: Danae from The Homebody House
Location: Mission Viejo, CA
Rent/Own: Own
Home's Square Footage: 1,320 sq ft
Child(ren): Emie, 5, and Milly, 1
Before we get into your nursery design, tell us a little bit about you and your family.
My name is Danae and I live in sunny Southern California with my husband, two daughters, and our dog named Pepper. We live in a 1,300-ish square foot, three-bed, two-bath home that we have lived in and updated for the past three years.
We both work full time, so our home is our weekend passion project—I come up with the ideas and he brings them to life. On the weekends you can find us working on the house, at the softball field (he coaches, my daughter plays), or at the hardware store. We're raising a group of little homebodies and truly… there's no place like home… our home.
What would you say your personal home decor style is?
I have a hard time putting labels on my home decor style because then I feel boxed into an idea or look. Instead I focus on decorating with what I love and I focus on how I want a space to feel. I do favor classic design elements like symmetry, natural materials like wool, jute, linen, etc.  
But for me, the sweet spot is designing a room that feels cozy and inviting, incorporating vintage furniture with modern light fixtures or art, and I always love a touch of whimsy or something unexpected because my kids live here too. Every room should have a pop of black too, in my opinion.
What made you want to create a special space for your new baby in your own bedroom?
We made the decision to create a small nursery space for Milly in our bedroom mostly out of necessity. When the pandemic hit, my husband's job went fully remote so we had to turn our former guest room (would-be nursery) into his office. When his company eventually made the decision to keep everyone at home permanently, it was right around the time we found out that we were expecting again. So choosing to put Milly in our room was quite literally the only place we could put her at the time.
In the end, it made the most sense to have her close by during those first several months for middle of the night feedings anyway, so we did what we always do when faced with small house problems and made the best of it!
Before:
After:
How much of this nursery nook did you do yourself?
As with most of our home projects, we did everything ourselves. I briefly considered hiring out the wallpaper installation, but I figured it was a small enough space that I could probably handle on my own and determined that, if anything, it would be a good skill-building project to add to my DIY resume. I worked on the space little by little between feedings, nap times, everyday mom duties, and it eventually all came together.
What inspired your design choices for this nook?
Functionality for sure! We were working with such a small footprint that I was hyper focused on making it as functional as a full sized nursery while still being beautiful too. Whenever starting a new design project, I always begin on Pinterest to gather ideas and to see if anything speaks to me, so I spent a lot of time searching "small space nursery" and "nursery organization."
What were the "must haves" for you in this small nursery space?
There were two. I was adamant about having a changing table nearby and I really wanted to wallpaper the back wall of the nook. The changing table was a functional must have and the wallpaper was a design must have. 
Do you have a favorite element of the nursery nook?
Hands down, the nursery wallpaper. It really made the nook "pop" and feel like it's own unique and special space while still flowing with the rest of the room around it. Plus I think the print is very baby-friendly as well. I intentionally chose it because of the high contrast pattern that babies love to look at and because it felt juvenile enough for a nursery but sophisticated enough for our space too.
How did you incorporate baby-friendly functionality into this space?
We chose a mini-crib for the nook because we were tight on space but it also proved to be really handy too. I was able to move the crib from room to room and even right up beside the bed when I needed it. We swapped out the overhead recessed light for a shaded light fixture and put it on a dimmer switch so if I needed middle of the night light, the fixture provided a soft glow instead of harsh direct light in the baby's face.
But what I'm most proud about is how much functionality we added to this space by converting the adjacent closet into Milly's baby closet. We installed an over the door hamper, an inexpensive closet system from IKEA held all her diapering supplies, blankets, bedding, clothing, and we even secured her changing pad to one of the closet systems shelves at the perfect diapering height. 
When did you move Milly into her own room? What does the space look like now?
We moved Milly into her own room when she was about 10-11 months old. She still wasn't sleeping through the night at that point (which meant neither were we) so we thought maybe it was time she had her own space to see if that would help the sleep situation. We moved my husband out of the office, DIY'ed some built-ins, installed beadboard around the perimeter of the room, painted it a really beautiful blue-green color (Greyish by Clare Paint), and, thankfully, we're all sleeping much better these days with everyone in their own dedicated space.
Did you carry over any items or design elements from the nursery nook to Milly's larger nursery bedroom?
I did! We re-used the light fixture, the art, and the juju hat (round feathered wall hanging)—all of which I adore and am glad I could incorporate into her new space. We sold the mini crib and upgraded her to a full sized crib when she transitioned to the new room and, one day, I would love to wallpaper her new space like we did in the nook, but I haven't found a paper I love as much as I loved the last one.
Are there any other special, creative nooks in your home (love your home office too!)
Yes actually! We converted an unused closet into a home office for my husband who works from home. Guess you can say I have a soft spot for making closets special, haha!
Shop the Nursery Nook
Shop all of Denae's nursery selections on her blog or mimic the look with the picks below.
Denae is The Everymom…
Harder transition: 0-1 kid or 1-2 kids? Going from 1-2 for sure. I think when I had my first child, I was "blissfully unaware" and didn't have any prior experience as a mom to compare it to, but with my second I knew going in that it would be hard and I mentally prepared myself for the challenges I knew I might face like the lack of sleep and/or feeding struggles. But what I didn't anticipate at all is how much my older daughter would need me too. Both girls often needed me at the same time and I felt a lot of guilt having to split my time/energy.
I'm an Enneagram 9 which inherently makes me a people pleaser who craves peace and harmony, so it was emotionally hard for me to always be needed and extremely hard knowing that there were times I couldn't do or be all the things my children needed when they needed them. Things have definitely gotten easier now that the girls are a bit older and we've gotten into a routine.
Your blog is The Homebody House—what's your favorite at-home activity to do with your family? We love to have living room dance parties! We play a lot of Uno too.
Most memorable mom moment? Probably the time that I took my older daughter to her very first doctor appointment and she had a blowout all over my lap while we were waiting to see the doctor. I had a diaper but forgot to pack a change of clothes, so she rode home in her carseat naked. I was so embarrassed but the pediatrician assured me it's happened before. Classic rookie mom move, haha!
Interior designer you find yourself pinning/saving the most? I'm a really big fan of basically everything Sarah (@roomfortuesday) does—her design style is so clean, classic, and timeless and I appreciate all the knowledge and resources she shares on her blog so much. I love how Gwen (@themakerista) incorporates thrifted finds into her home and how she uses patterns and bold colors in unexpected ways. I'm also majorly inspired by Josh Young (@jyoungdesignhouse) because, not only is he a talented artist, but his home is elegant, chic, and very layered, which I love.
I never leave my home without… a change of clothes… or a hair tie.
Last show you binge-watched? All 40+ seasons of Survivor.
What home project is next on your list? I just talked my husband into building interior window walls and a transom window header leading into our living room to hopefully define that space a bit better. He said he'd do it if we could get a bigger TV, haha—that's sort of how projects work around here!