Last year around this time, travel was still pretty tricky. This year, though, many families might be planning to travel for spring break. But if you're staying home this spring break—whether out of cost (hello, gas prices!), caution, or just because—there are plenty of ways to make the time away from school or daycare feel special for your kids.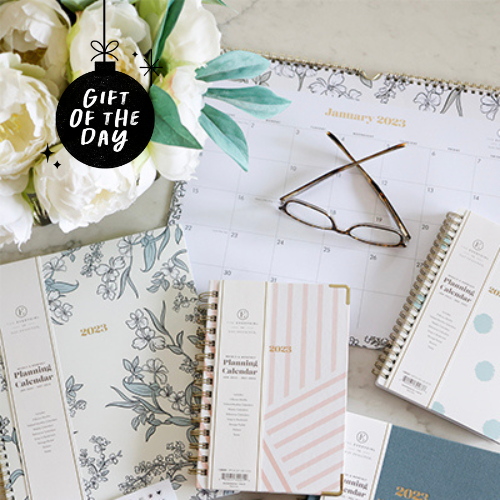 Help a mom stay organized and keep track of important doctor's appointments, playdates, and (hopefully) some scheduled 'me' time with this pretty wall calendar.
It's the perfect time to make family-friendly weekends plans like checking out a new museum or taking a nearby road trip to explore a new town. You could swap playdates days with other working parents so you can each have some childcare covered during the week. Or you could seek out local spring break camps for school-agers.
In addition, we pulled together this list of home staycation ideas to help spark your kid's imagination. All of these ideas can be accomplished with stuff around the house or by adding a few extras. Plus, we included books to complement each "trip."
Take an Indoor Camping Trip
Set up your camping tent inside, string up some holiday lights for stargazing, get out the sleeping bags, and make s'mores in the microwave.
Amazon
Kids love having their own little light, whether it's a flashlight or their very own lantern.
4 colors available
Amazon
Use for pretend camping, future travel, or on your bedroom floor (just in case of nightmares).
7 patterns available
Amazon
Everyone's lovable and curious monkey goes camping in this classic tale.
Go on a Fairy Hunt
Paint rocks to make a fairy trail—add glitter to make it even more magical! Make a fairy house out of popsicle sticks or use kid-size shoe boxes and decorate the inside (think cotton balls for pillows, pizza savers as little tables, wrapping paper as wallpaper.) Add mini-LED lights to a mason jar for a sparkly fairy lantern.
Amazon
Set of four fairy wings, so siblings or friends can get in on the fun, too!
Amazon
Fairy lights offer tons of versatile fun for kids—from bedroom decor to crafting!
Amazon
Little ones can create art with just their fingerprints in this adorable fairy-themed activity book.
Play Chef for a Day
Let your kiddos pick the menu for the day and help them prep and prepare each meal. Or help them write and craft their own menus, set the table, and play real-life restaurant.
Etsy | Little Boats Designs
Every little chef would love a personalized apron! This option from Etsy comes in many colors and cute patterns.
KiwiCo
Have a lesson in science you can taste test, with this set of kitchen experiments to make many flavors of everyone's favorite treat!
Use code TEMKIWI for $10 off a KiwiCo Store purchase of $50+!
Kyo Maclear
Kids will love this fictional tale loosely inspired by the life (and personality) of famed TV chef, Julia Child.
Become a Pint-Size Picasso
Dress them in one of your old T-shirts, cut down the Amazon Prime boxes to make giant cardboard canvases or use blue painters tape to attach paper bags to the wall and let your little ones get creative.
Amazon
Find a canvas and let littles get creative with these *washable* paints.
Amazon
You'll be happy to have these paint trays to keep messes to a minimum—and allow kids creative freedom without giving them the whole paint bottle.
Amazon
Marisol is put in charge of painting the sky in her school's new mural. But she can't find blue paint. Follow along as she creates the unexpected!
Have a Safari Scavenger Hunt
Hide stuffed animals around the house—with monkeys hanging from the light fixtures and lions hiding in the houseplants, for example—make binoculars out of toilet paper rolls and craft a safari vest out of a paper bag, and go exploring!
Amazon
This wide-brim sun/safari hat comes in 10+ colors for uses well-beyond make-believe.
Amazon
Hang this fun little creature from anywhere, including around your little one's shoulders for imaginative fun!
Amazon
Get inspired by the real life of famous primotologist Jane Goodall, from editor-favorite series Little People, BIG DREAMS.
Have a Home Spa Day
Soak your feet in the tub for a pedi, paint your nails, and make a kid-friendly greek yogurt mask (complete with cold cucumbers for your eyes!). Bonus, let your kids brush and style your hair (just make sure scissors are safely stowed). This is one staycation activity that might be almost as much fun for us as it is for them.
Ella + Mila
Clean beauty brand Ella + Mila has plenty of nail polish color options to choose from, including Mommy and Me sets like this pair.
Amazon
Help your little one feel like real spa clientele with this hair wrap they can also use beyond pretend play.
6-pack of multiple colors
Jessica Love
When Julián gets a glimpse of costumed mermaids on a subway ride home from a visit to the pool, he's mesmerized and daydreams of dressing up like the ladies in his own mermaid costume.
Spend a Day at the "Beach"
Get on your swimsuits and pretend you're going to the beach. Lay out the beach towels, put on your sunglasses, maybe even turn up the heat. If you're feeling extra adventurous, get out the summer water table (put a shower curtain or towels on the floor), and relax while the kiddos splash around (supervised) for hours.
Alternatively, if you have a lake or ocean nearby, you can still hit the beach for sand castle building, skipping rocks, or exploring, even if it's too cold to go swimming.
Amazon
For beach time or bath time, this basket comes with six BPA-free toys.
Pottery Barn Kids
A perfect personalized gift or prop for a pretend day at the beach, this towel comes in multiple colors and patterns.
Amazon
A favorite pair of little ones—and a New York Times Bestseller—Duck and Goose take a trip to the beach in this adorable picture book.
This article was originally published in March 2019. It has been updated for timeliness.