Like many moms, Target is my happy place and an easy go-to for so many of my needs (and wants) in life. I can stroll the aisles with a Starbucks in hand and grab some new mom-fashion items, pick up a few decor items to spruce up my home, and snag a new mascara and shampoo to feel like a new woman. Oh, and I can pick up all the best baby gear as well.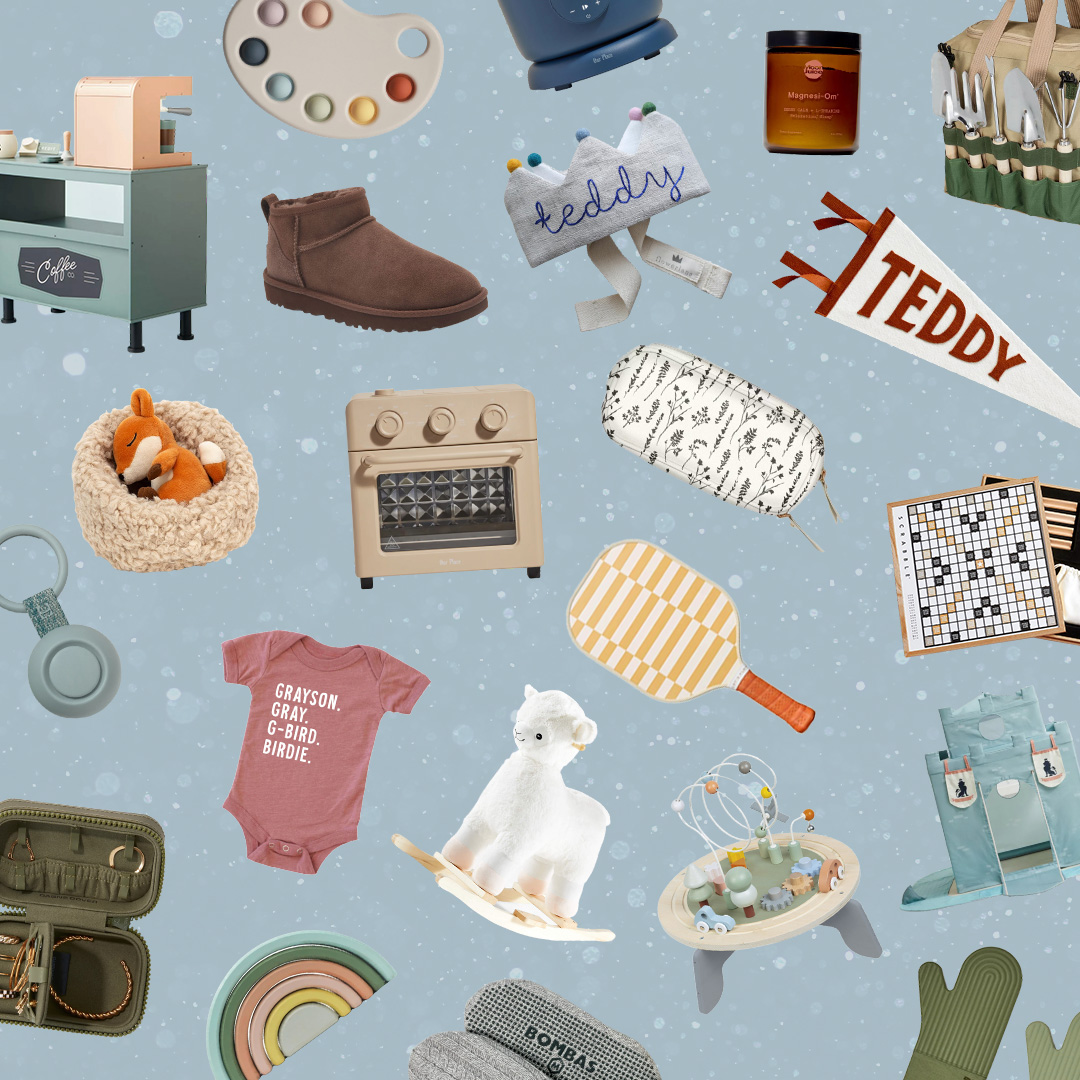 everything you need to ace holiday gifting this year 🎁
That's right: Target actually has an incredible selection of baby gear by some of the best brands out there. When I was shopping and creating a registry for my first baby, I didn't know the oasis that the Target baby section is. I thought I had to do all my browsing at the fancy baby boutique, but all along, my BFF Target had so many of my needs covered.
As wonderful as the Target selection bas been for the past couple of years, I'm excited to share that it continues to get better with recent partnerships with Monica + Andy, Lovevery, Mockingbird, and more.
Curious what baby brands and products we love at Target? Read on for a handful of our favorites.
Monica + Andy
Known for newborn essentials in the most adorable prints (how cute is the coffee print?), Monica + Andy just launched a line of newborn, baby, and nursery essentials created exclusively for Target. And best of all, everything is priced under $40. The swaddles, crib sheets, and changing pad covers make for great baby shower gifts. We're told more is coming in September, and we're excited to see what that will include.
Monica + Andy
Every mom needs an extra dose of coffee, so why not get it in this adorable swaddle?
available in 10+ prints
Monica + Andy
Start your kid's love of pizza early with this fun changing pad cover.
also available in 10 prints
Copper Pearl
Babies are known for their not-so-cute spit up, and Copper Pearl has you covered with burp cloths and bibs as well as other baby essentials like changing pad covers, crib sheets, blankets, swaddles, and more. The products are available on Target.com and come in a wide range of fun patterns.
Copper Pearl
These burp clothes are the best for keeping your shoulder clean with a new baby.
Copper Pearl
And these bibs will keep your baby's clothes dry and looking extra cute thanks to all the fun patterns available.
Burt's Bees Baby
As mothers, we love Burt's Bees products for ourselves, and we love how their baby line is made of quality ingredients tailored to our little ones' needs. Target carries a wide range of Burt's Bees Baby products, including the Shampoo & Wash, diaper cream, and crowd favorite Multipurpose Healing Ointment. It's an easy "add to cart."
Burt's Bees Baby
This combo shampoo and body wash is all you need for your baby's bath time routine.
Lovevery
When you welcome a baby into your family, you also tend to welcome a lot of annoying toys. That's not that case with Lovevery, which is why so many people are obsessed with their aesthetically pleasing play gym. Lovevery just launched at Target, and you can now get the play gym there, along with a new exclusive collection of play-to-learn essentials tailored towards kids ages newborn to 18 months—all priced under $25.
Lovevery
We love the look of this play gym, and your little one is sure to enjoy exploring all the different textures and colors.
Lovevery
This simple toy will actually keep your baby entertained for way longer than you'd expect. Hello, independent play!
Pretty Please Teethers
For the cutest minimalist teethers, look no further than Pretty Please Teethers. Founded when the owner was on bedrest and pregnant with her youngest child, Pretty Please Teethers now offer silicone bibs, pacifiers, and more through Target.com.
Pretty Please Teethers
These teethers could not be cuter and are great for fussy teething babies.
other colors available
Pretty Please Teethers
These silicone bibs are soft and bendable, plus so easy to clean.
Mockingbird Stroller
Another new launch at Target, Mockingbird Stroller is a brand you can now find in-store to try out. The single-to-double stroller has so many great features, including an extendable UPF 50+ canopy, adjustable handlebar, and suspension, and it works with a variety of car seat adaptors. The starting price is $395, making it a luxury option at a reasonable price.
Mockingird
The Mockingbird stroller is a great option if you want all the bells and whistles of a fancy stroller without the crazy price tag attached.
accessories also available at Target
Babyletto
For new parents looking to set up a nursery, picking out a crib and other nursery furniture can be overwhelming. Fortunately, trusty Target has some great options. Babyletto is one of those options that offers stylish furniture at a good price.
Babyletto
Outfit your baby's nursery with the full line of Babyletto gear, including this dresser changing table combo.
Babyletto
Every nursery needs a rocker, whether it's for soothing a fussy baby or story time with a toddler. We love the look of this one.
Freshly Picked
Head to Target for one of our favorite diaper bag brands, available in three different styles. Freshly Picked takes the traditional diaper bag and makes it fashionable.
Freshly Picked
This diaper bag is so sleek it can be used even without a baby in tow.
Freshly Picked
Diaper bags in backpack form are easier on your back than shoulder bags and allow you to comfortably carry your baby while wearing the bag.
Freshly Picked
The Classic style is one of our favorites and takes diaper bags to a chic new level.
Aden + Anais
For the softest swaddles, head to Target and buy a pack of Aden + Anais muslin swaddles. The 4-pack is one of our registry essentials, as they are big, have the right amount of stretch, and come in an array of adorable patterns.
Aden + Anais
The only tough thing about these swaddles is selecting which pattern pack you're going to buy. How does one decide?
All the Diapers
Not every diaper brand works for every baby, and that's why Target is a great spot to head to for diapers, as there is a wide range of brands to try, including Huggies, Pampers, Millie Moon, Honest, Luvs, their store brand Up & Up—the list goes on. Insider tip: There are many diaper deals.
Read the fine print because there are often offers like "Spend $100 on diapers and get a $30 Target Gift Card with same-day service." As a parent, you're likely spending a lot on diapers, so you might as well get a Target Gift Card in return. You can then use that gift card on fun items for yourself, but who are we kidding—you'll probably use it on more diapers.
Huggies
Huggies is another great option to pick up during your next Target run.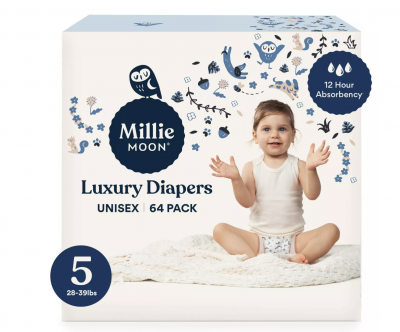 Millie Moon
This is a new-to-the-scene diaper brand only available at Target. They are called Luxury Diapers, but the price is surprisingly reasonable.