If the thought of dreaming up one baby name feels like a monumental task, try coming up with two. When Jackie R., a mom of three in Chicago, was pregnant with her twins, her husband wouldn't even broach the topic of names until they knew the sexes. "He refused to talk about names," she said. "He didn't want to think of six [possible names], assuming they might be different for girls and boys." It wasn't until an Uber driver tossed out a name they liked that the couple found a pair of twin baby names that clicked.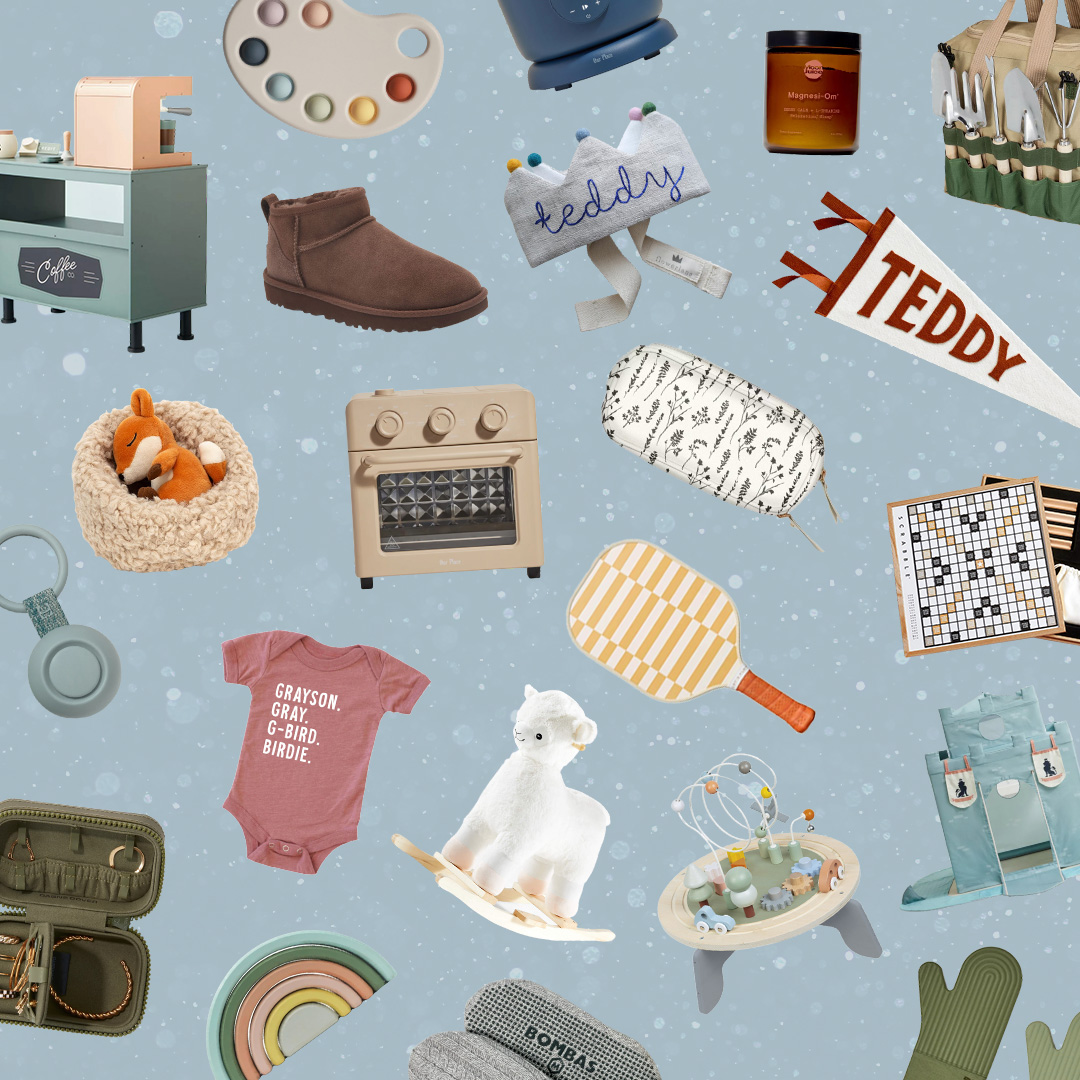 everything you need to ace holiday gifting this year 🎁
Whatever your baby-naming experience may be, if you have twins on the way, we're here to help take the pressure off with 30 beautiful twin baby name combinations. Read on for our top picks for girls, boys, and gender-neutral names below.
Twin Names for Girls
Eleanor and Emma: Old-fashioned and classic, Eleanor and Emma give off bygone-era vibes, while still managing to feel fresh and modern. 
Stella and Cora: Short, sweet, and sharing a last syllable, this vintage pair feels anything but stuffy and antique.
Zuri and Iris: In Swahili, Zuri means "beautiful," a fitting name for any new bundle of joy. Pair that with a stunning flower name and this twin set makes perfect sense. 
Clementine and Clara: Unconventional without veering into unknown territory, both Clementine and Clara hit their peak of popularity in the early 1900s. Is it time they both make a comeback? We certainly think so.
Simone and Samara: If a matching set of names is what you're after, Simone and Samara are darling options that have a similar look and feel—without dipping into cringe-worthy territory.
Belen and Esme: For a set of Spanish names, Belen (meaning Bethlehem) and Esme (a diminutive of Esmerelda), couldn't be sweeter. 
Evelyn and Alice: In a time when all things granny-chic are sweeping the nation, (hello, wallpaper and pull-on pants), a couple of names fit for our most beloved matriarchs seem especially fitting.
Ada and Amelia: Give your twin girls built-in role models with "A"-names from some of the world's greatest achievers, mathematician Ada Lovelace and aviator Amelia Earhart.
Charlotte and Louise: Here, an offbeat name like the beautiful Louise tempers the widespread popularity of the well-loved Charlotte.
Amina and Aria: Popular in the Muslim community, Amina means "trustworthy and faithful." Pair it with another "a" name like Aria—meaning "air" in Italian and "lioness" in Hebrew—for a strong (and gorgeous) option for a new set of twins.
Twin Names for Boys
Benjamin and Liam: Parents simply can't go wrong with two names like Benjamin and Liam. Consider them exceedingly popular for good reason—they are classic and versatile with nicknames aplenty (Ben, Benji, and Li for starters). 
Andrew and Alfie: Sweet and adorable, these names give off old London vibes and would make for the most precious set of little boys in any city.
August and Finneas: When you want a pair of names just off the beaten path, look no further than August and Finneas, neither of which has appeared on the Social Security Administration's most popular names. 
Darius and David: For a kingly set of names, Darius and David are strong contenders with historic ties. Darius found its roots in Emperor Darius the Great (Persia); while David harkens back to King David of the Hebrew Bible.
Jacob and Jonah: For two names that share a first letter, Jacob and Jonah have a timeless quality while still feeling new and noteworthy.
Malik and Edmund: There's something tender and sweet about these soft-sounding names—a perfect pick for two brand new baby boys.
Harrison and Henry: Another strong contender in the shared first letter category, Harrison and Henry are two classic names that have stood the test of time.
Calvin and Caleb: For a pair that goes together like peanut butter and jelly, Calvin and Caleb are an obvious match.
Raphael and Joaquin: Classic and effortlessly cool, these names are standouts on their own. Together, they up the hip factor considerably.
Dorian and Daniel: These adorable names just flow well together, making a super-sweet set for a pair of brothers.
Gender-Neutral Twin Baby Names
Casey and Bailey: It's the shared rhythm and soft ending that make Casey and Bailey flow so well together.   
Rowan and Sawyer: Maybe it's their shared "w," but these darling names—beautiful picks for girls and boys alike—feel like a perfect match.
Rayan and Remi: The Arabic Rayan and French Remi make a sweet set of baby names whether you're expecting girls or boys.
Sloan and Blake: Both names are dreamy in their own right, but together they reach otherwise unheard-of levels of cool. 
Carson and Charlie: If you're looking for a shared first letter, without the matchy-matchy feel of a beginning sound, look to Carson and Charlie. While Charlie has long been known as a diminutive of Charles, it's exploding in popularity for girls as well.
Amani and Zain: In Arabic, these gorgeous names hold special meaning—faith and beauty, respectively.
River and Wren: For any parents wishing to harness the peacefulness of nature, a set of names like River and Wren should do the trick. 
Blair and Beckett: As a pair, Blair and Beckett has a pleasant ring to it. Both names originate from English surnames, but have plenty of staying power as first names too.
Kiernan and Cole: Kiernan and Cole are both Old English surnames that would make exceptionally charming picks for a set of twins.
Cameron and Quinn: For names with a shared beginning sound, without the repeat first letter, Cameron and Quinn are darling choices.