Lately, my trips to the grocery store have seemed more like an episode of Supermarket Sweep. My main goals? Stick to my pre-written list, grab my go-to snacks and everything I'll need for meals that week, and get in and get out as quickly as possible. Sadly, I've yet to receive a $20,000 prize for these necessary and well-planned missions, but I digress.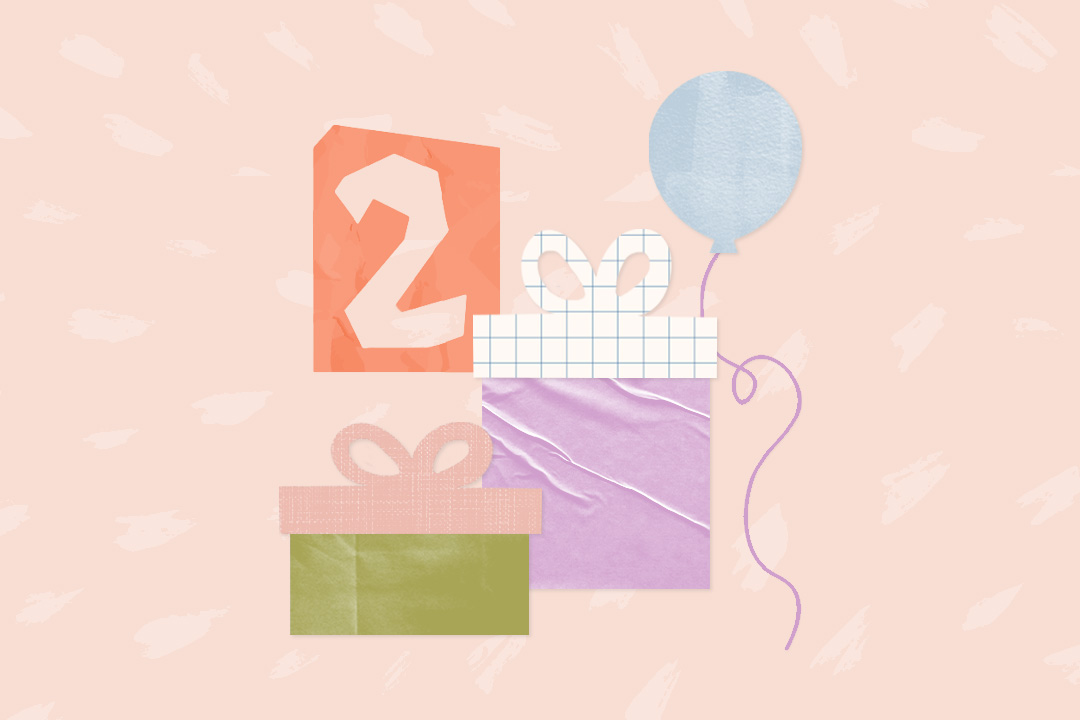 a LO in your life will love these! 🎁
My local Trader Joe's has always been my favorite grocery store for snacks and frozen items I can quickly turn into simple meals. But now that I've been working from home full-time for more than a year (and will likely continue to do so for the foreseeable future), I've also really gotten into TJ's pre-made lunches and personal frozen meals to keep me going during the workday.
During my last trip to Trader Joe's, I was truly in-and-out in 20 minutes. And while I didn't exactly grab the makings for a full week's worth of meals for my family (far from it, actually), I picked up snacks, pre-made lunches, and some other favorites that we can easily turn into dishes with a few supplemental items from our fridge or pantry.
Read on to check out the grab-and-go items I bought for under $100 during my latest Trader Joe's run. 
1. Vegetable Fried Rice + Spring Rolls + Bird's Nests
Seriously, what would we do without TJ's frozen foods section? We all have our favorite items in that blessed aisle, but my personal go-tos are a few packages that make a delicious, at-home copycat takeout Asian meal. First, I always, always grab a bag (or two!) of the veggie fried rice. I usually doctor it up by mixing in a few scrambled eggs for protein and use some Sriracha while cooking to add a little heat. The Trader Joe's fried rice also comes in a version with chicken—if you haven't tried either yet, you must!
To pair with my fried rice, I usually grab a box of vegetable spring rolls. They're the perfect size and are so easy to quickly heat up in the oven. I also recently tried TJ's vegetable Bird's Nests for the first time. I think they're technically an appetizer, but I've enjoyed a few as a super quick lunch or as a side for this at-home Asian meal, and they. are. delicious. Trust me on this one.
2. Cauliflower Gnocchi + Vegan Pesto
We may be a Trader Joe's cliche, but my family loves cauliflower gnocchi, and we eat it for dinner often. If you're new to this frozen meal phenomenon, my first piece of advice is to not follow the package's cooking directions at all. After preparing them several different ways myself, I now always roast them in the oven on a baking sheet at 425 degrees for 20 minutes. That will ensure they come out perfectly golden brown, especially if you stir and flip them halfway through cooking.
We've enjoyed the cauliflower gnocchi with red sauce in the past but my favorite pairing is to toss them in TJ's Vegan Kale, Cashew, and Basil Pesto. Most store-bought pestos (who has time to make their own from scratch?!) include parmesan cheese and, because my husband is dairy-free, this vegan option has become our go-to. Add a vegetable side (Brussels sprouts or asparagus are our faves) and a piece of "good bread," and this is by far one of our easiest weekday meals.
3. Microwave Burritos + Pre-Made Pasta Salads
This group has saved my work-from-home lunches as of late. If you have yet to venture over to Trader Joe's section of pre-made meals, you're seriously missing out. These fresh pasta salads (my personal favorites are the Mediterranean Style Orzo Pasta Salad, the Lemon Basil Pasta Salad, and the Peanut Udon Noodle Salad) are perfectly-portioned and delicious for a quick and easy lunch—truly no effort required. I also love these microwavable burritos for quick meals. They come in a few different varieties, and in just three minutes, you've got a yummy and relatively healthy Mexican-themed lunch.
4. Frozen Farfalle & Fusili Pasta Meals
OK, yes, I fully acknowledge that I've been eating way too much pasta lately. Carbs are my comfort food, and life is weird lately—go easy on me! Anyway, I always grab a few of these frozen pasta meals when I hit up TJ's because they're simply too easy to pass up. After trying a few different ones, the Farfalle and Fusili are my favorites, mostly because they also include some vegetables which makes me feel a tad less guilty when I pop them in the microwave for a quick work-from-home lunch or occasional dinner-for-one.
5. Microwave French Onion Soup
Raise your hand if you're pumped for soup season—because I know I am! I once grabbed these on a total whim from Trader Joe's frozen section, and they. are. delicious. The pack comes with two microwavable soups that you simply plop into a bowl and heat up in five minutes. Croutons are included right in the broth and the frozen block of soup is topped with Swiss cheese just like a traditional French Onion Soup. Though you're not getting the broiler finishing touches of a restaurant-style French Onion Soup, this take is still seriously yummy and makes for the easiest lunch or simple dinner.
6. Organic Iced Tea & Lemonade
Truly not much to say here except that if you're a fan of Arnold Palmer Iced Tea & Lemonade, this is basically an organic dupe that's refreshing and delicious. I purchase this bottle during most TJ's trips, especially in the summer when it just tastes extra good. Sometimes, I simply get sick of primarily drinking water (even though I know it's good for me) and a glass of this is the perfect drink to mix things up. I live a wild life, I know!
7. Pre-Made Egg Salad & Buffalo Chicken Dip
I may be totally late to the game here, but these are both new TJ's finds for me, and I love them. First, if you enjoy egg salad and simply don't have time to make your own, this pre-made option is really yummy. I've had it on toast for breakfast, as a simple sandwich for lunch, and as a mid-day snack with a few crackers. I now always buy one to have on-hand in our fridge, and it's always eaten within a few days.
I had heard rumors of the Trader Joe's Buffalo Chicken Dip but only recently bought it for the first time. It's not incredibly healthy (but probably still better than similar options from other grocery stores), but man is it tasty. It would be great to serve as a very simple appetizer with crackers or chips if you're having family friends over, but for now, a small dollop of this is just a snack for my family, and it's seriously delish.
8. Organic Mini Cheese Sandwich Crackers
If you frequent TJ's, you've likely seen these boxes time and time again. They're a dupe of the Ritz Bits Cheese Sandwich Crackers, and since they're organic, I feel less guilty about buying them literally every time I run to the store. Simply put, they're a go-to snack in my household for everyone and will continue to be forever.
9. Lemon Shortbread Bar Mix
These are so. yummy. I've always been a big fan of TJ's baking mixes, and this Lemon Shortbread Bar box is a new favorite. We could all use a treat now and then during this time, and I've been picking up different versions of these pre-made mixes from Trader Joe's just to have on-hand in our pantry. They're super easy to make (definitely kid-friendly!) and only require a few additional ingredients that you're sure to already have at home. While this particular mix may be a seasonal item, I encourage you to check out your local store's baking aisle to see what's new.