Though she loves shopping at HomeSense (AKA HomeGoods for us American folks!) for holiday decor, mom-of-two Chantelle Watt typically turns to real greenery to transform her Ontario, Canada house into a rustic-chic winter wonderland for Christmas — and the result is just as sophisticated and stunning as you'd think.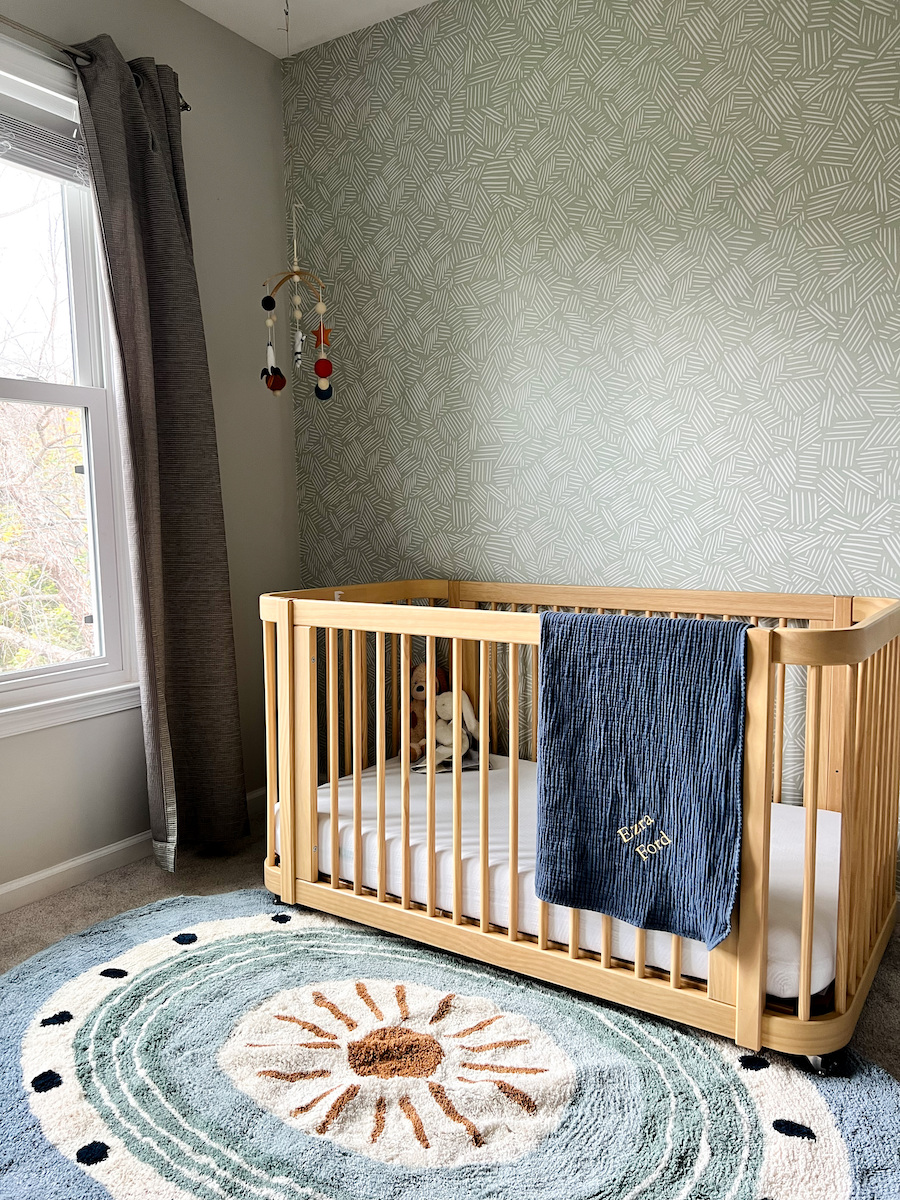 editor-favorite crib brand Nestig just released gorgeous new wallpapers that will easily transform any space 😍
As you tour the Watts' cozy abode, you'll see festive greens added, frankly, everywhere. They help create a bespoke centerpiece on the dining room table, highlight the furry stockings on the mantel, get tucked behind family photos, and even add a touch of holiday cheer to the master bathroom. Add in some knit and velvet throw pillows, comfy blankets, and gorgeously minimal presents wrapped under the Christmas tree, and you've got the recipe for Chantelle's homey holiday vibes.
Keep reading to find out how this mama keeps her seasonal decor kid-friendly, see how she perfectly mixes holiday touches into her kitchen, and learn the sweet way she and her older daughter, Lennon, are counting down the days to Christmas this year with a unique advent calendar.
Name: Chantelle Watt
Age: 32
Location: Ontario, Canada
Home's Square Footage: 2,100
Children: Lennon, 4, and Mara, 10 months
When do you typically start decorating for the holidays?
I slowly get in the spirit mid-November. We traditionally cut down our own tree, so we wait until the first weekend in December to do that and bring out the rest of the decor then as well.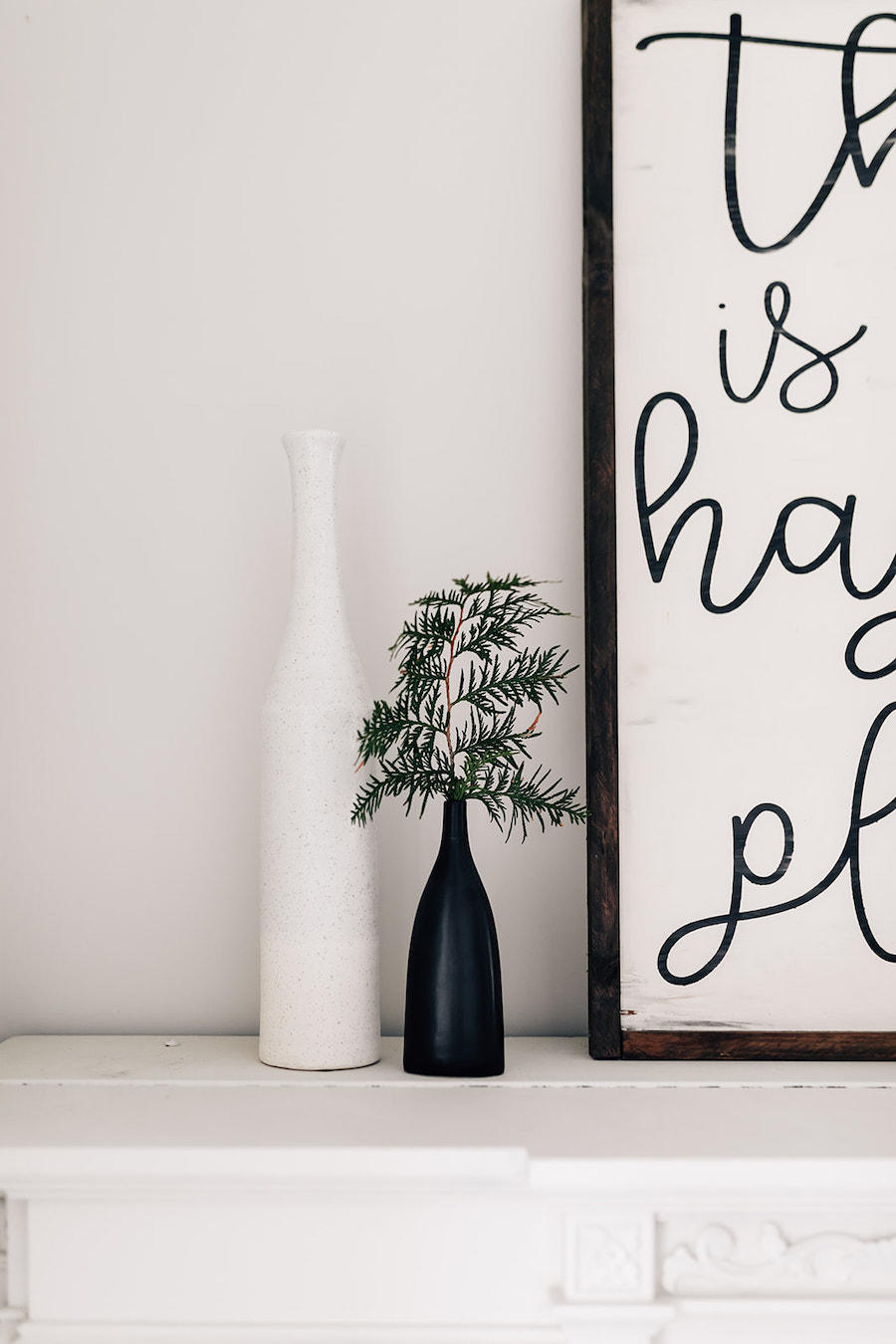 SHOP THE LOOK
How would you say your holiday decor differs from your home's everyday decor?
It doesn't differ drastically. I tend to just add fresh greenery and swap out a few signs for seasonal signs as well as add seasonal pillows and throws.
Where do you typically shop for holiday decor?
I try to purchase small pieces from local makers, but HomeSense (AKA HomeGoods in the U.S.!) always sneaks in there too.
SHOP THE LOOK
Where do you spend versus save with your holiday decor?
We clip our own fresh greenery (perks of living in the country!) but get our floral centerpiece from our favorite local shop called The Local Bloom. 
How do you keep your holiday home decor kid-friendly?
This year is a bit of a challenge as Mara, our sweet little 10-month-old, wants to eat everything she can get her hands on. We kept the bottom layer of our tree bare of ornaments to eliminate the temptation, and we've had to keep everything else up off the floor. 
SHOP THE LOOK
Do you ever make DIY holiday decorations? If so, what?
I always put together our winter urns for our front porch. My oldest daughter, Lennon, is a party-planner extraordinaire, so we've also had to incorporate all 6,000 of her handmade decorations. We put a little Charlie Brown tree in her room this year so that she could put her handmade ornaments on it, and we've subtly added others around each room of the house.  
What is your favorite piece of holiday decor in your home?
I think our favorite would be our stockings. I purchased a set of four when we were a family of three, knowing that we would hopefully add another little one to our family. We filled the fourth one last year when I was expecting, but this year will be more special having Mara with us Christmas morning!
SHOP THE LOOK
What holiday traditions have you started for your family? 
This year, we started a book advent calendar. With our 4-year-old super aware of the holidays and Christmas itself, I thought it would be a good time to start something new. She just started school in September and has been book-crazy ever since. I picked up a few new books but got most at a local thrift shop. I wrapped up 25 individually and every morning, from December 1 onward, she gets to open one. She has been so excited about it!
You and your husband built your forever home in 2016. What special features did you add to your home since you could design it?
Our big must-have was having our kids' bedrooms close to ours. When we built, we had a 1-year-old and hoped for another soon. With such tiny littles, we knew we wanted to have them close by. We found so many floor plans with kids' rooms across the other side of the house. We also wanted something open concept but not just one big giant room. We are super happy with how everything turned out.
SHOP THE LOOK
You and your family live on Cobourg, Ontatio! How do you think Canadian holiday decor differs from here in the U.S., if at all?
I don't think it differs all that much; we still get to watch all the classic B-roll movies that you guys make — the best part of holiday TV!
What does Christmas morning look like in your home?
We are thankful so far to have a daughter that has always slept past 7am. We hope 5am never becomes a tradition in our home, haha. We always open stockings first, have breakfast, and then open everything else up. We then always have dinner with family.
SHOP THE LOOK
How does your family celebrate the season?
Our town always hosts "Christmas Magic" where everyone gathers at the Town Hall and then walks together to the park where they ceremonially countdown to light up thousands of lights. It's always at the end of November and definitely gets the holiday spirit going.
What is your favorite thing about the holiday season?
That everyone is in just a little bit more of a better mood 🙂
SHOP THE LOOK
Chantelle Watt is The Everymom…
Favorite Christmas movie? Home Alone
Favorite Christmas song? "All I Want For Christmas"
Hot cocoa or eggnog? Hot cocoa
What's on your holiday wishlist? A day at the spa!
When do you start listening to Christmas music? Dec 1 
Go-to holiday drink at Starbucks? I don't drink Starbucks … *gasp* (small-town problems, lol)
What's the best gift you've ever received? My babies
Oddest thing on one of your kid's wishlist this year? My 4-year-old asked for a yoga mat — more adorable than odd.
Biggest holiday mom fail? Something baking related for sure