After several moves between the East Coast and the West Coast, my husband and I have embarked on two cross-country road trips, spanning 3,000+ miles each way.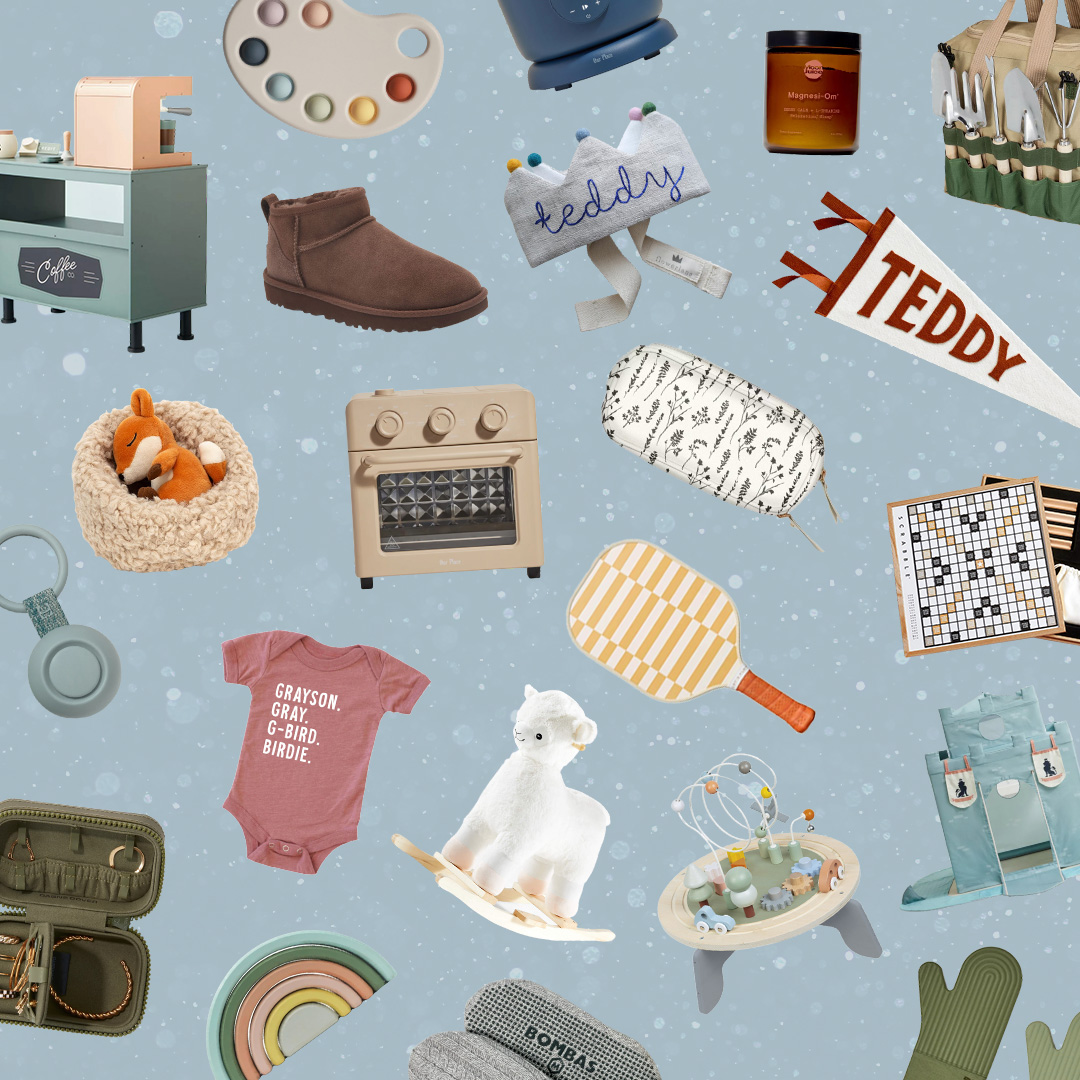 everything you need to ace holiday gifting this year 🎁
Our first journey was pre-kids and was a 2.5-week leisurely and adventurous experience as we made our way from New York City to San Francisco. We casually stopped at National Parks, visited landmarks, and pulled over for every scenic overlook that caught our eye. Our second road trip (Portland, Oregon to Washington, D.C.) was quite different, as I was pregnant and we had our toddler in tow. Though this trip was far less enjoyable, we made it across the country without completely losing our minds in the process.
In addition to those incredibly long drives, we regularly pack up our car to head north eight to 10 hours and are no stranger to road trips with kids. I've learned quite a bit of tips along the way that have saved my sanity when you just cannot bear to sit in the car for one more minute (let alone several more hours).
Throughout our journeys, I've found that my advice for road tripping with kids is pretty much the same, whether you're in the car for three hours, three days, or three weeks.
Getting set for a family drive? Here are my top pieces of advice based on many hours and days in the car.
Keep essentials handy
It can be difficult to keep everything you might possibly need right at your fingertips, but try your best to keep track of where key items are. For example, for a recent road trip, we had our newly potty-trained toddler with us and made sure to bring our travel potty. The only problem was that when she needed it, we had absolutely no idea where it was. We scrambled to dig through bags before we ultimately decided to simply let her squat behind a tree in a random person's yard. Not our finest moment, and ever since then, I make sure to know exactly where all our essentials are, like that travel potty, extra wipes, paper towels, water bottles, and so on.
Set time ranges to set yourself up for success
As someone who wants to be exactly on time (or early) for everything, motherhood has really thrown me for a loop and I'm regularly late to lots of things. I try to stay calm when this happens and it's been a struggle. But when it comes to travel, I've found that it's best to set a wide time range so you can always feel like you're succeeding. Instead of saying we're going to be in the car and on the road by 8 a.m., I instead say we'll be on the road between 8 a.m. and 10 a.m. Even if you get going at 9:59 a.m., it feels like a success and can totally change your outlook as you start your drive.
Keep extra necessities tucked away for emergencies
If you have babies or young kids, make sure you have extra diapers and wipes stowed away in your trunk. This is advice for whenever you leave the house but especially during road trips.
For overnight stops, pack large suitcases (not several small bags)
When we did our first multi-stop road trip, I attempted to pack different bags for each stop so I'd have less to bring into the hotel. This only somewhat worked and I inevitably always forgot something in another bag and thus ended up bringing in all my bags every time. This becomes even harder when there are kids and all their stuff involved.
I recommend packing everything you need into one large suitcase. It's much easier to carry one big item instead of several small bags (especially if you're also carrying a child). Plus, when you're packing up to leave, you are less likely to leave a bag behind because you only have one thing to focus on.
July
Get all your items in one bag with this extra-large suitcase. Still lightweight and easy to pull, the July Checked Plus will give you ample space for your entire family.
Pack as many snacks as you think you need—then double that
Personally speaking, snacks are one of the main things that get me through a long car ride, so it's not surprising that snacks help little ones stay happy during several hours in the car as well. Make sure to pack plenty of snacks for yourself as well as for your kids. Ensure they are car-friendly snacks and not choking hazards if you have young children.
morepeas
Grab some snack containers that do double duty. These from Morepeas are a snack cup, a dining bowl, and a steamer all-in-one, meaning you can use it during your road trip for snacks and then at your destination for meals. The spill-proof lid will keep your car floors relatively clean and help toddlers self-feed.
Stop before you think you need to
We're all guilty of thinking we can go just a little bit further before a bathroom break or a leg-stretching stop. Take it from me: make the stop before you have really hit your limit. This is extra important if you have a toddler or a newly potty-trained child. Take the time to pull over, take bathroom breaks, change diapers, grab food, and so on. And about that diaper change: always do it. If a diaper is even just a little wet, you're still going to want to take the time to change it; otherwise, you're likely to have a much bigger mess to deal with later.
Chances are, your road trip with kids will take longer than you originally thought anyways, so you might as well stop as needed to keep everyone happy.
Leave space for spontaneity
I've found that most opportunities for spontaneity go out the window once you have children. I am a meticulous planner, so when we set out on trips, I'm the type of person that has a Google spreadsheet of every single detail.
While these spreadsheets are incredibly handy and I stand by them 100%, I still recommend allowing some opportunities to go off course when road tripping. It is all a part of the experience. If you have the ability to add some time to your trip, don't be afraid to explore places outside of your agenda. We've come across some fun general stores, beautiful lakes and overlooks, and even unique-looking playgrounds on our drive. It might throw you off your schedule, but if that doesn't mess with your plans too much, do it.
After all, that is the beauty of driving: You have the ability to stop when and where you want, unlike when traveling by plane or train where you simply go from point A to point B.
If it's out of your comfort zone to explore something on a whim, you can even schedule in "adventure time"—some added hours here and there that allow you to go off course but still arrive at your destination on time.
Clean as you go
Truly no judgement to the mom with a backseat full of old water bottles and snack wrappers, as I am absolutely that mom at times. But a messy car can really become a nuisance on a long car ride, especially if it's over the course of several days. Try to discard all garbage when you make stops, and you might even want to consider adding a car vacuum to do quick clean-ups along the way.
A clutter-free space really does lead to a clutter-free mind, so if you can keep your car somewhat tidy, you might find your spirits are higher when you arrive at your destination.
ayla & co
How genius is it to buy a mini vac that stays in your car? The Ayla Vacuum is cordless with a long battery life. And yes, it picks up Puffs and Cheerios.
Don't push yourself
Speaking from both a safety and a sanity perspective, don't push yourself too far on road trips. If you need to stop because you're exhausted, do it. It's not worth driving through the night if you're getting sleepy. Make sure you have sufficient energy during your drive and pull over early if you need to take a break, get an extra coffee, or simply stretch your legs. You'll get to your destination eventually, and even if that's a bit after you hoped to, it's better safe than sorry.
Focus on experience
I'll end this on a positive note because, yes, road tripping with kids can be somewhat of a nightmare. But on the flip side, it can be such a special family memory. Try to focus on the fun elements of being in the car together and seeing new things. If you're late to your final destination and maybe a little cranky, that's normal. If you lost your patience and yelled to the backseat, hey, we've all been there. It probably won't be perfect, but do your best to enjoy the journey.