I have to admit, I feel a bit hypocritical writing this article considering how much screen time we logged in my house over winter break. But we still have a long winter ahead, and I'm in need of new activities to keep us all sane while we spend more time inside.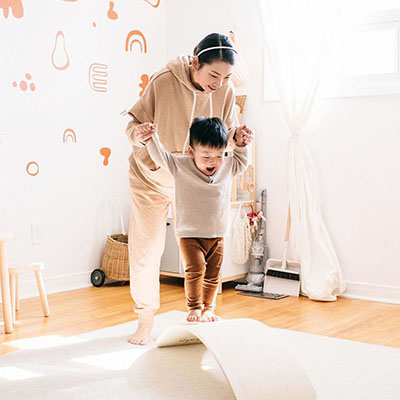 If your kid is turning 2, get ready for hilarious conversations, much more involved play, and lots of sweet, sloppy kid hugs and kisses. As for what you'll need? Leave that to us.
It seems like the more time we spend indoors, the more energy my kids release into some of their favorite activities: dumping toys everywhere, stealing books from each other, and making general messes out of anything and everything. If it's a similar scene in your home, we've rounded up a few ideas to keep little ones entertained both safely and appropriately (AKA not destroying your house) this winter. Read on for five indoor activities that don't involve screens to keep your little ones occupied this winter.
If there is a toy that is educational and fosters independent play (meaning I could say, cook dinner, while my kids are entertained by something other than a screen), let's just say I am here for it, which is one of the many reasons that I can't recommend KiwiCo's Panda Crate enough. 
Here are my very favorite things about these crates:
They were designed by experts specifically for infants and toddlers up to 24 months
Each crate is delivered right to you and includes 3–5 fun, age-appropriate toys
Skills promoted include: fine motor skills, language development, spatial skills, and math
If it seems like overkill to look for toys that are backed by science and researchers, it's not. There is very much a science when it comes to play for children, and some toys are simply better than others when it comes to teaching babies and toddlers the skills you hope they develop, like focus, imagination, coordination, exploration, and creativity.
There is very much a science when it comes to play for children, and some toys are simply better than others when it comes to teaching babies and toddlers the skills you hope they develop.
KiwiCo nails it every time with the items included in the bi-monthly Panda Crate. Most recently, my 18-month-old received stacking cups, simple shape puzzles, colorful cylinder blocks, and counting cards featuring different shapes and textures. 
Another of my favorite things about the Panda Crate items is that my daughter doesn't lose interest in the activities and toys as she grows—she just invents new and different ways to play with them. It's peace of mind that even when my little ones aren't at preschool, I'm setting them up as best I can for a future of engaged learning at home.
Sign up for a subscription so your little one (and you) will be thrilled to get bi-monthly deliveries packed with new activities to spark their imaginations.
KiwiCo
Use code EVERYMOM at checkout for 30% off your first month's subscription with KiwiCo!
2. Have Fun With a Ball Pit
The term "ball pit" might immediately conjure images of germ-infested madness in your mind, but we're not talking about the ones you'll find at kids' play zones. Having an at-home ball pit is a lifesaver during the winter months for many parents. As any parent knows, kids will find ways to exert their endless amounts of energy, regardless of whether the activity is parent-approved.
Enter the ball pit: a never-ending source of entertainment for little ones to explore, play, and get creative while parents can (maybe) sit and watch. And if you don't want to splurge on a new item, you can buy a bag of plastic balls and repurpose your summer kiddie pool as an indoor ball pit.
3. Build and Climb With Foam Mats
My 3-year-old's latest favorite thing to do is climb up the back of the couch, jump from it to the ottoman, and from the ottoman to the floor. So if you're as sick of your kids climbing and jumping off your furniture as I am, investing in these foam climbers and playmats isn't such a bad idea.
It's a relief to have something he can safely play and jump on that I don't have to constantly say no to. Plus, my 18-month-old loves climbing up these foam stairs and through the tunnel. Anything that keeps my kids playing happily together is a win in my book.
4. Go "Camping" in an AirFort
I am 100 percent undeniably not a camper under any circumstances, so I'm using the term more than loosely here. If you aren't familiar with AirForts, I highly recommend getting to know one. All you need is a box fan to keep this inflated, and from there, you can watch in awe as your kiddos find everything you'd normally try to occupy them with one million times more exciting inside an AirFort. Seriously, for under $50, I can't recommend these enough.
5. Refine Motor Skills With a Pikler Climber
For more of a splurge item, I love that it isn't something your little one will grow out of quickly. Made for kids age 6 months to 3+, these climbers help with children's motor skill development, balance control, creativity, and so much more. Add it to the list of things that your little one can climb on without constantly hearing you say "no" or having you remove them from whatever their latest climbing obsessions is.
This post was in partnership with KiwiCo but all of the opinions within are those of The Everymom editorial board.