There is a lot about parenting I can muscle my way through. Sleepless nights, diaper blowouts, and wild, untamable tantrums? I can deal with those. But the very idea of preparing three meals for my children every day, day after day, until they move away reads to me as the very definition of exhaustion.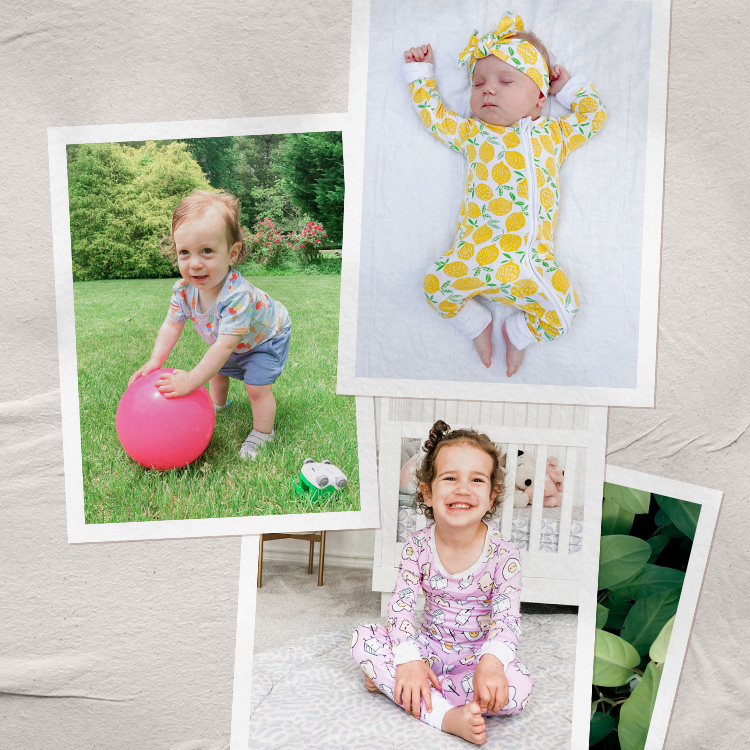 it's more than just their cute PJs... get ready to add to cart! 😍
And yet, our families need to eat. So in an attempt to streamline meals in our house, I reached out to other moms—the editors here at The Everymom—to see how they were getting by each day in getting dinner on their tables. Whether they are in the kitchen themselves, or their partner is the resident chef, they shared the go-to meals that keep their families fed.
Here are the easy, family-friendly, go-to dinner ideas our editors are relying on week after week.

Tacos
We make a variation of tacos at least twice a week—they are quick, can be made with a variety of ingredients (often whatever you have on hand), and are definitely something everyone eats without complaint. We love using beans, ground meat or a meat substitute, or shrimp as the base and changing up the veggies on top each time—spinach, corn, tomatoes, avocado, cilantro, onions, cabbage are among the favorites. Top with sour cream, taco sauce, and cheese, and you are good to go. My kids love eating them deconstructed or in taco boats (available at most grocery stores) for ease of eating. 
This is a new favorite. The ingredients can be swapped (we've had it with zucchini, mushrooms, spinach, and a combination of the three), and the process is painless (though I've found that ours takes a bit longer to cook than the recipe suggests). The first time I made it, the whole family gobbled it down so quickly and was asking for seconds and thirds. The next time, I used a much larger pot and added more layers so there was more than enough to go around.
Shrimp and Grits
There are few things I love more than a hearty bowl of shrimp and grits—it always hits the spot and is such a comfort food for me. My family doesn't really share my deep love for this delightful dish, but they will always eat it, so I take that as a win. You can use a base recipe here but really can switch out ingredients for whatever you have or like. I often omit the extra fats from the grits and mix in some mashed cauliflower or sweet potato along with a bit of cheese and ghee to add more nutrients. I also swap out the shrimp sometimes for sliced chicken sausage, mushrooms, and chopped bell peppers. Changing it up often keeps the kids from complaining too much. 

Sheet Chicken
I became a big fan of sheet chicken two years ago. It's taken some tweaking, but we finally have it down. Layer the potatoes and put it in the oven first, as they take the longest to cook and we like them crispy. Then, we top balsamic-glazed veggies (carrots, onions, Brussels sprouts, asparagus) and marinated chicken strips on top and let it all cook together at 375 degrees for around 20 minutes. The flavors all mix together, and it's so so yummy and healthy. We often cook two pans worth!
Chickpea Pasta Bolognese
Calling our dish bolognese is being generous. There is nothing made from scratch in this meal, but it's so fast and delicious. We boil our go-to Banza pasta (any noodle works). Then, we brown ground turkey and add a decent amount of seasoning (garlic and oregano really make it yummy). Once the meat is almost cooked all the way through, we add marinara sauce. We just use jarred Rao's Pasta Sauce. Then, we add the cooked noodles into the pan, mix it all up, and serve. So filling, comforting, easy, and delicious.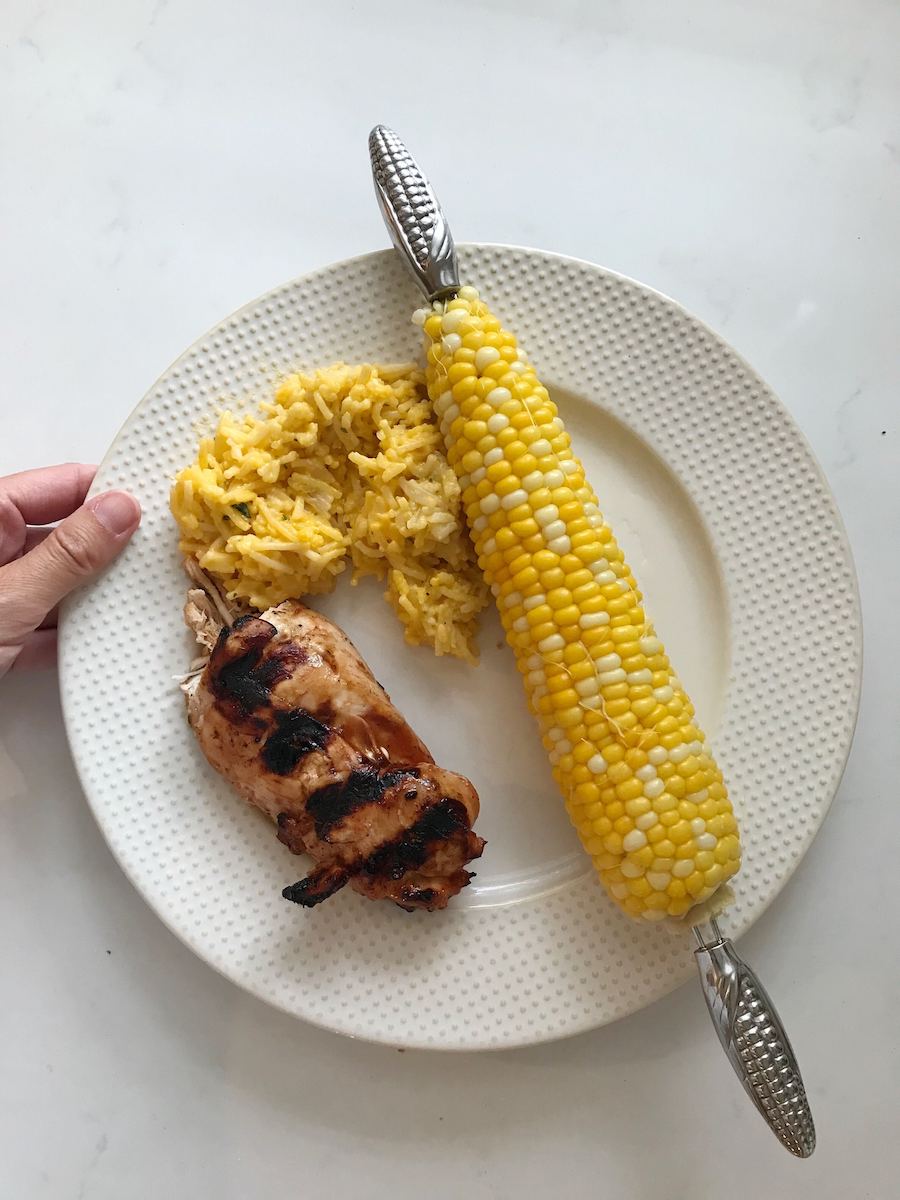 BBQ Chicken, Roasted Veggies, and Rice Pilaf
We cook BBQ marinated chicken tenders on a pan, roast a mix of veggies in the oven, and use Far East rice pilaf, which our toddler will basically eat the entire package of. It's quick and easy, and we all enjoy it. 

These sweet potato black bean quinoa bowls are on rotation in our house regularly because they're easy, healthy, and delicious. These are vegetarian-friendly, gluten-free, and can be vegan if you don't use the cilantro cream drizzle. We don't always go meatless, but when we do, we want something with enough protein to keep us full—this is that meal. The quinoa and black beans pack the protein and the roasted sweet potatoes and cilantro cream drizzle bring the flavor. If your kids don't like quinoa (like mine), you can easily substitute for brown rice or another whole grain.
A Mexican-inspired dish is on the table at our house at least once a week, and these avocado chicken burritos are a triple threat: quick, easy, and healthy. I toss the chicken in a crock-pot with some chicken broth in the morning so that it's ready to shred by dinner, but rotisserie chicken is also an easy option. We use our panini maker instead of our griddle to get them to the perfect crunch level. If you're looking for a few healthy swaps, try whole wheat tortillas and plain Greek yogurt instead of sour cream. The recipe doesn't actually call for sour cream, but I'm a big fan of it (or plain Greek yogurt) on any and all Mexican food, really.
We all know burgers are a staple, but sometimes our go-to burger recipe gets a little dull. Enter the mushroom swiss turkey burger. Another option that meets my requirements of quick, easy, and healthy, this is always a hit at our house. You don't even have to fire up the grill–these cook just as well in a pan on the stove. Sometimes we mix it up a little by topping with caramelized onions, avocado, or bacon.
Simple Grilling
Grilling is quick, easy, and healthy, so it's a great go-to. We grill a ton in the summer, but if the weather is decent, it's a year-round activity for us. We usually do steak or chicken in a simple marinade and grilled veggies. Typically, we just use olive oil and a mix of spices (salt, pepper, garlic powder, cayenne). We use the same type of marinade for the meat and the veggies. Keeping it simple really works well. Our favorite grilling vegetables are eggplant, zucchini, potatoes, and onion. We always set aside a few vegetables that are designated as salt-free for our daughter to eat. Often, they end up on the floor, but it's good for her to try them!
Breakfast for Dinner
When I'm feeling short on inspiration, I turn to some sort of breakfast for dinner situation. It might be a pancake feast, an egg bake, or delicious breakfast tacos. For breakfast tacos, I do basic scrambled eggs, salsa (my go-to is Trader Joe's Pepita Salsa), and breakfast sausage from Butcher Box, all wrapped up in a Trader Joe's Jicama Wrap. If they need a little more heft, we'll add black beans, corn, and shredded cheese. Not only do I love these, but they also work well for our toddler. She doesn't have the hang of eating a wrap yet, but she loves a deconstructed breakfast taco in a bowl (and little bites of my wrap of course!)
I make an adaptation of this often. I usually use beef instead of pork, or whatever we have in the house. I love it because it's full of vegetables and offers new flavors for our daughter to try. It's low-carb, healthy, and pretty simple to toss together. You can also add extra veggies if you have a fridge full of produce that needs to be used.

Powered-Up Spaghetti
We live for quick, easy, and healthy around here. There's nothing faster and more filling than adapting this pasta recipe from Isa Moskowitz. To keep things lightning-fast, I use jarred tomato sauce and precook lentils the night before. I load this up with fresh basil from our garden or steamed and chopped kale. Between the cashew cream sauce, lentils, and greens, it feels like a fairly healthy meal my whole family can get behind. On nights when I can't muster any energy, I'll skip all of the above and just stir hummus into our tomato sauce for some added protein. Sounds strange, but no child has yet to notice.
Homemade Pizza
We use this recipe to roll out a quick, simple, and delicious dough–using a sheet pan for a larger crust. Then, we use this recipe to marinate portobello mushrooms and kale in balsamic vinegar and herbs. Because I'm dairy-free, I quickly whip up a cashew parmesan cheese (I like this cheese recipe). Half the pizza goes to my girls with traditional mozzarella cheese, pizza sauce, basil, and plain mushrooms—and the other half is for my husband and me, loaded with the marinated veggies and vegan cheese. Take my word for it, this pizza is amazing.
Veggie Bowls
My girls will eat just about any roasted vegetable, so there's nothing easier than chopping whatever's in the fridge and roasting it on a pan with a little olive oil. We like things browned and crispy and often use broccoli, sweet potato, beets, and Brussels sprouts. Cook for 30-40 minutes at 400 degrees (checking every 20 minutes in case anything cooks faster!) and toss with any old grain you have on hand and some chickpeas or browned tofu for protein.

This super-easy and delicious Alfredo is a weeknight staple for us all year round. Even my picky-eater will clean her plate. It uses simple ingredients like frozen broccoli, garlic powder, and parmesan cheese that I always have on hand. Plus, the chicken and the sauce can be made in the same skillet, and the broccoli cooks with the noodles, so it's easy to clean up.
"Chicken Dish"
"Chicken dish" in our family's name for Swiss chicken casserole. Simply put chicken breasts in a baking dish, season with salt and pepper, add a slice of Swiss cheese atop each one. Then mix a can of cream of broccoli soup with half a can of milk. Pour over the chicken. Sprinkle with Pepperidge Farm Seasoned Stuffing, drizzle with 1 TBSP butter, and bake for 30-40 mins at 375. I usually serve with steamed broccoli. The breaded stuffing can be filling enough or you can serve over rice or noodles. It's such a cozy fall/winter meal and, again, chicken and broccoli are both winners in our house.