For most expecting mothers, baby showers are the big event before the actual Big Event—an opportunity to get together with friends or family within the last few months of pregnancy, celebrate an impending due date, and stock up on items you'll need to usher your little one into the world. On the other hand, these can be stressful or overwhelming parties where you're forced to play lame games, make small talk with your third cousin, and then spent the next weekend sorting through presents that weren't even on your baby registry. Whatever you decide, here are the most common pros and cons of having a baby shower.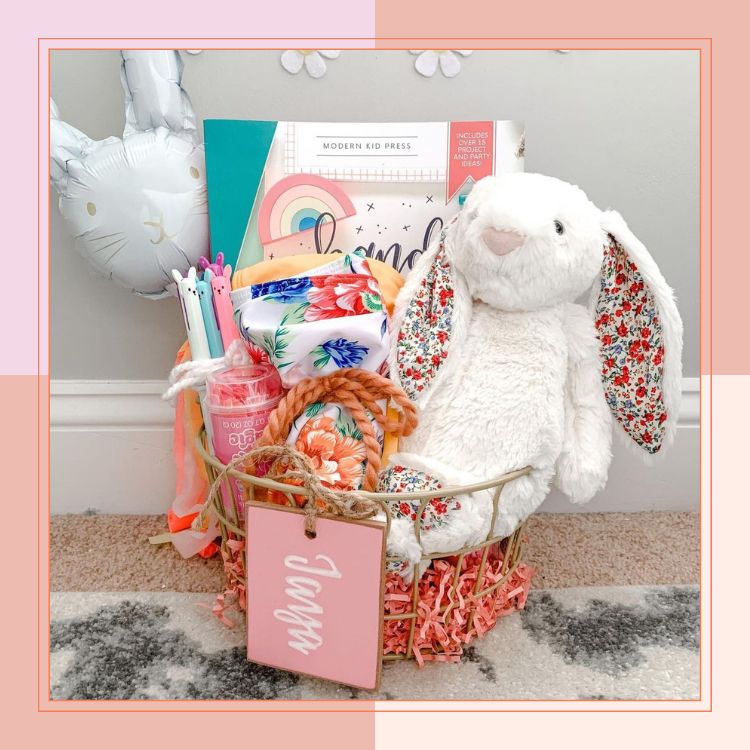 everything you need to get ready for the Easter Bunny's visit on April 9th! 🐰
You'll probably get stuff you don't want or need.
Even if you spend hours and hours curating the perfect baby registry with a balance between practical gifts (diapers and wipes!) and personal ones (monogrammed blanket!), someone is bound to give you something that makes you think, "Huh?" That's because baby showers are extremely similar to wedding showers in this way; as much as you're giving the people in your life a list of what you want and need, some of you guests will want to give you something they think you want or need.
Which means you'll probably end up taking back six very similar stuffed animals, or exchanging baby onesies for a different size, or wondering where in the hell you're going to put all these toys "for when she/he gets older." It's kind of annoying, despite the lovely show of generosity. But you can always donate or return items, and if you're really nervous about sorting through all the stuff to figure out what you will or won't use, just wait to open presents until later, when you don't have to worry about putting on a fake smile in front of a crowded room.
But you will receive items to help you prep for baby.
In case you haven't heard, babies are, ahem, expensive. That's why receiving gifts at a baby shower is so magical—it does lift some of the financial burden as you get started as a parent. As a first-time mama, I didn't quite know what all I would need, so getting presents from other seasoned parents helped me feel more equipped to care for baby. Also, it is just plain fun to receive gifts, especially those things you maybe wouldn't purchase on your own.
Example one: I wouldn't spent upwards of $30 on a tiny organic onesie, but receiving something special like that as a gift made everyone, including myself, blurt out a joyful "Aww!" Example two: we received enough diapers for the first six months, which was beyond incredible as new parents.
You might end up spending a few hours talking to female relatives you barely know.
Due to tradition, baby showers invitations are often extended only to female guests. Why? Because it's generally intended to be a space for women to get real about the process of having a kid, as well as bond together in support of the new mother, and some moms would rather do both of these things without men around. Again, this is sort of similar to a traditional wedding shower, where all the aunts and grandmas and sisters and female family members and friends come together.
I went this route, and the downside is that it did end up feeling very stereotypical: I spent thirty minutes catching up with my great-aunt's friend who "stopped by," listened to relatives trade endless birth stories and answered the same questions over and over again ("Nope, we aren't finding out what we're having…I know, it's so crazy of us…) All the guys spent the day golfing and drinking beer, and when my husband arrived to pack up gifts in the car, I felt extremely grateful for everyone's generosity but honestly, also a little resentful that he didn't "have" to sit through all the socializing.
But you do get to see all your nearest and dearest.
Of course, nowadays you can do a traditional baby shower with just women, or make it co-ed and invite whoever you want—which means the party is a great opportunity to feel supported by your entire community prior to a massive life change. Whatever you decide, there's something really amazing about being with the people you love, in person, in order to celebrate and anticipate a new baby.
It's no longer a faux pas to have a shower for your second (or third, or fourth . . .) baby.
Baby showers make a lot of sense for your first child, so what happens when it's your second (or third, or fourth…) baby? It varies. Many women have what's called a "sprinkle", where they're "sprinkled" with a small number of gifts, primarily necessities like diapers, and it's more of a low-key get-together versus an event with games and registries and long guest lists.
Others feel weird about having more than one shower, or they already have plenty of stuff from the first kid, so they skip it.  Joanna C., an Everymom reader said she had, "nothing for the second baby, which I didn't think would bother me, but it honestly made me feel kind of sad for #2." Everymom reader Kim K. said she had a sprinkle for her second and her friend who hosted said, "Every baby deserves to be celebrated!"
It might feel forced or "too much."
Probably the biggest issue many moms-to-be have with baby showers is not the influx of gifts, but the massive wave of attention that occurs at such a party. And they're right; it's…a lot. Like a wedding shower, or even a wedding itself, you're basically the center of attention and the guest of honor all at once. Even though the shower is "for" the baby, since the baby isn't here yet, the mom becomes the main attraction, which can feel overwhelming. Or, you end up playing games that involve putting melted chocolate in a diaper, guessing the baby's name or sex, decorating onesies with markers or guessing baby animals.
Listen, if you don't want a baby shower—or if the concept runs counter to your religious beliefs or preferences—then don't have a baby shower. Additional reasons to skip: you're on bed rest, or dealing with a high-risk pregnancy. Maybe there's some significant family discord to keep in mind, or you've experienced miscarriage(s) or infertility prior to this. If the mere idea of a baby shower makes you feel completely stressed out, then remember you don't have to do it, even if it is tradition or other people (whom you love!) really want you to have one.
Above all, it's supposed to be a celebration of your baby-to-be.
The whole point of a baby shower is to celebrate the miracle of a new baby joining your family. It should be something fun to look forward to, where you drink mocktails and eat delicious food like a pregnant queen surrounded by all your favorite people. And most importantly, you have permission to do it in whatever way best suits you. If you don't want to play games or open gifts in front of everyone, don't! It's your day to celebrate your baby-to-be and everyone will have fun at the celebration, no matter what. 
Did you have a baby shower? What did you love about your baby shower, and what do you wish you could change in hindsight?