We're waiting to receive the return-to-school plan for my elementary-aged kids, but I'm assuming they'll be wearing masks at school, based on the latest guidelines from the CDC and the AAP. I know teachers and school administrators are doing their best with the ever-changing—and sometimes conflicting—recommendations. And I know fellow parents are doing what's best for their families given their own unique circumstances.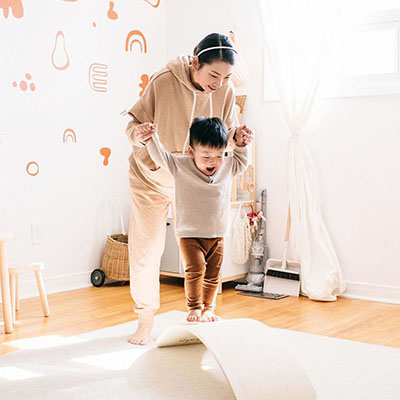 If your kid is turning 2, get ready for hilarious conversations, much more involved play, and lots of sweet, sloppy kid hugs and kisses. As for what you'll need? Leave that to us.
One thing I also know for sure after a year of learning during the pandemic is that the getting-ready-for-school stress that used to bog me down in the mornings now seems a bit trivial—I wish I could go back to worrying about mismatched socks or whether or not my kids brushed their teeth.
As we head into another very different school year, we put together a few traditional and reimagined ideas to mark the moment and make it feel special, even when everything still feels far from normal. Read on for our suggestions.  
Eat Outdoors for a Lunch Box Test Run
Consider packing their lunch box for an outdoor picnic before school begins. This can essentially be like a trial run for the school lunchroom (or classroom) for kids attending in-person learning for the first time. You can observe whether they struggle with their lunch boxes, water bottles, or anything else and help them practice to be as self-sufficient as possible. Your child's teacher will probably thank you too.
Create a Cute Clean Kit
At this point, you probably have a stash of cute kids' masks and may be crossing your fingers that your kid will wear their mask as required. Masks are one new school supply we didn't envision buying in past years. Create a clean kit that can live beside their pencil case at school and can store essentials like hand sanitizers and wipes, and show off their style like our Trapper Keeper days of yore.
Make School Supply Labeling an Event
Sharing school supplies in classrooms might not be happening this year, so you'll need to label everything. Get your kids to help label their school supplies for the year with permanent markers (while supervised) or waterproof sticker labels.
Let Them Pick a Back-to-School Outfit
As a kid, I remember that buying shoes for back-to-school was a big moment. We'd go to the Stride Rite store and pick out a pair of kicks to (hopefully) last through the school year. Even if you're homeschooling and your kids could probably wear their PJs and slippers all day, it could be fun to pick out some new play clothes (or new pajamas) to note the transition to the school year.
Take the First Day of School Pics
However your kids start the school year, you're going to want that first day of school photo. It's a moment you'll want to remember, even if they're wearing their pajamas or a face mask.
Capture Their Thoughts About the Year Ahead
Ask your kids how they're feeling about school. What are they looking forward to? What are their wishes for the year? Who are they excited to see? What worries do they have about school? You could capture their thoughts on a chalkboard sign, on paper, or in a video interview. Plus, it's always fun to include fun facts like their teacher's name, their height, and what they want to be when they grow up.