Each year it feels like summer goes by in the blink of an eye. One minute we're planning the last day of school pictures, and the next we're writing a list of all the back-to-school supplies we need to pick up. Somewhere in the middle, we do our best to make summer special for our kiddos—and we promise, you're doing great. The great thing about kids is that they're able to find something enjoyable and special in every activity.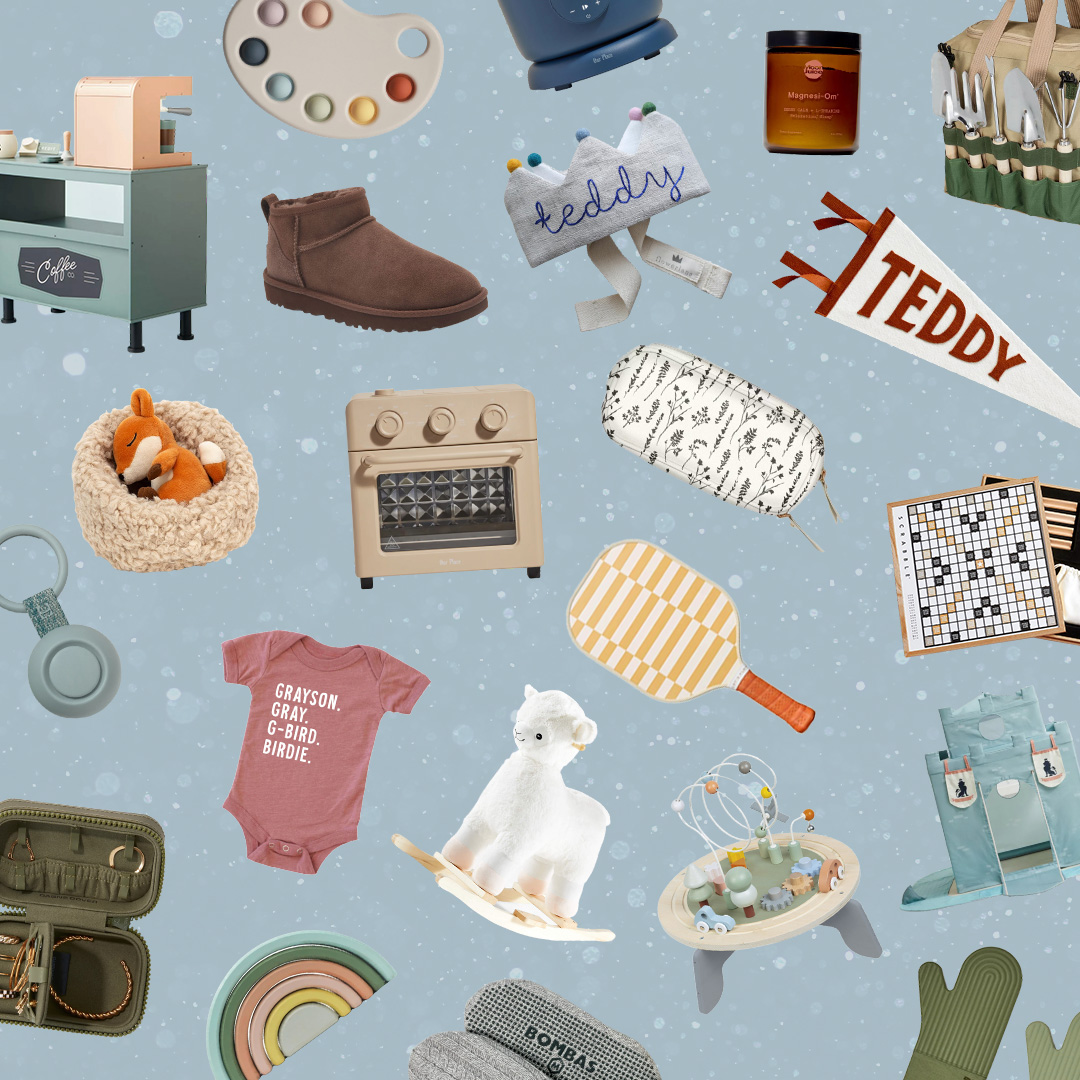 everything you need to ace holiday gifting this year 🎁
Still, it's natural as parents to want to have fun ideas planned for our kids' summer break. That doesn't mean it's not sometimes hard to know where to begin. When the possibilities are endless, sometimes it can actually be difficult to think of things to do. Well, not anymore! That's why we put together some fun summer bucket list ideas for you and your kids to refer to the next time someone says, "I don't know, what do you want to do today?"
Whether you need rainy day ideas, or want some unique, creative, or adventurous summer activities on the docket, read on for the ultimate summer bucket list for kids. Plus, download our free summer bucket list printable to check off as you go!
Summer Bucket List for Kids
Outdoor Bucket List Ideas
We have to take advantage of the nice weather while we have it, meaning getting outside and enjoying some outdoor family activities. The great outdoors give us plenty of fun opportunities, from creative play to physical activities. Consider these ideas the next time the sun is shining.
1. Go on a local hike
Whether we know it or not, there are probably tons of local hiking or walking trails to explore for some fresh air and exercise.
2. Go fishing
Whether fishing runs in the family, or no one's cast a line in their life, now's a great time to try this beloved outdoor activity.
3. Play old-school outdoor games
Kiddos are notorious for loving games like ghosts in the graveyard, hide-and-seek, red rover, and capture the flag. Get a group together and let the fun begin.
4. Go rollerblading
For any kiddos who have mastered riding a bike, encourage them to kick it up a notch by learning to rollerblade or rollerskate.
5. Fly a kite
This is a classic summer activity for kids as it's a fun challenge for anyone attempting it.
6. Plant something and watch it grow
Kids can test out their green thumb by planting some veggies or flowers in a garden and watching them grow throughout the weeks of summer.
7. Draw with chalk
When the weather is nice and the kids are feeling creative, head to the driveway or sidewalk for this simple activity that can provide hours of fun.
8. Have a water balloon fight
For a creative way to cool off when the sun is high, have a water balloon fight with the whole family—or whole neighborhood. And if you want an option with less mess, try these popular reusable water balloons.
9. Do a paper boat race
Another fun way to get creative is by crafting boats out of printer paper. Once everyone has made their own vessel, race them down water either in nature or at home with water from a hose.
10. Have a pool day
A summer bucket list for kids wouldn't be complete without a pool day. Cool off by splashing around, practicing underwater handstands, or bouncing off the diving board.
11. Go mini-golfing
Participating in a friendly competition of mini golf is a great way to get out of the house that everyone will enjoy.
12. Backyard camping
When the great outdoors are calling your name but you can't actually get out and go camping, set up a tent in the backyard for some simple fun.
13. Make s'mores
Popsicles, ice cream, and s'mores are the summer treat trifecta. Check each one off your list this summer.
14. Catch fireflies
Summertime means firefly season. Participate in this classic summer activity by capturing fireflies in a mason jar (or gently in your hand) and then releasing them.
15. Have a picnic
Make a simple summertime lunch break extra special by packing up snacks and heading to the park for a picnic.
16. Go swimming in a lake or ocean
For those of us who live by a lake or ocean, it could be extra special for the kids to get a chance to swim in a natural body of water—and maybe build a massive sand castle on the beach.
17. Blow bubbles
Yes, it's true toddlers tend to dump out the entire bubble container, but it's still fun to watch them try to blow bubbles. Grab a bubble blaster or other bubble toy if you want the bubble blowing to last with little ones.
Indoor Bucket List Ideas
Whether the summer brings in a rainy day or a heat that's too hot to handle, it's always good to have some indoor activity ideas on hand. These at-home summer activities can be done with little to no supplies and are highly budget friendly.
18. Play board games
Most of us have a stack of board games we've accumulated over the years. The next time you've had too much sun or can't get outside, have a family game night.
19. Watch a new summer-themed series or movie
Every now and then spending some time in front of the TV feels nice. The best part is that our favorite streaming services always have a new kid-friendly series coming out that the family can enjoy together.
20. Put together LEGOs
While original LEGOs are always great, the brand has stepped up its game in recent years by making themed sets. Pick up one that your family will love and spend an afternoon putting it together.
21. Play dress up
I know I can't be the only one who loved to play dress up as a kid. The kiddos can put together special outfits for different 'events' and host a fashion show for the parents.
22. Bake a yummy treat
Spending an afternoon indoors baking is always a good idea. Whip up your favorite treats and enjoy time in the kitchen together.
23. Put together a puzzle
This is the perfect rainy day activity to do as the right puzzle can offer hours of entertainment.
24. Build a blanket fort
There are few things more exciting than putting together a fort in the house. Gather up blankets, pillows, chairs, and more for an exciting event.
25. Take a trip to the library
Make achieving their reading goals easier by having a family outing to the library. Kids will love being able to pick out their own books and be excited to start reading.
26. Dance party/karaoke
Need an energy release when stuck in the house? Put on the kiddos' favorite music and start singing and dancing away.
27. Try yoga
You don't have to be outside to get physical. Grab a couple of yoga mats, or simply get set up on the carpet, and go through a kid-friendly yoga or stretching routine together.
Unique Bucket List Ideas
We love the classic ideas for a bucket list for kids, but sometimes it's fun to step outside of the box. These ideas are great because while some require a little more effort, others are simple and can be done around the house.
28. Write a handwritten letter
Maybe the grandparents live out of state, or your kiddo met someone at summer camp they want to stay in touch with. Instead of sending a text or Facebook message, have them go old school and write a handwritten letter. They'll love being able to package it up in an envelope and take a trip out to the mailbox to send it out.
29. Give each other makeovers
Time to get creative! Spend an afternoon doing each others' nails, makeup, hair, and even picking out a fun outfit, and listen for all the giggles to ensue.
30. Go on a scavenger hunt
This one is a super fun summer activity because you can make it your own. Whether you want to do it in your backyard, the park, or the mall, put together a list of items to find and coin it a scavenger hunt. Everyone will love getting competitive with one another.
31. Dance in the rain
Pretend you're in a John Hughes movie or on Drew Barrymore's Instagram the next time the rain starts coming down.
32. Go to a drive-in movie
Speaking of classic movies, find a drive-in theater in your town and see what they're playing. Many will play revivals of family favorite movies, making this an extra fun family activity.
33. Make a time capsule
We love this fun summer bucket list idea because it gives us an opportunity to look back on the memories we're making today several years from now. Have the kiddos put some of their favorite items and a letter to themselves in a container and bury it in the backyard. Come back to it in several years and reminisce about old times.
Funny Bucket List Ideas
If one thing's for sure, kids love to laugh—and parents love to hear them laugh! Use these ideas to bring forth endless giggles.
34. Do a funny photoshoot
Have the kiddos get dressed up in their funniest or most creative ensembles and have a little photoshoot. You can go all out by setting up a backdrop for them to pose in front of.
35. Write your own jokes
Have a kid who loves jokes? Help them make their very own or learn a few to share with the rest of the family and neighbors.
36. Make a prank call
With adult supervision, this can be a great idea. Help them choose who to call and what to say and we know they'll be laughing about it for days to come.
37. Take a stuffed animal for a walk
A perfect opportunity for endless laughs. Have them put a leash on one of their stuffed animals—or plop them in a wagon or stroller—to take a walk through the neighborhood. They're sure to love this silly opportunity.
38. Put on temporary tattoos
This is a great idea to add to your summer bucket list because it's cost-effective and entertaining. Find some cheap temporary tattoos on Amazon or Etsy and watch your kiddos get extra excited. (Pro tip: baby oil help takes them off easily).
39. Create a dance to your favorite song
One of my favorite summer activities as a kid was making up dances to my favorite songs. Put on one of their favorite tunes and let them become a choreographer, while you're the videographer.
40. Learn the ABC's backwards
This fun challenge will have everyone giggling as they try to master it.
41. Try a harmless practical joke
Speaking of laughs, some of the most heartwarming videos on social media are kids pranking their parents. Brainstorm a harmless practical joke they might want to play on a friend or family member (with a good sense of humor).
42. Make funny hairstyles
Grab a cheap bottle of hair gel or hair chalk and let the kiddos get creative.
Simple Bucket List Ideas
In an effort to simplify summer, we wanted to include some simple and easy summer bucket list ideas that don't require extra equipment or much money spent.
43. Play pretend
Summer bucket list ideas for kids don't have to be extravagant. Encourage pretend play either with toys or household items.
44. Watch the sunset
The ultimate summer bucket list would be seriously lacking if we didn't include this classic idea. Push bedtime a little later and catch the sun going down.
45. Walk barefoot on the grass
Grounding in nature is good for everyone. Kick off the sandals or sneakers and walk barefoot in the backyard or the park for a bit.
46. Have a pillow fight
Need to burn off some last-minute energy at the end of the night? A classic pillow fight might just do the trick (or the opposite!).
47. Have a family movie night
Instead of spending a small fortune and taking the family out to the movies, have a movie marathon at home with everyone's favorite snacks.
48. Participate in a summer reading challenge
Whether the kiddos are part of summer reading programs or not, encourage them to set reading goals for the summer vacation.
49. Chase down the ice cream truck
Once kids learn what the music echoing through the neighborhood is for, they'll want to flag down the ice cream truck when it nears your home. Help them safely find the source of the sound and score a tasty treat.
50. Try a new ice cream flavor
Make the trip to an ice cream shop more exciting by being adventurous with a new flavor. This is a great time to try out a new ice cream shop, too!
Creative Bucket List Ideas
Summertime is the perfect opportunity for kids to get creative in whatever subject they choose. Help them use their hands and minds to craft things they'll be extra proud of.
51. Create a sensory bin
Sensory bins are great for little kiddos learning to explore their surroundings. DIY your very own with things like dried rice, beans, or noodles. Make it extra special by picking a theme for the bin like dinosaurs or ocean creatures.
52. Write your own story
Kiddos who love to read or are always coming up with goofy stories will love writing their own. Encourage them to create some unique characters, activities, and a conflict to overcome.
53. Make friendship bracelets
There are tons of friendship bracelet kits out there. They'll love making them at home and handing them out to all of their friends at summer camp, school, or other activities.
54. Do a STEM experiment
The learning doesn't have to end just because school's out. Try a fun summer craft activity that's STEM based to stimulate learning and curiosity.
55. Make homemade slime
We know, slime has practically taken over the world. Embrace the mess and put a smile on your kiddo's face by helping them make it at home.
56. Make nature art
We don't need fancy tools to make art—especially in the summer. Get outside and get creative by making some one-of-a-kind nature art.
57. Volunteer in the community
Help teach the kids that you can have fun while also helping out your local community by getting involved in a volunteer opportunity.
58. Write an original song
Kids who love music and to sing will love the idea of crafting their own original song and sharing it with their family.
Adventure Bucket List Ideas
Maybe this is the summer of a family vacation or road trip. If that's the case, consider incorporating one of these adventurous ideas on the itinerary that the kids will be so excited about.
59. Go ziplining
Older kids will love this fun and adventurous idea. Ziplining has become so popular that you can find places to do it all over the country.
60. Ride on a train
Kids who love Thomas & Friends will love the idea of riding on a real-life train. Do a quick Google search for train rides near you, and you may be surprised to find there's one closer than you think.
61. Take a family road trip
Whether you're going across the country or across the state, taking a family road trip is always exciting. Make spontaneous stops along the way for tons of memory-making opportunities.
62. Go to a festival or fair
Summertime means fair season for many small towns. Find a carnival in your area and spend an afternoon riding all of the fair rides, eating fried food, and playing fun carnival games.
63. Ride go-carts at a theme park
Planning a trip to a theme park in your state is something that will get the whole family excited. Team up and race the go-cart tracks for tons of family fun.
64. Visit a splash pad or waterpark
Another perfect way to cool down and have fun—visit your local splash pad for a morning of fun or make a day of it at a waterpark.
65. Go horseback riding
Whether at camp, a county fair, or a local stable, riding on horseback is sure to be an activity kids will talk about long after the school year begins again.