Summers with young kids are pretty amazing–one of the many gifts of parenting is seeing your kids fall in love with the things you love, and who doesn't love summer?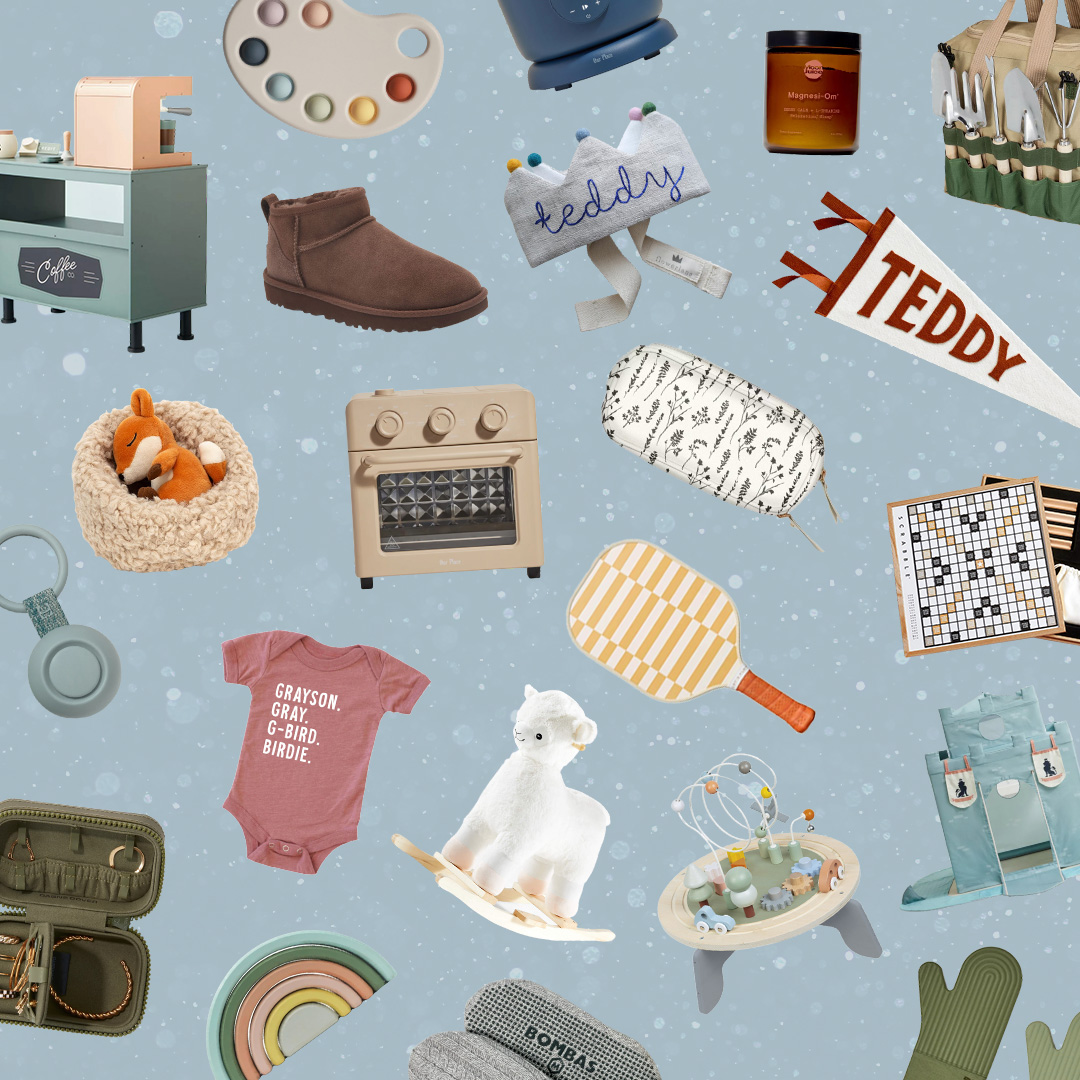 everything you need to ace holiday gifting this year 🎁
Summer is a season of presence. The days are longer and the nights are warmer. You can feel the warmth from the sun on your face and cool breezes from the ocean (or the lake) in your hair. Everything feels brighter and lighter in summer, and the sweet smell of dirt on your kids is almost intoxicating.
The best part of summer is that most of your time is spent outdoors, and there are endless opportunities for fun and learning when you're surrounded by the elements. Even rainy days and time spent indoors feels a little freer with everyone more at ease.
We hope this list will spark ideas to get back to nature, be present with your family, spend time outside every day, and find new ways to connect with your community this summer. Plus, we couldn't forget some summertime staples—hello popsicles and summer cocktails.
1. Check out a local art installation
Check local venues for art exhibitions this summer. If it's outdoors, all the better! And for any Emily in Paris fans, the immersive Van Gogh exhibit featured in Season 1 of the show is still open in the U.S. See it this summer in cities like Boston, Dallas, Kansas City, Chicago, Denver, Nashville, San Francisco, Phoenix, and more cities.
2. Practice mindfulness on a nature hike
Set out on a new trail or an old favorite. Point out different things to help your kids explore what's around them with their senses. Play eye spy, talk about how different parts of the trail feels under your feet, ask them what they hear, and what they smell. Tuning into their senses can help ground them (and you) in the present moment and gain a greater appreciation for the world around them.
3. Do date night under the stars
Since it gets darker later in the summer, a date can begin after bedtime with a late dinner, after-dinner drinks, and desserts outside. Snuggle under a blanket or near a backyard fire, look up, look at each other, and enjoy the uninterrupted time together.
4. Have a movie night and stay up late
Lazy summer days that turn into lazy summer nights are especially sweet when your little loves are cuddled against you peacefully. Whether you enjoy a movie at an outdoor park, drive-in, theater, or right at home, remember to take in your kids while they sit sleepily beside you–their scent, their touch, their sweet little fingers and toes, and the way their bodies feel against yours.
5. Join a book club at your local library
Local libraries are jam-packed with amazing summer activities—outdoor yoga, classes, movie nights, afternoon meet-and-greets with community helpers, and of course, book clubs. Most public libraries have summer book clubs for kids anywhere from babies to teenagers and these are a great way to encourage reading and exploration of literature even when school is out. Make a point to take out some books on subjects you're unfamiliar with and have the whole family learn together.
6. Collect seashells and sort them
Collecting seashells is a tried-and-true childhood tradition, and if you're heading to the beach this summer, this is the perfect activity for you. Collecting seashells not only gives little ones a bit of focus on an otherwise carefree day, but examining the shells also opens up a conversation about wildlife, specific creatures, and environmental conservation. Sorting these shells or even painting them on future rainy days can bring those topics to light once again.
7. Host a lemonade stand for charity
Lemonade stands are an awesome way to get kids involved in giving back to the community while introducing them to social concepts like business and customer service. Host a lemonade stand (or bake sale) for a local charity important to your family, or contribute to a larger cause—like Alex's Lemonade Stand, Black Lives Matter, or Moms Demand Action against gun violence in America.
8. Make your own popsicles
What kid (or adult) doesn't love popsicles? Collect fresh fruit from the farmers' market and experiment with textures and flavors. This is an experiment that is messy, sticky, and delicious–perfect for summer. Parents, we won't tell if you make your pops out of frosé.
9. Deck out the kiddie pool
Cool down in a backyard or balcony kiddie pool. Add a slide, put the sprinkler nearby to simulate a splash pad, add new toys, or pretend to go fishing. If you're feeling really inspired, hop on the stock tank pool trend. Consider getting in on the fun too, because what kid doesn't love splashing their parents?
10. Celebrate Juneteenth
Juneteenth is a very meaningful day in our nation's history—but it's not one that been often talked about. If you haven't celebrated Juneteeth in the past, it's not too late to learn about the day when, two full years after the Emancipation Proclamation, word reached the last people enslaved in the United States that they were free. Celebrating Juneteenth can be another way to continue important conversations about race with your kids.
11. Have a take-out picnic
Help support your favorite local restaurant and have a take-out picnic. Pack a blanket, hand sanitizer, pick up your curbside order, and head to a nearby park (or back home) to enjoy a meal outside.
12. Plant bee-friendly flowers
We all know the bee population is at risk, but what you may not know is that you can do your part in helping to bring them back. There are many common flowers you can plant in your garden (or windowsill planters) to help encourage bee life, including herbs like oregano, rosemary, and mint you can use for summer recipes. Plus, explaining why bees are important to our environment and food growth will help your little ones learn to not be afraid of bees and how to stay safe around them.
13. Make a summer recipe with ingredients from your garden (or the farmer's market)
Blueberry muffins are a favorite to make in our house in the summer (like these amazing streusel-topped blueberry muffins), and there are plenty of other summer recipe ideas like homemade salsa, tomato Caprese, or a fresh pasta salad. You could even make yourself a summer cocktail or mocktail with seasonal ingredients like strawberries or watermelon muddled with mint.
14. Go fruit picking
Depending on which area of the country you're in, there are a variety of fruit farms that are open for picking during the warmer months. Little ones love picking (and eating while picking) the fresh summer fruit, and you'll have plenty left over to make some delicious jam for the rest of the year.
15. Go to an outdoor concert
Grab a few folding chairs, a picnic blanket, and head to an outdoor concert this season. If it's a kid-friendly show, it'll be so fun to watch the kiddos dance and enjoy the music. If not, enjoy a date night with your partner or get together a group of friends.