Is it finally time to pay up on that promise you've been making to your little ones that you'll get a family dog? Or maybe there's a birthday coming up and you know bringing home a furry friend would put the biggest smile on your kiddo's face. Maybe your family just has some extra love to give and the best place you can think to give it is to a dog in need. Whatever your reasoning may be, getting a family dog is a fun and exciting time. Sure, like everything good, they'll be extra work. But if you ask us, the love of a loyal dog is worth all of the hours spent training (the puppy breath alone is reason enough, if you ask me!).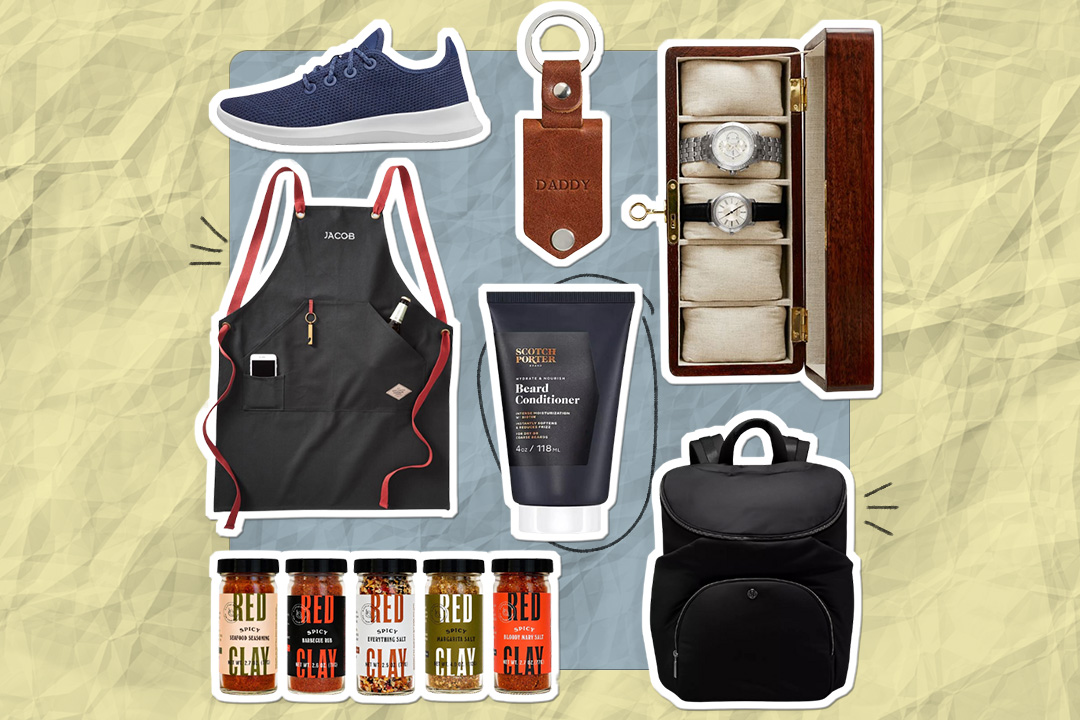 june 18 is coming up fast — have you started shopping yet? 😎
When you bring a four-legged companion home, you'll have to make the tough decision of picking out the best name for him or her. Or, let's be honest, an even tougher time getting everyone to agree on the best name. Luckily, we're here to help make that just a little bit easier by providing you with some of the best dog names to consider. From some of the most popular dog names, to names inspired by your little one's favorite TV shows and movies, to other pop culture references, we're confident you'll find inspiration here!
Read on for over 100 of the best dog names for your new family pet.
Best Names for Female Dogs
Calypso
If there are any Bluey fans in your household, we assume this option will spark a lot of excitement. As the beloved school teacher on the show, your little ones have probably learned some valuable life lessons from the character. We know your family dog would be just as beloved with this name.
Daisy
If you get a puppy in spring, this is a great name to consider as its floral meaning is especially appropriate for the season. It's only right to gift your sweet faced puppy a name that's equally as sweet.
Dolly
Whether you've been a fan of the queen of country music your whole life and your kiddos know all the words to "9 to 5," or you've never heard a Dolly Parton song in your life, this is a great name for your new furry family member.
Enid
I know my household wasn't the only one where everyone was encouraged to learn Wednesday Addams' dance to "Goo Goo Muck" after watching the episode one too many times. For any other fans of Wednesday, Enid is a fun and unique option to name a new pet.
Jojo
Short, two syllable names are always fun options for the family dog, like Coco and Lola. Jojo is sweet, fun, and just unique enough—and little Jojo Siwa fans are sure to love this one.
Julep
Another great spring-inspired name, Julep means 'rose water.' It's soft, pretty, and simply lovely. Plus, it's unique enough that she'll probably never share a name with another dog in the neighborhood.
Lady
Some of the most popular dog names never go out of style, and Lady is one of our favorites. Of course known as the proper American Cocker Spaniel from Lady and the Tramp, this name is just darling.
Mirabel
If Encanto is on repeat at your house, this may be the only option you need. Give your new dog the main character moment she deserves by naming her after the protagonist in the cherished Disney movie.
Millie
There's something about vintage "old lady" names that work so well for puppies. You may have seen Millie starting to inch its way back up on the Social Security Administration's list for baby names in recent years as well, yet Millie is one of the most darling options for a family dog too.
Olive
Manifest a calm mutt with this sweet name that is associated with an olive branch which represents 'peace.'
Shirley Temple
If you've always admired Lorelai Gilmore's bold choice of naming her dog Paul Anka (also a fine choice) and want to emulate that, may we suggest using the name of the beloved actress from the 1930's?
Stella
We know your new puppy will be the star of the show, so gift her the name Stella, Latin for 'star,' so she's always the center of attention.
Queenie
For a dog as special as yours, give her a name of royal caliber. This is a fun, sweet option for the new queen of the household.
More Girl Names for Dogs
Bella
Betty
Cricket
Deja
Hadley
Lola
Lucy
Luna
Mabel
Maggie
Miley
Molly
Nelly
Nora
Paisley
Peach
Penny
Pepper
Sadie
Best Names for Male Dogs
Beethoven
Whether this name reminds you of the great composer or the beloved St. Bernard for the '90s movie, this is a fun name for your new bonus family member.
Bruno
Because we can't get enough of Encanto and we're sure your little ones can't either, we had to include this name so you can get "We Don't Talk About Bruno" stuck in your heard even more frequently.
Cooper
This tried and true dog name is a great option to consider as it's cute, not overused in recent years, and simply makes sense for certain dog breeds.
Elvis
Even if he's so much more than just a 'hound dog,' Elvis is a great name choice to consider. Whether you've loved the singer your whole life, or recently became a fan because of the Oscar nominated film, you can't go wrong with this name.
Gomez
Also inspired by the acclaimed Netflix series Wednesday and the Addams Family franchise is this fun name that comes from the doting father in the series.
John Wayne
Though we've been told you should never trust a man with two first names, we heard dogs are a different story. Draw inspiration from the classic cowboy when naming your new best friend.
Marshall
There's something utterly enjoyable and entertaining about using typically human names for dogs, and we think Marshall is one of the most fun options. Of French origin, Marshall refers to 'caretaker of horses,' but kids will probably recognize it as an ode to the firefighter pooch in Paw Patrol.
Mumford
Whether you never miss an album release from Mumford & Sons, or you've never heard of the folk rock band, this is a quirky name that might just be perfect for your new pet.
Nash
Country music fans or lovers of music city in general can draw inspiration from Tennessee's capital city with this short but bold name.
Rafiki
Some movies never get old, and The Lion King is one of them. Rafiki is known for being the mandrill in the movie who offers guidance to Simba. In Swahili, rafiki means 'friend,' making it the perfect name choice for 'man's best friend'.
Schmidt
Even if your kiddos are a little too young to have enjoyed New Girl with you, both fans of the show and anyone who's never seen it can appreciate this quirky name for a family dog.
Stitch
Regardless of whether you have a Lilo in your life or not, Stitch is a great name for a new pet. Lilo & Stitch was ultra popular in the early 2000's, and it might be the perfect time for a rewatch if you or your little ones haven't seen it in awhile (or ever!).
Winston
Allow your new companion to grow into a distinguished gentleman with this British name that dates back to the 9th century. He'll be among other reputable Winston's such as esteemed novelist Winston Churchill.
More Boy Names for Dogs
Arthur
Auggie
Baxter
Bruiser
Buster
Chance
Chico
Cyrus
Dutton
Finn
Fletcher
Gus
Jackson
Kramer
Louis
Malcolm
Miller
Milo
Oscar
Porter
Rufus
Ryder
Scooby
Simba
Tank
Thor
Tucker
Wendell
Zeus
Zuko
Unisex Dog Names
Aspen
For lovers of the great outdoors, consider this name that automatically makes people think of the beautiful and luxurious city in Colorado.
Atlas
Whether you're a jet-setter always booking their next flight, or simply a Colleen Hoover lover, this is such a fun name for either a boy or girl dog.
Bourbon
You don't have to live near the Kentucky Bourbon Trail, or even be a lover of the spirit for that matter, to appreciate this unique dog name.
Kai
Meaning 'ocean' in Hawaiian, this is a great name for any water loving pups or one who lives near the ocean.
Laverne
Laverne is a vintage name that deserves some love. This was a popular choice for babies in the 1950's, but we think it would be even more precious for the family pet.
Maui
Since the day it was released, Moana has been a fan favorite, and we can't think of a better character to draw name inspiration from than the one and only, over-the-top Maui.
Skye
We know many moms can relate to having the PAW Patrol theme song stuck in their head for days and days. Embrace the madness by using the name of one of the characters in the show for your new four legged companion.
Zeppelin
If Led Zeppelin was your jam back in the 1970's, or you have an appreciation for classic rock thanks to your own parents (or in spite of), remind your kiddos that rock n' roll is not dead by naming your new pup after the iconic band.
More Unisex Dog Names
Bailey
Bandit
Bear
Blue
Bowie
Coco
Copper
Everest
Fenway
Hendrix
Jet
Kennedy
Nori
Remy
Rocky
Scout
Shadow
Wrigley
Tips for Choosing the Best Name for Your Dog
While the stakes aren't as high for picking out a name for your dog as they are picking out a baby name, you still want to make the right choice. So what are some things you should consider when naming your new companion? First, you'll want to shy away from names that sound like common commands you'll want to teach your dog, like 'sit,' 'stay,' 'no,' and so on. For example, Shay sounds a lot like 'stay' and has the potential for causing setbacks in the training process.
Much like having a baby, it may feel right to wait until you 'meet' your dog before settling on a name. It's not a bad idea to get them home and see what their personality is like before choosing a fitting name.
While the length of the name can vary, it is considered best practice that shorter is better and easier for your pup to learn. Certainly be creative, but also know that naming your dog something like 'Princess Consuela Banana Hammock' after your favorite TV show may be a lot more difficult for them to learn and recognize than something short, therefore making the training process harder for you.