This year marks the first time my oldest is stepping foot in a classroom since spring of 2020. My feelings over this reentry aside, my family is just plain rusty at school-time routines—and we're going to need all the gentle help we can get to get back into the swing of things. That's why I'm working to develop habits and systems that take the pressure off of our mornings and evenings.
Here are five simple ways my family is embracing a sense of ease this back-to-school season.
There's nothing that throws a family off schedule quite like scrambling around without a plan at dinnertime. Each time that happens in our house, our evenings quickly devolve into a harried race to bedtime, having spent way too much time tinkering around in the kitchen.
To remedy this, my husband and I have been relying on a meal kit subscription service from Blue Apron. Each month, the company offers 40+ easy, restaurant-worthy recipes to choose from as well as all the ingredients you need shipped right to your door.
The after-school hours fly by at warp speed, making a quick and easy dinner all the more valuable. Many of Blue Apron's recipes take under 35 minutes to prepare, which helps ensure our evening routine runs much more efficiently.
As a family focused on cutting down on food waste, we love that Blue Apron sends only the ingredients you need—in the amounts you'll use—for each recipe. That means there are never leftover sauces or veggies, left waiting unused in your fridge.
Life with little ones can be unpredictable, which is why we love the flexibility Blue Apron provides. Anytime my family needs to pause, change, or add a meal to our subscription, the company makes adjustments a breeze.
Having been a vegetarian since high school, I have learned to celebrate any and all plant-based food options. I love that Blue Apron has vegetarian-specific plans and can accommodate a range of dietary needs and preferences.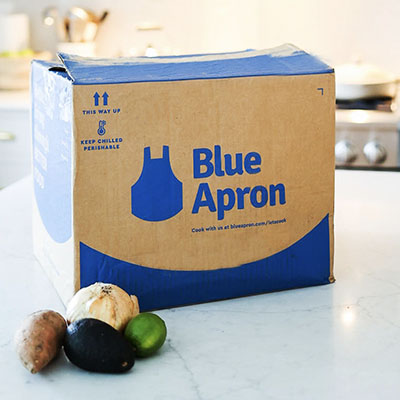 Blue Apron
Get up to 14 free meals across your first 4 boxes when you sign up for Blue Apron!
2. Checklists and Visual Schedules
My dream morning routine for school days is if it's peaceful, orderly, and efficient. Anything less, and my sensitive second grader starts the day frazzled and stressed. To get things moving like clockwork, I create a visual schedule for her, blocking her pre-school time into 10- to 15-minute increments. Because she's just learning how to tell time, I include a drawing of a clock that she can compare against the real one hanging in her room. That way, she can be on task and get to the back door—dressed, fed, and ready—by 8:15 a.m.
I also draft a quick checklist for me and my husband so that we can share the load when it comes to getting everyone out the door. Each time someone completes a task (e.g. packing lunches), we cross it off the list so we can keep moving our family forward. Especially early in the mornings, I have zero desire to direct and delegate, which is where a pre-written list comes in handy.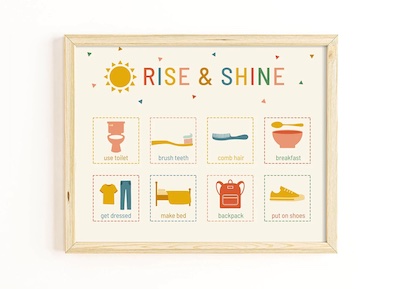 Dabble Routines | Etsy
Customize your little one's morning routine with visuals to help keep their day on track.
printable instant download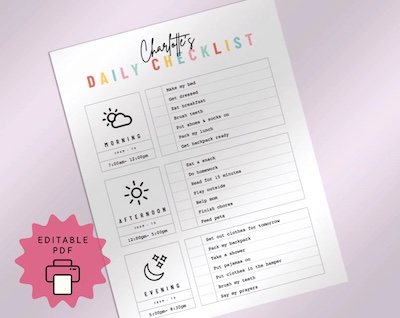 Bloomhouse Press | Etsy
For little ones learning to read, this checklist comes as a downloadable PDF so you can customize it for your child.
3. Prioritizing as a Team
My daughter returns home from school around 3:30 p.m. and is in bed and reading by 7:30 or 8 p.m. Factor in homework, dinner, and bedtime routines, and there isn't much wiggle room in our evenings. To maximize these valuable hours—and ensure my kid can adequately unwind—she and I make a plan on the walk home from school. Together, we decide what activity should be the top priority that day, whether it's a scooter ride or a shared game of Animal Crossing. That way, we ensure that the one thing my daughter wants to do is built into our evening routine. Any additional fun activities are just gravy.
4. Assigning Everyone a Job
School nights especially require all hands on deck to run smoothly. Make use of even the smallest hands by putting them to work for the good of the family. Even young toddlers can pick up toys, add napkins to the dinner table, or help feed pets. Cross sundry items from your night's to-do list by ensuring everyone has even a simple, age-appropriate task to do. In our family, my toddler hauls spices and other small, unbreakable ingredients from the counter to the pantry to help clean up after meal prep.
5. Batching Everything
In the past, we have had plenty of mornings rushing around throwing together lunches and hunting down clean clothing before racing out the door. And let me tell you, that is no way to start the day. These days, our family aims for slow and predictable, and ticking items off our to-do list en masse really helps with that.
For example, ironing uniform skirts and polos for the week all on a Sunday afternoon ensures there are no obstacles to my kid getting dressed each day. And I love that no one is frantically hunting down a piece of clothing minutes before it's time to leave. The same holds true for packing a mask each day. Over the weekend, my husband and I hand-wash and prep five masks so there's a clean one ready to go each morning.
This post was in partnership with Blue Apron but all of the opinions within are those of The Everymom editorial board. We only recommend products we genuinely love.