This summer has been stirring up my 1990s nostalgia with movies like the live-action Aladdin, Toy Story 4, and, just-released, The Lion King. Plus, Disney also just shared the trailer for the live-action Mulan, coming to theaters in 2020. Like the recent resurgence of throwback toys like My Little Pony and Polly Pockets, and 1990s TV updates like Girl Meets World and Fuller House, nostalgia is in, and I, personally, am here for it.
However, watching old Disney movies as a parent, rather than as a kid, has been eye-opening. For one, Disney movies have prompted a lot of questions about death from my kids that I didn't anticipate. What's more, some of the misogynist themes and songs now feel extremely outdated – yet can be good teaching moments when addressed appropriately. I actually loved seeing my daughter so perplexed by Aurora's character in Sleeping Beauty, "Why would she want to stay with the prince she just met and not go back to her family?" Good question, honey.
Some of the adult jokes and references I didn't get as a kid are so much more relatable now. As we celebrate the new release of Disney's The Lion King, while eagerly anticipating the magical melding of Beyoncé and Donald Glover's voices in "Can You Feel the Love Tonight," we couldn't help but look back on the original Lion King from our childhood through the new lens of motherhood.
Just for fun, here are 10 parenting moments from The Lion King that now seem accurate AF.
When you post your baby's first picture to social media and the LIKES start rolling in

When your husband realizes you just had your 6-week follow-up appointment
But you're like
When your kid dumps out the LEGOs… and you just picked up all the LEGOs
Every damn morning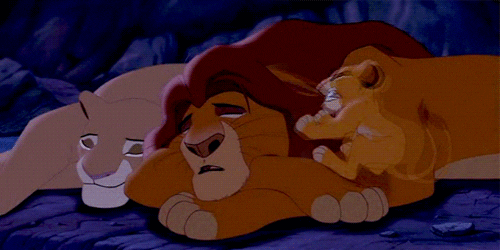 When you just finished dinner and your kid asks for a snack
And you're like
When your kid does something annoying that reminds you of your partner
When you tell your kids where babies really come from