Gratitude has been at the center of many stories surrounding this wild year. For some, gratitude may be about spending more time at home with family, others about recognizing privilege previously taken for granted, and for many, finding joy in the simple things like hugs and health.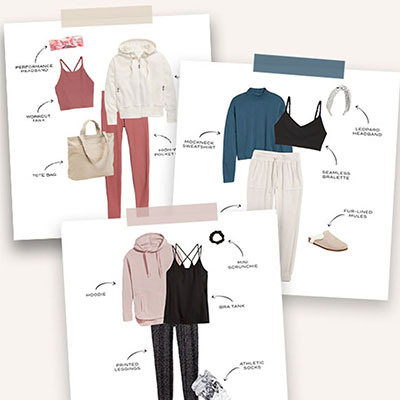 Shop 6 of Our Favorite Loungewear Outfits From Old Navy
Need to spruce up your at-home wardrobe? We've put together six cute, comfy, and budget-friendly loungewear looks from Old Navy.
This way to shop! —>
With this topsy-turvy year, we wanted to keep gratitude at the forefront of our bucket list, while recognizing the reality of this 2020 fall season with a number of at-home activities, family-centered fun, and giving back.
Keep reading to check out The Everymom's Fall 2020 Bucket List and click the button below to download a printable version to use as a family-fun checklist this season. 
1. Support Local Organizations Feeding Kids While Schools Are Closed
With many schools closed for in-person instruction, a lot of kids are missing the daily meals they rely on. Donating to your local food pantry or another local organization dedicated to feeding kids is a great way to care for your community.
2. Deck Your Windows and Your Front Door for Fall
Walking or biking around the neighborhood is still good old-fashioned family fun. It's also become more frequent since the spring shutdown. This fall, with many kids home for virtual schooling and many parents working remotely, keep the neighbors (and your kids) entertained by decking out your windows. Try making handcrafted leaves for your windows, decorate a fall-themed front porch, or stick a kid-friendly spooky surprise in the window like bats, ghosts, or a witch's silhouette.
3. Thank Your Mail Carrier and Delivery People
Say thank you to the essential workers who've been out there since the shut down working hard and helping out. With the holidays and the election on the horizon, we know they'll continue to be working hard all fall. Add a note in chalk on the sidewalk or set out prepackaged snacks and bottled water to help them know they're appreciated.
4. Plan an Alternative Trick-or-Treating Experience
Many parents are already setting expectations with their kids that trick-or-treating may look much different this year. Start brainstorming alternatives like a trick-or-trunking with friends and neighbors with no-contact candy grabs from car trunks. Or create a haunted house scavenger in your basement or dark corner of your home with black light, fluorescent tape, a spooky playlist, and a candy trail. As long as it includes costumes, candy, and fun, they'll love it.
5. Make a New Recipe With Pumpkins
Did you know pumpkins are a superfood? They are filled with tons of nutrients and antioxidants the body craves such as vitamins A and C. Thinking beyond pumpkin bread or pie and try to get adventurous with a new recipe using pumpkins.
6. Sip Cider and Watch a Fall Movie
From football flicks to Halloween favorites, there are tons of kid-friendly movies or shows to enjoy as a family during the fall season. Make it extra fun by sipping apple juice, apple cider, or mulled wine for the grownups.
7. Do a Seasonal Closet Clean-out
Whether you're motivated to do a Marie Kondo-style purge or you want to simply store your summer duds in favor of easily accessible sweaters and leggings, take the time to make the switch. Gather coats, sweaters, and shoes in good condition to donate. If you are extra-motivated, do the same thing for your kids' closet.
8. Have a Fall Craft-a-Thon
Fall's bounty is full of so many natural craft supplies: pumpkins, gourds, leaves, acorns, and pinecones, to name a few. For parents assisting their kids with remote schooling, consider this an intensive art class. Paint pumpkins or pinecones, collect leaves for crayon rubbings, or another nature-inspired fall craft. Endless ideas are just a quick Pinterest search away.
9. Make Your Own At-Home Tailgate
Miss watching fall sports in person? Make tailgate food and eat outside. Play touch football or set up other outdoor games for the kids. If your favorite team isn't playing at all this season, maybe this gives you permission to cheer for a new team without the guilt.
If your idea of tailgating is eating, drinking, and chatting with friends you miss, set up socially distant chairs in your backyard or driveway, and ask everyone to bring their own drinks and snacks.
10. Take Orchard Treats To-Go
With many fall fests canceled, reimagine your own smaller version at home. Pick up cider, donuts, and apples from your local orchard or farmer's market. Throw down a blanket in your backyard or the park and enjoy the tastes of fall.
11. Send an Unexpected Thank You Note
Have someone you think about often but never actually tell the person? Forgo the text and send a handwritten note thanking your special person for being who they are. It's an easy way to make someone's day—and help the post office.
12. Holiday Shop Early at Small and BIPOC-Owned Businesses
Holiday shopping is coming up quickly. Make an extra effort to support small businesses, including BIPOC-owned brands, by shopping early so you won't need to rely as much on expedited Amazon Prime shipping.
13. Vote
Mail-in your absentee ballot early, or, as Michelle Obama said, "Grab [y]our comfortable shoes, put on [y]our masks, pack a brown bag dinner, and maybe breakfast too" to vote in-person. Learn more about your local elections too. Talk to your kids about why you are voting for a candidate and why the process of voting is important.
Click the button below to download a printable version of The Everymom's Fall 2020 Bucket List to use as a family-fun checklist this season.